Modern Interior Design and Decor Highlight Gorgeous Waterfront House Design by TMS Architects

Decorating Ideas

Interior Design Ideas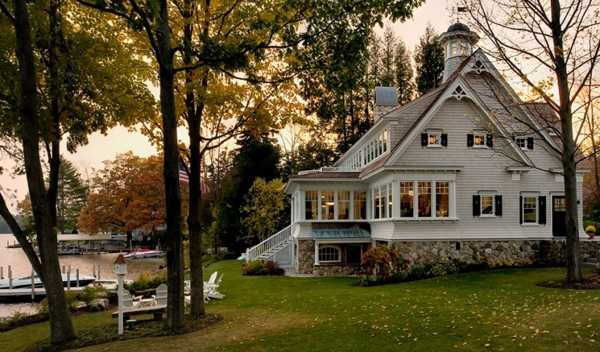 MODERN WALLPAPER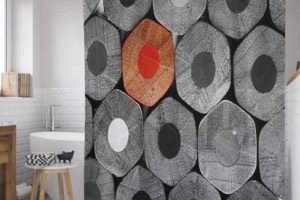 Gorgeous modern house design on the shore of a beautiful Winnipesaukee lake in New England looks like a dream home. Beautiful panoramic view of the lake add charm to this modern house design, bringing the natural beauty into modern interiors. Old wooden walls were replaced by large windows inviting sunshine and fresh breeze inside.
All rooms benefit from the spectacular lake view, feeling the home with a pleasant and relaxing, cottage-like atmosphere. A soft slope creates comfortable backyard, allowing to use the entire area around the house. Pleasant and comfortable backyard design and a large lawn, a small private beach with a lighthouse and old trees add to this house values, offering a wonderful home for a family.
Old house was recently renovated and redesigned. The new owners decided to open modern interiors to the nature and connect rooms with outdoor living spaces by using natural materials and light neutral colors. All interior design and decorating ideas are inspired by the nature, adding unique flavor to room decor and creating luxurious and comfortable eco style.
Waterfront property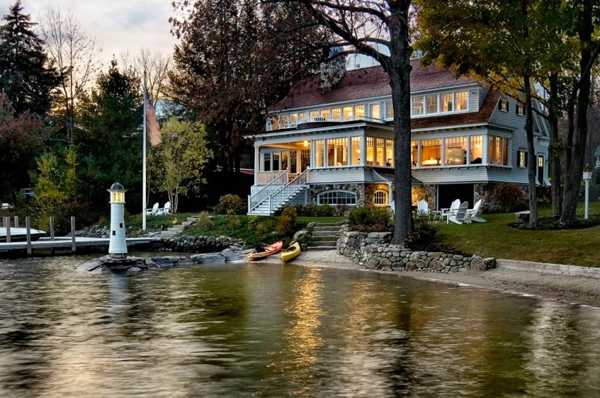 Modern interior design and decorating ideas
Wooden furniture and fried flower arrangements, natural room colors and various brown color tones, landscaping paintings on walls and fabulous fireplace made of natural stone, natural fabrics and elegant simplicity are perfect for interior design and decorating in eco style.
A large living room design flows into a dining area, then to roofed desk, creating fantastic living spaces, perfect for entertaining and dining. Large windows fill modern home interiors with natural light and fresh air, visually expanding space and creating light organic room design.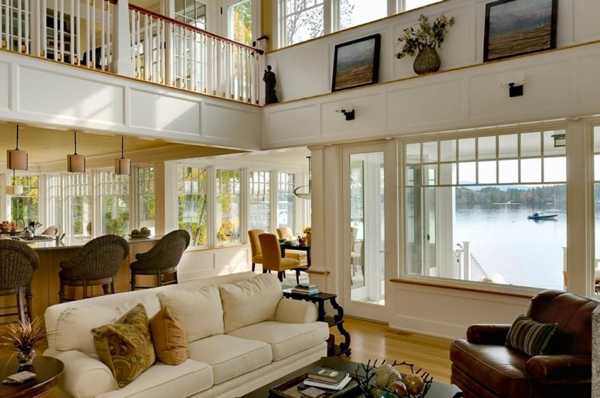 The first floor is designed as a family area, for relaxation and entertainment. There are many comfortable chairs and sofas with white upholstery fabrics which help divide the large living space into zones. Light neutral colors and comfortable dark brown color shades create attractive contrasts. Various textures and lighting fixtures enhance modern home interiors, making modern interior design and decorating interesting, but peaceful and inviting.
Energy efficient beach house design by Stelle Architects, beautiful eco homes
Log home designs, beautiful modern houses for unmatchable lifestyle
Modern interiors on the second floor are private rooms, – bedrooms, bathroom and home office. All these interiors look light and bright. Soft white decorating ideas and various light and dark brown color shades work very well for interior design and decorating in eco style.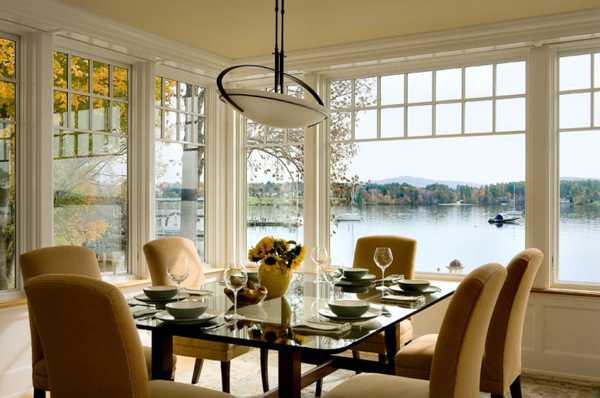 The natural stone fireplace defines the seating area. A set of a leather chair and living room sofas with soft white upholstery fabric invite to enjoy modern interior design and decorating that bring the timeless beauty of fire and water into this beautiful eco home.
Window designs for modern houses, magnificent glasswork in residential architecture
Organic design ideas, guest house design with curved wood beams
Within walking distance of downtown, Lighthouse Cove Cottage, designed by TMS Architects in Wolfeboro looks easterly across Lake Winnipesaukee on a gently rolling site that allows for a lakeside walk-out lower level.


Modern house design in Japanese style celebrates the functionality and elegance of minimalism. Airy, bright rooms look inviting and comfortable. Natural...
and enjoy free articles sent to your inbox