Window Designs for Modern Houses, Magnificent Glasswork in Residential Architecture

Interior Design Ideas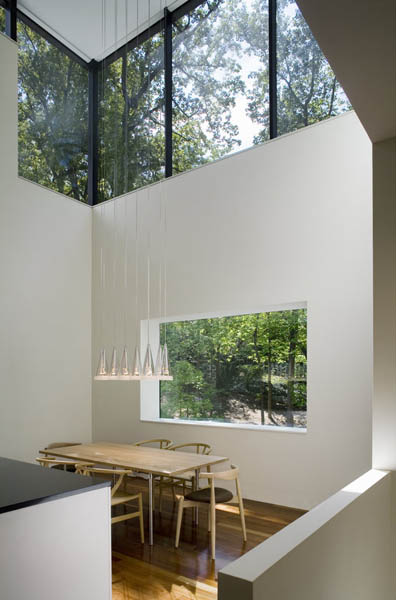 Kitchen and dining room with doulble ceiling and large window designs
MODERN WALLPAPER

Impressive window designs and glass walls are powerful elements of house exterior and interior design. Beautiful window designs is a way to add the elegant clean geometry and captivating interplay of light and shadows to your home, make architectural interiors more eco friendly, brighten up interior design and connect rooms to the nature.
Here is a guest post by Shahab Shokouhi with gorgeous pictures that show the striking beauty that large glass surfaces and attractive window designs bring into residential architecture, dramatically transforming the way modern houses look and feel.
In these exclusive photos, you will see some of the magnificent glasswork done by Dulles Glass and Mirror, a manufacturer of commercial and residential glass products, based in Virginia, US.
Black and white rooms with stylish black window designs
Small house design with a large window seat by Australian architects
Magnificent window designs in residential architecture
Modern glass architecture in a home residence can be very powerful, especially if you have picturesque natural surroundings to your home.
As we see here, why not bring that nature in with wall to wall glass?
It's also good to have a lot of reflective surfaces to go along with the glass in one's home. The way the light flows in and spills over the wood flooring sets off the room, even in the evening.
And while it is great to have nature come pouring into one's home, it's also pretty from an exterior reflective standpoint. As you can see here, the reflection of the sky and trees bounce off the glass walls of this home, and give it an amazing look.
Don't stop there. Having clearstories are a great way to add light into one's home as well. You need your vitamin D, why not get it with the help of some clearstories (as seen above) or skylights?
A lot of modern architects have been turning to stylized windows as an architectural element – as seen above. A fan of Tetris, anyone? These serve as windows while giving the home some flare. Another angle can be seen below.
The beauty of being able to cut custom-sized glass pieces for architecture is that you get homes like this.
Another angle of the same home with glass architecture.
While the average person cannot afford their own architect to build a dream home, these pictures still serve as a reminder of the beauty that comes with glass in residential architecture.
Photos from Dulles Glass and Mirror and Residential Architect Magazine
About the Author
Shahab Shokouhi is a writer at Dulles Glass and Mirror – a manufacturer of commercial and residential glass products including glass table tops, vanity mirrors and tempered glass.
More on window designs
Colorful plastic windows, modern trends in window designs
Smart window design from Samsung

Modern house design in Japanese style celebrates the functionality and elegance of minimalism. Airy, bright rooms look inviting and comfortable. Natural...
and enjoy free articles sent to your inbox