Organic Design Ideas, Guest House Design with Curved Wood Beams by TOTeMS Architecture

Green Design Ideas

Interior Design Ideas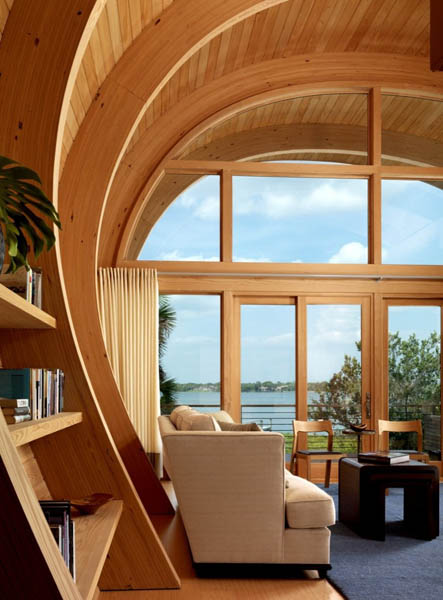 Living room design with curved wood wall beams and ceiling
architectural interiors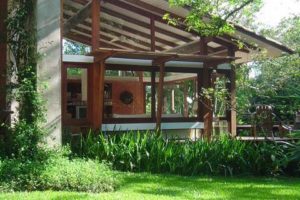 Organic design ideas create modern houses that blend with the natural environment, while offering nice and comfortable home interiors for relaxing lifestyle. The guest house design from TOTeMS Architecture features a unique curved roof with curved beams , inspired by oak trees shapes created by coastal winds.
Beautiful modern house design from TOTeMS Architecture, totemsinc.com/ looks gorgeous with oak trees surrounding the building. Casey Key guest house offers one bedroom, bath, living area with kitchenette, creating a private retreat with a beautiful view of oak trees and water front.
Wood and glass make home interior design feel warm and bright. Light interior decorating color palette and round shapes create soft and pleasant architectural interiors and peaceful atmosphere, perfect for a weekend getaway, relaxation and rejuvenation.
Organic design and decor, Modern bathroom and kitchen ideas
Organic design and decor, modern kitchen and bathroom remodeling ideas
Organic house design
Modern house design with curved roof and large balcony
Guest house design description from the architects
The guest residence, located on a barrier island, is set within a mature oak hammock along Sarasota Bay. The structure is inspired by the character of the live oaks, which have been shaped by the prevailing coastal winds from the west.
The Owner requested a design that was a "house in the trees". A small program, including one bedroom, bath, living area with kitchenette, and a loft is organized to provide privacy between a neighboring property to the north, while offering broad views of the oak hammock to the south and west, and the intercoastal waterway to the east.
Living room design with curved wood wall beams and ceiling
Curved glulam pine beams, which are anchored to the elevated concrete slab at their base, curve up and over the entire space, reflect the arching quality of the live oak limbs. Ship lap cypress siding is used to clad the exterior walls and the interior walls between the glulam beams.
Bedroom design with curved wood ceiling beams
The design is intended to evoke an organic architecture that is influenced by, and reflective of its site.
Modern house designs
Modern houses, charming cottage by DeForest in Washington state
Modern houses in eco style, Casa Luz house design by Paz Arquiectura
Modern house design with curved roof and beautiful view of oak trees ad water front.

Modern house design in Japanese style celebrates the functionality and elegance of minimalism. Airy, bright rooms look inviting and comfortable. Natural...
and enjoy free articles sent to your inbox