Modern Houses in Eco Style, Casa Luz House Design by Paz Arquitectura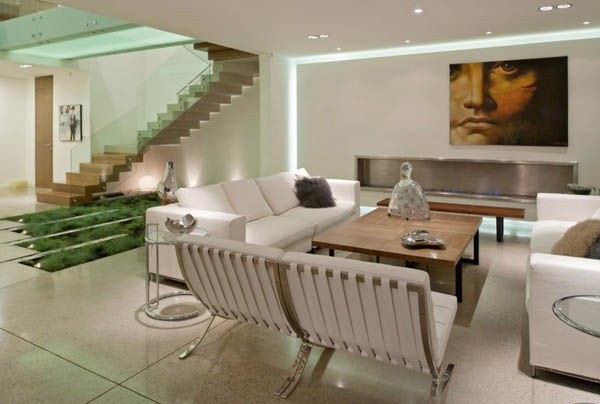 White home decorating ideas, Glass staircase design and white living room furnishings
Modern houses in eco style look harmonious and comfortable. Relaxing and light modern house design by Paz Arquitectura in Guatemala city celebrates the beautiful surroundings and functionality, offering a pleasant place for green living and reconnecting with the nature.
Casa Luz house design is an architectural and interior design project developed by Paz Arquitectura. The modern house is located in Guatemala. Surrounded by beautiful trees the house design features large windows and glass walls with sliding doors, unique deck design with glass inserts and small waterfalls, creating visual connection with carefully preserved vegetation and offering a tranquil retreat for relaxing lifestyle.
White wall paint and white furnishings look fresh and stylish with wooden furniture and brigt decor accessories, red carpet and mirror frame on the wall. Spacious interior design and white decorating ideas add breezy feel to bright and inviting modern house design created by architects from Paz Arquitectura, www.pazarquitectura.com/
Garden house design by Fritz Eisenhofer, green living ideas for eco homes
Glass house design with indoor garden, green living ideas and modern eco homes
Modern house design from Guatemala
Modern house design with glass walls and large windows
White decorating ideas feel airy and peaceful, creating an attractive contrast with green trees and grasses around the modern house.
Glass and wood are natural materials that add contemporary elegance and traditional warmth to this modern house design. Unique staircase design, unusual lighting fixtures and artful decor accessories add style to modern interior decorating.
White home decorating ideas, Glass staircase design and white living room furnishings
Modern house design description from the architects
With intent to emphasize the structural elements, and to seek to highlight the local construction methods and materials, design work was done using fine timber form work in order to leave a permanent imprint on the exposed concrete.
Glass top table with wooden chairs and unique lighting for dining room decorating
The large windows explore the opportunities to open the space as much as possible, and using floor to ceiling windows allows the rooms to become a balcony. Existing vegetation is preserved so that when you open the windows you could have a visual relationship with the existing trees.
Contemporary staircase design and green plants
White was used for horizontal and vertical planes (slabs and walls) in order to cause the spread of natural light. Materials such as tempered glass, wood and exposed concrete used in its size, and natural shades create an architecture that is restrained and straightforward.
Unique house design with roof opening by Studio Velocity, modern houses in eco style
Green building, wall garden and rooftop garden for modern eco homes
Outside deck with glass inserts, modern house design ideas for eco homes
Sustainable architectural design for urban serene lifestyle
How to build an eco friendly home on a budget
House design and interior decorating details

Modern house design in Japanese style celebrates the functionality and elegance of minimalism. Airy, bright rooms look inviting and comfortable. Natural...