Garden House Design from Fritz Eisenhofer, Green Ideas for Eco Homes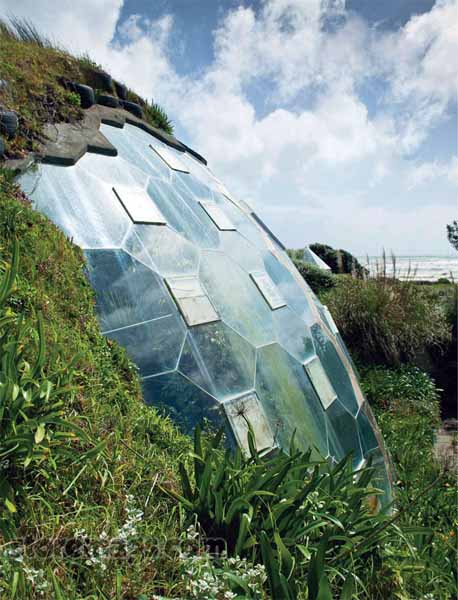 Green wall design with a large window, eco friendly modern house
VALENTINES DAY IDEAS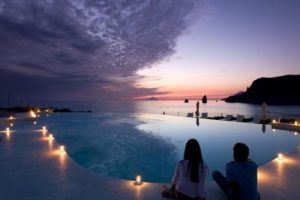 Garden house design by Fritz Eisenhofer from New Zealand is an example of impressive and innovative green architecture and interior design. This new, energy efficient and eco friendly design combines plaster elements with polystyrene structures made of a rigid clear thermoplastic polymer that can be molded into various objects.
Garden house design features light and spacious interior design, a swimming pool, garage and dome-shaped stage, made by the owner of the house. 'It was faster to do it yourself, than to explain to others what I want from them,' – the architect and designer says.
According to Fritz, the best interior design ideas are those that bring organic shapes and neutral colors into functional and spacious eco homes. His wife adds color to white and black home interiors, creating stylish and bold rooms in eco style.
Glass house design with indoor garden, green ideas for modern eco homes
Unique house design with roof opening, modern houses in eco style
Garden house design
Indoor garden and pool, eco friendly house design
The house overlooks the beach Peka Peka. Hidden by green hills the house design blends with the landscape of the coast Kapitii. Unique house architecture and green interior design ideas make the house energy efficient and truly green.
Condensation water that is collected on the glass walls, create ideal environment for growing subtropical plants and flowers. A beautiful indoor garden helps regulate the humidity in rooms, heated by the sun in winter. Plants and flowers grow and bloom in this winder garden, creating pleasant and tranquil atmosphere, perfect for green living style.
Indoor garden design with large windows, energy efficient house design and interiors
Glass wall on the northern side of the house allows light and sunshine into the house. The sun heats the pool, creating the warm energy flow through all rooms. The architect made furniture and sculptures, wall decor and garden decorations himself, creating unique and very personal interior design and decor, enhanced by artworks.
Artesio kitchen design, best contemporary kitchen designs for eco homes
Green building, green wall and rooftop garden for modern eco homes
The flower-shaped skylight reflects light, bringing a playful accent into interior design. Bedroom window provides an amazing view of the beach Kapiti. Sliding glass doors separate the room from a private area with a unique sculpture, flower pots and tiles that look like beach pebbles.
Green wall design with a large window, eco friendly modern house
The kitchen design is functional and spacious, offering plenty of storage and elegant look. A large dining table can accommodate up to 12 people. Dining chairs upholstery fabric is changed from time to time, depending on the mood and time of year, bringing fresh decorative accents into modern interior design.
Eco friendly house design details

Modern house design in Japanese style celebrates the functionality and elegance of minimalism. Airy, bright rooms look inviting and comfortable. Natural...