Green Building, Green Wall and Rooftop Garden for Modern Eco Homes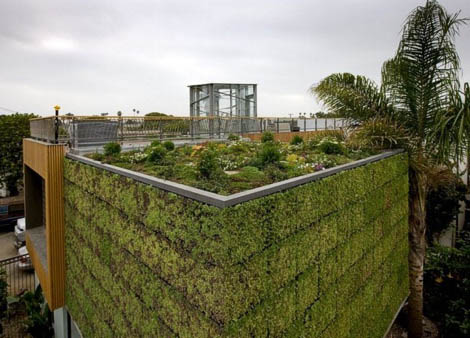 eco homes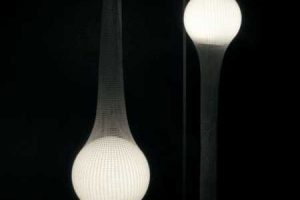 Green building ideas and rooftop gardens became a part of  modern architectural designs. 3,700 square foot eco friendly house is located near Los Angeles, California. The most striking features of the house exterior design is a green wall and rooftop garden that create harmony with green grass, bushes and palm trees that surround this modern house.
Green wall design wraps around three sides of master bedroom interiors, adding a charming and modern architectural design accent to eco friendly house exterior. Green wall and rooftop garden insulate and protect home interiors, creating visual link to outdoor and blending master bedroom interior design with green yard.
Green wall and rooftop garden create unusual, pleasant and eco friendly house exterior design that look contemporary and innovative. The green building is eco friendly in many other ways, including solar power panels on the roof that provide electricity, a rainwater retention and passive cooling systems that make modern architectural design ideas practical, energy saving and efficient.
Green building technology with rooftop garden design for modern eco homes
Modern homes, vertical garden on the house wall
Empty container house, cheap and durable modern house designs
The visual link between greenery in the yard and the green building evokes positive emotions and helps create relaxing lifestyle, supporting green living ideas.
Increasing the old house living area size by creating modern architectural design that looks organic and beautiful is the result of implementing creative environmentally friendly house design ideas from Canadian Bricault Design company from Vancouver.
Green roof and rooftop gardens
Green wall and rooftop garden beautify the environmentally friendly house exterior, adding more greenery and creating pleasant environment for raising a family.
Green roof, sustainable architectural designs and rooftop gardens
Green roof design and rooftop gardens, putting some green to urban homes
One half of green roof design is occupied by rooftop garden for growing vegetables and herbs. The other half of green roof please an eye with a mix of indigenous, low maintenance grasses and shrubs. Plants are fed by a combination of captured rainwater and recycled water that are parts of sustainable and environmentally friendly house design.
The green building is located on Brooks Avenue, in Venice, California. New environmentally friendly house is the expansion of old place, that provides more living space for a growing family. Canadian green architects redesigned the old house, adding about 158 sq meters, stretching the house exterior and creating comfortable layout and modern interior design.
Organic house exterior design
Feng shui tips for house exterior designs
Feng shui home design, roof design style
Warm and dry Californian climate is good for plants, growing on the green wall and in the rooftop garden. Beautiful modern architectural design ideas from Canadian architects visually connect people to the nature, the courtyard to green building with the green wall and roof garden.
Cedar panels increase the effect, adding more natural materials, balancing house exterior design ideas and harmonizing the yard with the green building.
Organic design ideas
Organic design ideas, interior decorating and home staging tips
Organic design, modern kitchen and bathroom design ideas

Modern house design in Japanese style celebrates the functionality and elegance of minimalism. Airy, bright rooms look inviting and comfortable. Natural...
and enjoy free articles sent to your inbox