Modern Home Bar Designs, Functional and Stylish Bar Shelf Ideas

Fun Rooms

Interior Design Ideas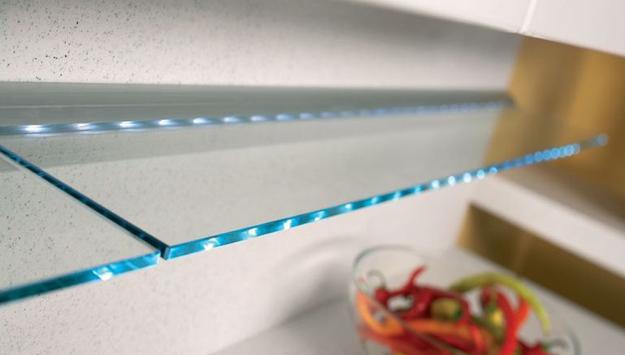 Glass shelves with LED lights, contemporary lighting design for shelf decoration
home bar designs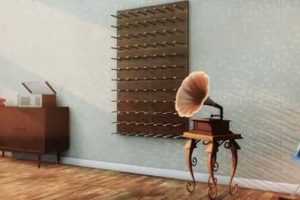 Modern home bar designs with comfortable furniture and attractive accessories improve the functionality of game rooms, living rooms, and basements. A home bar makes the living space exciting, stylish and welcoming. Elegant furniture pieces increase the appeal, and impressive lighting designs add glamour to wood, metal or glass shelves. Contemporary lighting ideas transform the storage for bottles, bar tools, and glasses, adding drama to home bars. Elegant glass shelves with LED lights are probably the most attractive and stylish combination that produces the strongest decorative impact.
There are many DIY designs for building home bar furniture and utilizing small spaces. Also, modern bar accessories are available on the market for all tastes and interior design styles. Wine bottle racks, coolers, bartender tools, juicers, and coffee machines offer plenty of ways to organize a small home bar and enjoy your favorite drinks at home. Attractive bar designs transform rooms into beautiful and inviting places for hanging out with friends and celebrating special events in style.
Home bar designs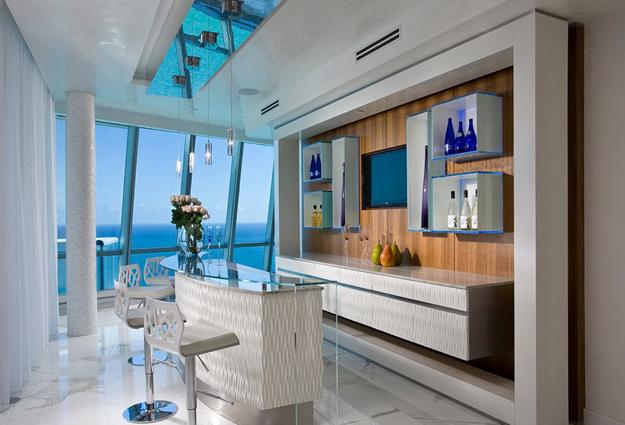 The attractive and functional bar design which reflects your lifestyle and tastes brings comfort into your home, gives a unique touch to your space, and evokes positive emotions. You need just a few bar furniture pieces and a bartender set of bar accessories to create an inviting and fun atmosphere. Two-four stylish bar stools or chairs and a bar table make the perfect furniture set for your home bar design. A blender, a cocktail shaker, an ice bucket, a bottle opener, a cabinet or storage shelves make an attractive and functional home bar. Contemporary LED lights and a glowing in the dark collection of glasses and bottles add a festive vibe to your fun room.
Designer home bar sets, modern bar furniture for stylish basements
Home bars furniture design, stylish bar stools, chairs
Classy bar furniture design, wooden home bar designs
Comfortable furniture pieces, contemporary lighting design, bar accessories, and tools are essential for having fun while enjoying a pleasant, relaxing atmosphere in your home bar. Bottles, beer mugs, coffee cups, wine and cocktail glasses make attractive decorations that look great on open shelves. Collectibles and themed decor can add charming accents to unique home bar designs. Setting up a juicer or having a coffee machine allows using a home bar daily, enjoying your favorite drinks in style.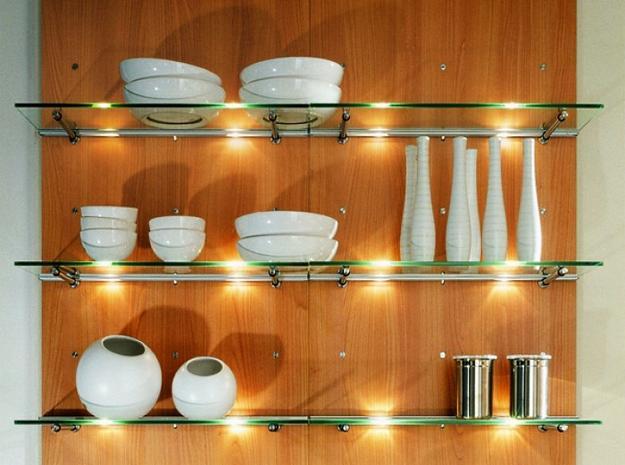 Bar shelf design ideas
Mini home bar designs, space-saving ideas
Dresses for lamps, a la mode lighting design
Interior design with lights that change room colors like chameleons
You can add original accents to fit your interior decorating theme and blend the bar design with your room style. DIY shelves made with salvaged wood or metal are creative, stylish and cheap ideas adding character to traditional and modern bar designs. Open glass shelves with metal shelf brackets are excellent for a small home bar design also. Glass shelves and metal brackets look bright and contemporary, bringing shiny accents into the room. Glass and metal make the perfect combinations for reflecting light and increasing small spaces visually.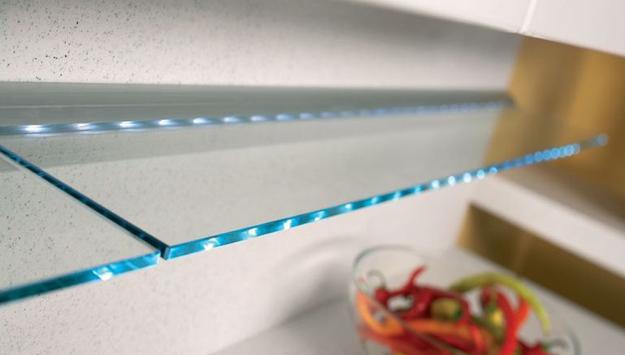 You can build salvaged wood, metal or glass shelves for bottles and glasses in a wall niche. It is one of the best space-saving ideas for small bar designs. LED lights and the combination of metal and glass make even DIY shelves look fabulous. Colorful LED lights, frosted or clear glass shelves are ideal for highlighting bottles and glasses, adding a contemporary vibe to your living spaces, and bringing drama into your interior design.
Portable and sectional patio bar furniture, light outdoor home bar designs
Modular shelving, wall decorating ideas
Pendant lighting fixtures, interior design trends
Mirrored shelves and wall mirrors behind bar shelves add fantastic reflections and increase small spaces visually. Mirrored furniture and shelves, glass, and polished metal are ideal for small home bar designs. Mirrors multiply lights, creating colorful, vibrant, a club-like atmosphere. The combination of glass shelves, mirrors, metal shelf brackets, and LED lights are the perfect idea for modern home bar designs.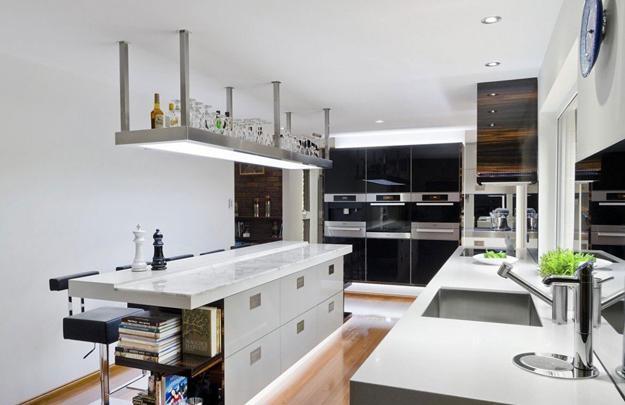 A small home bar with open shelves is a practical, inexpensive, and stylish element of the interior design which transforms the entire room. A well-designed, comfortable and functional home bar, unique decorative details, and smart space-saving ideas create a beautiful area which becomes the favorite place to enjoy lazy mornings and exciting evenings. Open shelves, glass and metal designs with LED lights brighten up and elegantly style the modern spaces, adding a contemporary and festive vibe to the interior designs.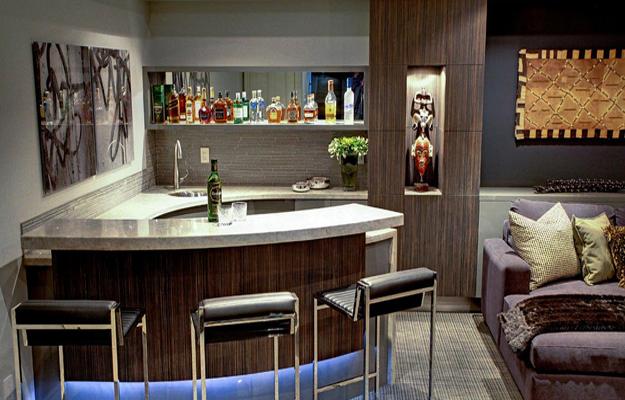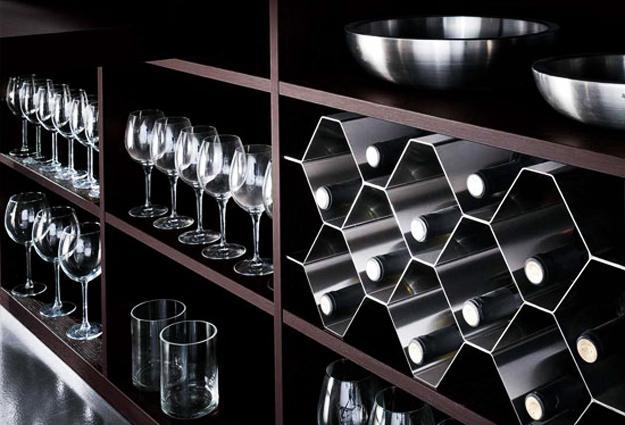 Here are great ideas for kids toys storage and wall decoration with small cars that everyone would love. DIY organizers, like...
and enjoy free articles sent to your inbox