Modern Furniture and Home Decorating Ideas from Vitra, Salone Del Mobile 2012
---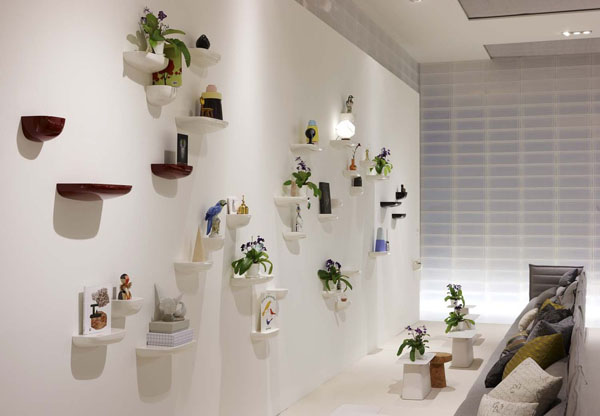 Wall shelves for interior decorating
Vitra Home Collection includes new chairs Repos and Grand Repos from Antonio Citterio. Designer chairs are elegant and comfortable, offering smart functions inspired by office chair designs. Classy chairs and wall shelves, modern living room sofas and dining furniture are attractive items of this new furniture collection.
Unique wall shelves are versatile, demonstrating innovative and creative furniture design ideas that will beautify modern homes and offices. Designer chairs come with water resistant finish, and can be used for interior decorating or adding extra comfort to balconies, terraces, porches, outdoor rooms and garden designs.
The installation was very creative also. Five plastic containers and frosted glass effect created intimate atmosphere and excellent background for modern furniture presentation.
Modern sofa, top 10 living room furniture design trends
Stylish stools and dining chairs, 9 dining furniture design trends
Modern furniture for home from Vitra
Modern sofa and coffee table, living room furniture design presentation at Salone del Mobile 2012
Floating in the air light wood platforms with dining furniture or living room sofas and chairs looked impressive. Grouped, modern furniture pieces demonstrated ideas for stylish room decorating and creating comfortable and stylish home interiors.
Every modern furniture piece from Vitra collections has its own character and can make a gorgeous focal point of interior decorating, giving unique charm and style to modern home interiors.
Wall shelves, small coffee tables and modern sofa with yellow and off white pillows
Modern interior decorating ideas from Vitra, – a Swiss, originally German, furniture manufacturer, – are spacious, inviting and comfortable.
Living room furniture design trends from Alf+De Fre
Changing color, modern furniture glow in ther dark trend
Furniture and decor accessories harmoniously fill up the living space, creating modern home interiors in classic and contemporary styles.
Modern dining furniture, design presentation at Salone del Mobile 2012
Modern interior decorating ideas encourage to use small room accessories, your favorite things and souveniers brought from exotic trips, vintage furniture and decor accessories and antique pieces for creating intimate atmosphere and modern interiors.
Interactive contemporary furniture design ideas
Solid wood furniture, eco style trend
by Ena Russ
last updated: 26.04.2012