Impressive Dog House Designs and Decorating Ideas

Money Saving Tips

Outdoor Living

Pet Design

pets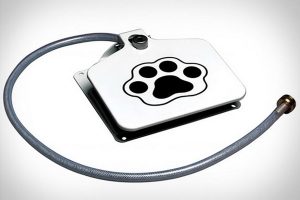 There are many beautiful, comfortable and impressive house designs for pets available on the internet. Pet design companies and pet owners make attractive, eco friendly and cozy homes for dogs, cats, rabbits or mini pigs. (Mini pigs home design tips) Professional designers develop unique dog house plans and offer interesting, classic or contemporary design and decorating ideas, that help select small and large, luxurious or simple house designs for modern pets. (Feng Shui home, pets)
One of the most comfortable dog house designs was developed to please the dog Nanami in Japan. (Unique and impressive dog house designs and decorating ideas) A Japanese man from Hamamatsu has created a beautiful wooden dog house in traditional Japanese style for his lucky dog Nanami, using oriental decorating ideas, traditional colors and materials. The height of the dog castle is 2.5 meters, (more than 8 feet,) and according to the builder, it costs about 600 dollars.
Developing pet friendly doggy house design and decorating ideas, planning and building this amazing home for the pet took six months. Now the wooden dog house looks like a miracle castle Matsumoto, Swan castle, constructed in 1594 in Japan.
Unique dog house ideas
Unique dog house design in traditional Japanese style
Medieval design, Japanese castle miniature
The doghouse includes three rooms:  a large room, from where Nanami can observe the yard and the street, a cool room with sand, where Nanami hides from the heat, and a warm room for cold days.
Many dog owners spend a lot of their time and money for creating unique, comfortable homes and stylish clothes for their pets. (Small dog clothes design, cute sweaters) Striking collars with crystals, bowls with golden decorating details and exciting pet grooming designs are parts of luxurious cats and dogs life. (Pet grooming designs for stylish dogs and cats, Design ideas for furry pets)
Some dog house designs cost up to 20 000 dollars. Chelsy, Darla and Coconut live in the most impressive, stylish and spacious wooden dog house in the world. There is everything a dog (or a dog owner) can dream about in their impressive home, – the heating, air conditioning, comfortable furniture design and attractive decor items.
Modern wooden dog house, backyard design and decorating ideas
Large house design and interior decorating ideas for pets rooms
Dogs love 42 year old Tammy Kassis, which has generously spent a lot of money on luxurious wooden dog house decorating, creating a precise replica of her own house.
Tips for impressive dog house designs
If you want to redesign an existing wooden dog house, change the shape of your pet house with small architectural features, paint, additional insulation and simple decorating ideas that add more comfort and style to unique dog house designs.
Changing boring dog house designs with paint colors, attractive aesthetic touches or new materials makes backyards and doghouse designs look more personal, pet friendly and interesting.
Grow green grass and flowers on the roof for modern Green house design, (Dog poop recycling and Green Design) or make a small decorative window to allow more light inside the house and use bright paint decorating ideas for wooden dog house windows.
Eco friendly contemporary design and decorating ideas, Green roof design
Unleash your creativity and decorating your pet house design with a wooden open door. Add a small deck with a carpet. These details make dog house designs more comfortable for pets and help keep dogs and the floor in a dog house clean.
Money saving tip:
Painted details add more color and interest to traditional pet house designs. Painting is the easiest and cheap way to change the look of a wooden dog house.
Stylish house designs and decorating ideas for pets:
Contemporary cat and small dog house designs
Luxury boarding hotel for paws
Modern cat furniture design

Modern house design in Japanese style celebrates the functionality and elegance of minimalism. Airy, bright rooms look inviting and comfortable. Natural...
and enjoy free articles sent to your inbox