Green is the Color for Creating Healthy Bedroom Designs

Bedroom Designs

Decorating Green

bedroom colors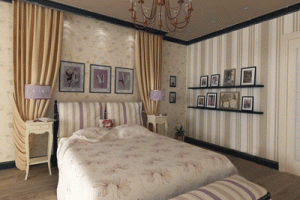 Fresh and pleasant, green is the color of grass and plants, vegetables and fruits, the symbol of life and growth. Modern bedroom designs that include pleasant green paint colors, wallpaper patterns or home furnishings, are associated with natural environment, feel eco friendly and fresh. Also green is the color of peaceful room decor, that produces calming and healing effect, which is great for people's health. (Green color schemes for decorating home)
Green wall paint colors, wallpaper patterns and home furnishings bring the sense of fresh air into modern bedroom designs. Soft green and olive wall paint colors, that combine yellow and green color shades, look not only fresh, but optimistic, warm and cozy. Light blue, lilac, white, soft pink and orange home furnishings make beautiful color combinations with light green wall paint or wallpaper patterns. (Blue-green color schemes, living room decorating ideas)
Comfortable brown tones, light blue and soft green color shades are wonderful choices for healthy and modern bedroom designs. Pale green wall paint colors or wallpaper designs, combined with neutral off-white tones, dark brown and yellow-green color shades, offer natural and pleasant color schemes and attractive decorating ideas for bedroom designs. ( 8 light blue-green color schemes, modern bedroom colors)
Comfortable brown and green colors for modern bedroom designs, blanket, wall art and indoor plants
Healthy green bedroom designs
Green color is the mix of yellow and blue hues, the combination that is associated with static and stillness in human brain perception. (7 yellow-green color schemes for spring decorating) Human eyes relax looking at green room decor accessories, green wallpaper patterns or wall paint colors.
Light green color shades help fight claustrophobia and great for small bedroom designs. If you feel uncomfortable with your small bedroom, if you do not like your low ceiling or narrow bedroom designs, use green room decor accessories, light green furniture and wall paint colors or beautiful green wallpapers for relief.
Green stripes, indoor plants and bedding, beautiful wallpapers for modern bedroom designs
Painting furniture light green color, wearing green clothing or bring more green room decor accessories and small house plants help feel better, stay calm and healthy, color therapy specialists say.
Choose soft and pleasant, natural and relaxing green color shades for your bedroom designs. (Green wall paint colors, painting ideas for kids bedrooms) Light green colors are perfect for bedroom decorating ideas, especially for small bedroom designs.
Modern bedroom designs, 3d interior, green bedroom decorating ideas, green bedding and wall paint colors
Wall paint colors, wall paper patterns and home furnishings that are not too bright make bedroom decorating ideas feel fresh, airy and rejuvenating. Spring leaves or grass tones are great inspirations for modern bedroom designs that look spacious, welcoming and relaxing.
Indoor plants and healthy bedroom decorating ideas
Green indoor plants is one of the cheapest and easiest bedroom decorating ideas that add a splash of green color and make modern bedroom designs look eco friendly and beautiful. (Room decor, fern for windows facing north) Small indoor plants are great room decor accessories for a child bedroom, guest bedroom or master bedroom designs.
Light green wall paint, bedding and lamps, relaxing and healthy bedroom designs
Indoor plants offer pleasant, inexpensive and healthy bedroom decorating ideas year around. Taking care of house plants and watching them grow produce a strong positive effect on people. Indoor plants help strengthen the immune system in late winter and spring, keeping kids and adults healthy.
House plants use oxygen, and may harm the air quality in the bedroom at night. Use small indoor plants for your bedroom decorating ideas, especially so called eco friendly indoor plants that effectively clean the air. (Green room decor that cleans the air, top eco friendly house plants)
Green colors and human health
Green bedroom decorating ideas, – wall paint colors and wallpaper designs, small room decor accessories and furniture upholstery, indoor plants, green bedding and clothes, – produce calming effect on a human heart. (Green room decorating, Irish inspiration)
Modern bedroom designs with green accessories and indoor plants, 3d interior
People with heart problems can use green wall paint, green bathrobes and sleepers, wallpapers patterns with green leaves and flowers, indoor plants and green furniture, green wall art and pillows, hooks and bedding, towels and lamp shades for creating peaceful, healthy and modern bedroom designs that help them stay calm, relaxed and healthier.
Modern decorating ideas with green colors
White-green color schemes for spacious kitchen designs
Room decor, most popular blue-green colors
Turquoise colors for bathroom design
Green wall paint, wall art and bedding, fresh and spacious bedroom decorating ideas

Here are great ideas for kids toys storage and wall decoration with small cars that everyone would love. DIY organizers, like...
and enjoy free articles sent to your inbox