Green-White Color Schemes, Spacious White Kitchen Designs

Black White Decor

Decorating Green

Kitchen Ideas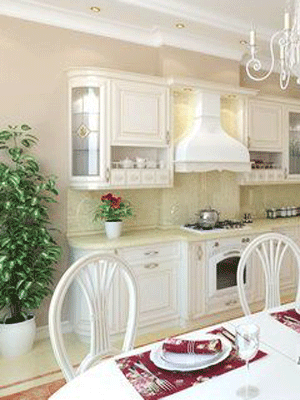 Green-white kitchen designs,white kitchen cabinets and furnishings, green house plants and red accessories
kitchen colors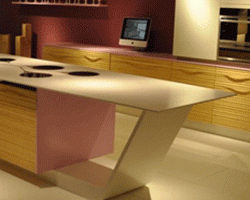 Green and white color schemes are great for all styles, from retro to contemporary kitchen designs. Light or white kitchen paint colors, furnishings and white kitchen cabinets create spacious interior design. Adding green house plants, wooden accessories, light green curtains or furniture items to white kitchen cabinets is an easy way to create modern white kitchens in eco style. (Nature inspired images for fridge door decorating)
White kitchen cabinets with sage green kitchen paint colors and furnishings is a contemporary design combination. (Italian contemporary kitchen cabinets and design ideas) Bright green wall colors and furnishings, combined with white kitchen cabinets, neutral ceramic tiles and  items create retro style kitchen designs that are cheerful and spacious. The combination of dark green wall colors and furnishings with white kitchen cabinets works well for country style kitchen designs.
People naturally avoid green wall colors in kitchens. Food that reflect green kitchen paint colors and look greenish is unappealing. Moss or olive green tones should be used in moderation and in combination with light or white kitchen cabinets for creating bright, cheerful and spacious interior design. (Modern kitchen color trends, elegant white kitchens)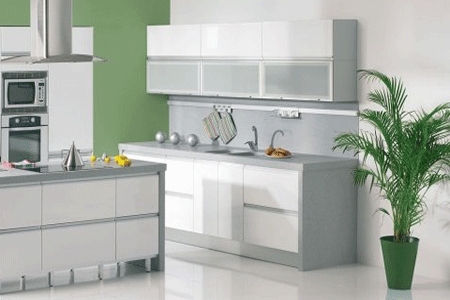 Choosing light gray, cream, white, beige or light green wall colors and green-white color schemes for furnishings, giving preferences to energy efficient appliances, functional space saving furniture and eco friendly natural decorations are modern kitchen design trends.
Green house plants are natural decorations that clean the air, add relaxing green tones and make green-white kitchen designs feel open and eco friendly. Green house plants are beautiful enough to catch the eye and add interest to colorless or neutral kitchen designs. (Top eco-friendly green house plants)
Decorating with green house plants
Leaves of green house plants are always few shades darker than popular lime, sage or mint green wall colors. They bring rich green tones and create unique accents that balance and emphasize eco friendly green-white kitchen design.
Blue, yellow, brown, brown-purple, lilac, black and gray furnishings or appliances can be added to green-white color schemes for creating more colorful stylish kitchen design.
Green wall colors, white kitchen cabinets, green-white kitchen color schemes, yellow accessories
Dark or bleached wood surfaces, including wooden kitchen cabinets and shelves, look natural and harmonious in spacious white kitchens, decorated in green-white colors and brightened up with matching colorful accessories and furniture items. Wood makes white kitchens feel softer, warmer and welcoming.
Go green, use green and white kitchen paint colors for a quick makeover, buy energy efficient home appliances and accessories that are made of eco friendly and natural materials. Add wood, metal, glass, ceramic tiles or accessories and green house plants, creating inviting, functional, natural and spacious green-white kitchen design.
Green-white kitchen designs,white kitchen cabinets and furnishings, red accessories
Wood, stone, ceramic tiles not only look good, they are eco friendly. Natural materials, like metal, stone, glass and wood, match stylish green-white color schemes and create comfortable, airy and spacious kitchen design.
Kitchen ideas:
How to decorate kitchen with green plants and save money
Contemporary kitchen design
Modern kitchen design
White tiles, green furnishings, green-white kitchen color schemes, modern kitchen designs

Here are great ideas for kids toys storage and wall decoration with small cars that everyone would love. DIY organizers, like...
and enjoy free articles sent to your inbox