Interior Color Schemes, Yellow-Green Spring Decorating

Decorating Green

Money Saving Tips

Yellow Color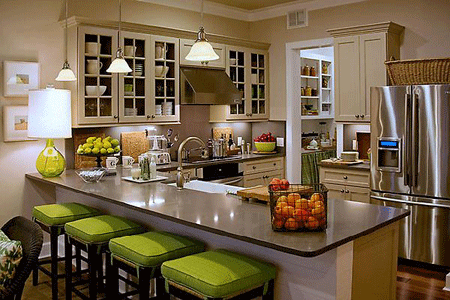 Green kitchen cushions, neutral interior color schemes with green accessories for spring decorating
spring decorating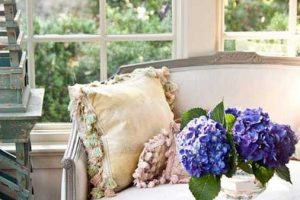 Modern interior color schemes for spring decorating are inspired by awakening of nature. Spring is the beautiful colorful season which offers energetic yellow and green colors for interior decorating, inspired by green grass, fresh leaves and warm sun. Spring brings bright interior decor colors of blue sky, first blooming flowers and sunshine, contrasting with white snow the winter left. Sunny yellow, light orange, golden and yellow-green interior paint colors improve mood, offering cheerful and pleasant room decorating ideas in spring. (Green color for room decorating, Irish inspiration)
Cheerful interior color schemes that include light blue, orange, golden yellow and green interior color combinations are great for spring home decorating. Have you noticed how your mood changes when an ordinary winter day is decorated with bright blue sky and sunshine? Spring decorating is about strong color contrasts, warm yellow-green interior paint or decor accessories colors and bright interior color schemes that make home decor look fresh and rejuvenating. (Yellow color decorating, interior design and color psychology)
Happy yellow colors fill people with energy. Green decorating colors help relax, psychologists say. Use bright yellow-green interior paint  or home furnishings colors for beautiful spring home decorating that help feel energetic and joyful. (Charming ideas for spring decorating, light window curtains)
Select interior color schemes with yellow, green or citrus yellow-green shades for modern and optimistic spring decorating. Add stylish red, pink, red-pink, purple, lilac and light blue interior paint and home decor items colors that bring more energy to your home.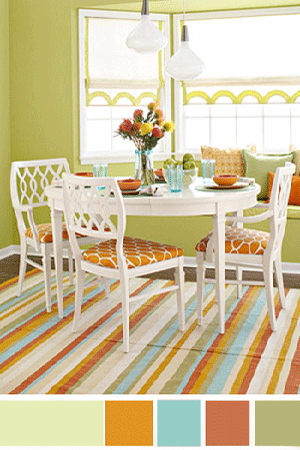 Neutral, yellow and green interior paint colors for spring decorating
Keep in mind that human eyes get tired of high intensity bold colors, so use colorful home decorative items in moderation. (Staging home to welcome spring) Comfortable light brown tones, warm yellow-green interior paint colors make spring decorating more natural, balanced and pleasant.
Interior decorators recommend to change room colors in spring. Light yellow and golden interior paint colors are wonderful for dining room decor and kitchen interior color schemes. Experts in human psychology suggest that yellow-red interior color schemes activate digestion and create pleasant environment for enjoying meals. (Happy yellow room decorating, sunny designs)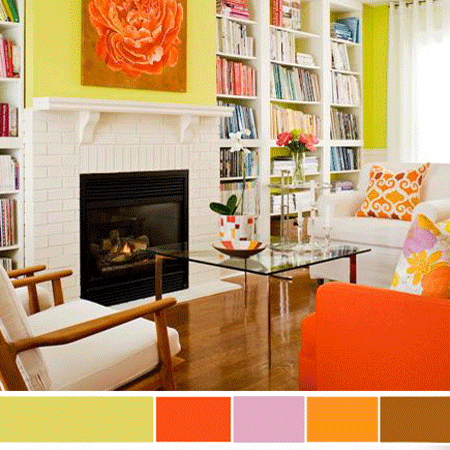 Stylish citrus yellow-green interior paint colors are perfect for early spring decorating. Yellow, yellow-green and orange tones feel warm and make a living room, a home office, a family room and kids rooms look fresh, relaxing and dynamic.
Neutral white, beige and gray interior paint colors, combined with yellow, orange, peach, cream, pink and yellow-green home furnishings create stylish and light interior color schemes for spring. (Matching home furnishings and interior color schemes)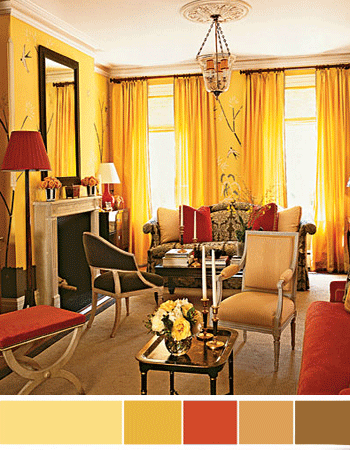 Peach, caramel, camel or light yellow-green and olive tones are perfect for spring bedroom ideas. Light colors help people wake up in the morning feeling joyful and energetic. It is easier to maintain a working rhythm later in the day, if you open your eyes and smile, psychologists say.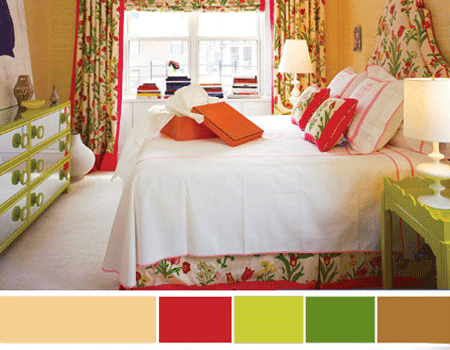 Cool light interior paint colors, like elegant gray, sky-blue, off-whites and light lilac, combined with emerald green, yellow-green color tones, red, pink and purple home furnishings make beautiful, bright, inspired by spring flowers and new foliage interior color schemes that make home decor feel natural, fresh and inviting.
Light interior paint colors are great for small bathroom and bedroom ideas. Light room paint colors make small spaces look  more spacious and airy. Stylish decorating accessories, like bathroom curtains or bedroom cushions in bold colors, help make spring interior color schemes for small spaces interesting and modern.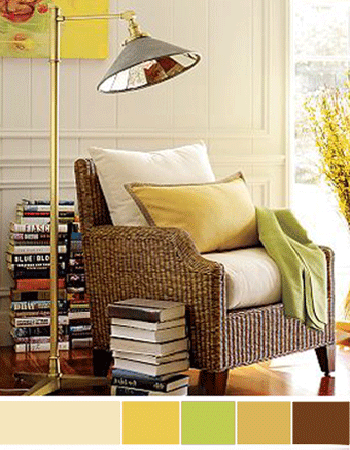 Light brown, yellow and golden accessories add warm and cozy room colors to spring home decor. Light brown, beige or neutral interior paint colors, – elegant gray and all off-white tones, – are wonderful background tones that help emphasize bright room decorating ideas for spring. (Neutral color, decorating with beige)
Pay attention to details, matching home furnishing and interior paint colors for creating balanced and pleasant interior color schemes for spring decorating. Colors used in wallpaper or fabric designs, colorful details on paintings, plates and napkins colors, colorful decor accessories, beautiful fresh flowers and tablecloth colors are important elements of interior color schemes.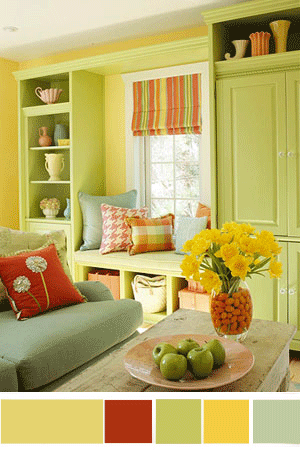 Money saving tip for spring decorating
You can add golden yellow, bright yellow, green or yellow-green color tones to your kitchen, dining room or living  room decor with small inexpensive decor accessories, green house plants, (How to decorate kitchen with green house plants and save money,) yellow flowers, green branches and yellow-green fruits, like lemons, limes, pears and apples, saving money on spring decorating and creating beautiful natural accents with warm or relaxing shades that match your home interior color schemes.
Ideas for spring decorating:
Spring home decorating, modern trend
Green color for decorating home
Green apple kitchen decor and color inspiration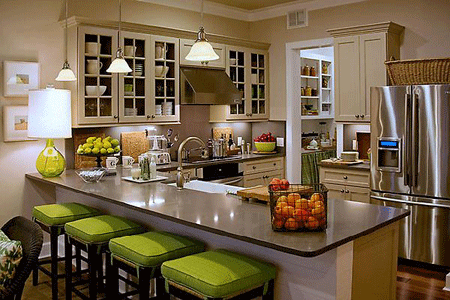 More from interior colors

Bright home interiors and amazing views of the ocean make this beach house a dream place. Large windows, light, neutral room...
and enjoy free articles sent to your inbox