Green Apple Kitchen Design and Decoration Theme, White and Green Kitchen Paint Colors

Interior Design Ideas

Kitchen Ideas

paint colors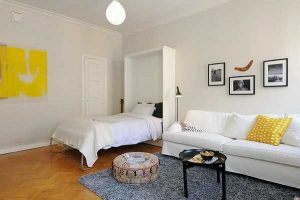 Next time you think about your kitchen remodeling and fresh decorating ideas, consider green apple kitchen decoration theme. Modern kitchen design with new kitchen tiles in green apple colors, modern wallpaper patterns, inspired by green apples or relaxing green kitchen paint colors look wonderful.
You can go for unique kitchen design from Rylik, Russia, which created the Green Apple Kitchen Design with ergonomic and functional kitchen cabinets in apple shape, kitchen island with shelves and sink that looks like a green apple.
Unusual Green Apple Kitchen design includes shaped like an apple white-green kitchen cabinets with wooden shelves and convenient storage. The elegant simplicity of modern kitchen design, fresh and calming white-green kitchen paint colors and natural materials, used for eco friendly kitchen design create pleasant, relaxing and healthy atmosphere.
Kitchen themed decor, apple kitchen furniture design
Green Apple Kitchen design
Nature inspired harmonious form and ergonomic kitchen design blend into modern kitchen that looks beautifully Green, offering attractive apple inspired kitchen decoration theme.
Green apple kitchen paint colors, green wall tiles and apple kitchen decoration theme are popular again. Modern apple-green kitchen colors feel fresh and stylish.
Green kitchen decoration theme allow creatively apply beautiful green apple colors to traditional and contemporary kitchen decor, creating attractive, bright and peaceful, pleasant to the eyes and welcoming modern kitchen design.
In a combination with eco friendly appliances and kitchen products, natural materials and kitchen decoration ideas that support Green living and organic design concepts, green kitchen colors is the way to create eco friendly kitchen design.
Green kitchen paint colors are versatile, and green kitchen decorating ideas can be used for classic and modern kitchen decor styles, contemporary, eclectic or country style kitchen design
Green kitchen decorating ideas, Green Apple Kitchen design from Rylik, white and apple green kitchen paint colors
The great thing about green apple kitchen decoration theme is that apples have a universal appeal. Apples symbolize domestic peace, harmony, freshness and connection to the nature.
Eco style storage and kitchens shelves decorating with food, including fresh green apples.
Green kitchen decorating ideas, green kitchen paint colors and wall tiles
White and green kitchen paint colors, white kitchen cabinets and green walls
White and green kitchen paint colors

Here are great ideas for kids toys storage and wall decoration with small cars that everyone would love. DIY organizers, like...
and enjoy free articles sent to your inbox