Kitchen Decorating Ideas, Green Paint Colors and Wall Tiles

Decorating Green
Kitchen Ideas

kitchen colors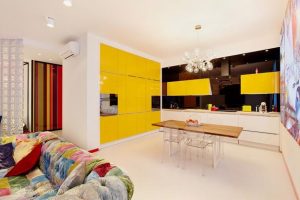 Green is the color of growth and freshness, associated with grass and plants, vegetables and fruits. Kitchen decorating ideas that include green paint for walls, green kitchen cabinets or wall tiles design look natural, fresh and attractive. Green paint colors, wall tiles and home furnishings are pleasant to the eye. Green colors feel soothing and relaxing.
Dark green paint colors, wall tiles and kitchen decorating fabrics help lose weight, decreasing the appetite and providing calm and cool atmosphere. Light green kitchen decorating ideas create fresh and cool environment, so relaxing pea or spinach green paint, turquoise or emerald wall tiles are great for sunny, bright and modern kitchens designs. (Modern wall tiles designs)
Yellow-green color shades bring energy into modern kitchens, but cold blue-green colors can make kitchen decor feel depressing. White, off-white, yellow cream, olive and yellow-green colors, selected for kitchen cabinets and furnishings, create spacious and inviting modern kitchens, and make green paint colors or green wall tiles shine. (White-green interior color schemes, spacious white kitchen designs)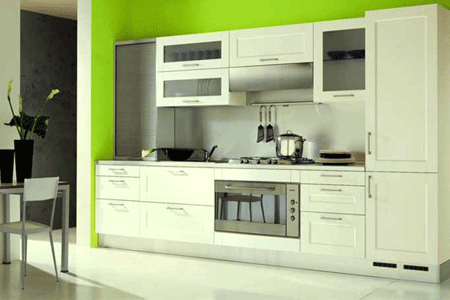 Green color schemes for kitchen decorating
Green colors symbolize the nature, balance and harmony. Light green paint colors or wall tiles create bright and inviting modern kitchens designs and offer comfortable and spacious decorating ideas. (Metal tiles modern curve)
If you add sunny yellow tones to green paint or wall tiles, kitchen decorating color schemes become warmer, brighter and more optimistic. Green paint colors and wall tiles look great with white or golden yellow kitchen cabinets and radiate energy, improving the mood.
Blue-green colors for modern kitchens designs, turquoise wall tiles and kitchen cabinets
White, gray and yellow-green color shades, combined with dark turquoise or forest green colors, make kitchens designs feel peaceful, stylish and interesting. (Green apple kitchen decor and color inspiration)
White kitchen cabinets, citrus yellow paint, light green kitchens design
Brown tones of natural wood add warmth to beautiful, comfortable and attractive kitchen decorating color schemes. Brown and green look elegant and trendy. (Modern kitchen designs)
White kitchen cabinets and green wall tiles, modern kitchen decorating
Green colors decrease appetite and are helpful, when you need to control your weight. (Kitchen decorating to dress up the fridge)
White kitchen cabinets and light green paint
Decorating ideas with indoor plants
Green leaves of indoor plants are the cheapest and easiest kitchen decorating idea that brings beautiful color accents into modern kitchens designs and create healthier environment. (Kitchen decorating with green house plants to save money)
Contemporary modern kitchens design, light kitchen decorating
Indoor plants add a splash of fresh green color, offering pleasant and relaxing kitchen decorating ideas and natural themes. It is easy to add and remove indoor plants, depending on how you want your kitchen decor to look.
Wooden kitchen cabinets and light green paint, modern kitchen decorating ideas
Decorating ideas with green colors
Interior color schemes, yellow-green spring decorating
Green paint colors, cheerful ideas for painting kids rooms
Blue-green interior color schemes, living room decorating
Contemporary French kitchens designs, white wall tiles, green paint, small indoor plants and cushions
More from wall decoration

Ceramic tiles are beautiful elements of modern kitchens which are not just functional interiors for cooking, but the open living spaces...
and enjoy free articles sent to your inbox