Eco Friendly Decorating Easter Eggs With Natural Colors

Food Design

Holiday Decor

Easter ideas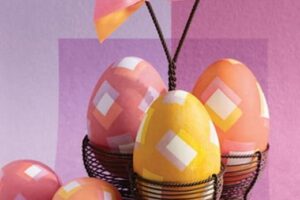 The tradition of decorating Easter eggs in spring is ancient. Easter eggs symbolize the resurrection and rebirth of nature after long cold winter season. Since ancient times colorful Easter eggs decoration is the symbol of the beginning of a new life cycle. Preparing traditional Easter decorations and inexpensive eco gifts, made of natural materials and eco friendly products, is a modern trend for Easter ideas.
People feel happy, decorating Easter eggs with color and cute symbolic images, making Easter crafts with paper, straw or tree branches and creating bright Easter floral arrangements with spring characters, like Easter Bunnies, birds, butterflies and chickens. Easter eggs decoration with natural dyes is a fun activity, which is perfect for eco homes.
Natural colors look soft and attractive. Natural dyes for decorating Easter eggs offer cheap and eco friendly Easter decor ideas. Natural materials and dyes are perfect for making impressive Easter decorations for eco homes and designing eco gifts with kids.
Easter centerpiece ideas, Easter eggs decoration with natural dyes
White eggs are great for Easter decor ideas and simple table centerpieces, but natural dyes can transform white eggs into beautiful, bright and impressive decorations, that add vivid colors and energy to Easter decorating. It is harder to change the color of brown egg shells with natural dyes.
Natural dyes, made at home, give white egg shells beautiful soft pastel colors that make Easter decor ideas look festive, tender and relaxing. (Egg shell and flower ideas for eco friendly Easter decorating) Food colors can be used for Easter eggs decoration also, but making natural dyes of food and creating colorful Easter eggs with natural dyes are interesting, cheap and eco friendly Easter activities for children and adults.
Light blue Easter eggs, natural materials and dyes for eco friendly table centerpiece ideas
The process of decorating Easter eggs with food, herbs, wine, juices, green leaves and tree branches offers interesting experiments and great Easter activities for children.
Eco friendly Easter decor ideas and eco gifts, colorful and simple table centerpieces
Unleash your creativity, do not be afraid to experiment with food, preparing natural dyes with kids, decorate Easter eggs in eco style, making beautiful Easter decorations and eco gifts for bright spring holiday.
Tips for eco friendly Easter eggs decoration with natural dyes
1. Take eggs or empty egg shells (Egg shells, creative crafts and Easter decor ideas) at room temperature and place them in a pan, add the selected natural dye, made of fruits, vegetable, grass, leaves, tree branches or wine. (Natural dyes for Easter eggs decoration)
Colorful Easter decor ideas, chicken and nests, Eater eggs decoration
2. Cover eggs with water and add one teaspoon of vinegar. The vinegar dissolves the calcium in the egg shells, and a natural dye will be absorbed better. With vinegar the final eggs colors will look smooth and bright.
3. Boil eggs for 1o min, reducing heat. If you think eggs colors are not smooth or too pale, leave eggs in the natural dye until they cool down.
Traditional Bunnies, Easter eggs decoration, light natural colors and Easter decor ideas
4. Adding 1/4 teaspoon of baking soda to a natural dye solution creates lighter and softer colors for decorating Easter eggs.
5. Fans of Easter eggs decoration with fruit juices and vegetables, like onion skin, cabbage, beats or carrots, know that steamed and fresh vegetables create different colors for decorating Easter eggs.
Natural dyes for Easter eggs decoration, simple eco friendly Easter crafts for kids
6. Natural dyes, made of food, herbs and juices, add tender colors to Easter decor and produce unique abstract patterns on eggs, which are great for unique and personal Easter decor ideas.
7. Let eggs to dry naturally for creating the 'frost' effect and adding natural accents to Easter decor.
8. Using wax for painting on egg shells before decorating Easter eggs with dyes is an artistic way to create impressive white images and patterns on colorful eggs.
Attractive Easter eggs decoration, straw hat-nest with Easter eggs, Easter table centerpieces
9. Rubber bends, placed on eggs before decorating Easter eggs with dyes, are easy tricks for making unusual designs. White spots can be decorated with small beads, feathers or colorful egg shells pieces.
Blue Easter eggs decoration, simple and cheap Easter decor ideas, small basket-nest with eggs
10. Small feathers or made of paper images, like fern leaves, (Fern, room decorating ideas) simple flowers, bunnies, carrots, butterflies, birds and chicken images, placed on egg shells before decorating Easter eggs with dyes, is a great way to make symbolic and artful Easter decorations that will surprise family members, friends and guests.
Eco friendly Easter decor ideas and table decoration
Shamrock, Easter table centerpieces
Modern floral arrangements, unusual table centerpieces and gifts
Organic flowers for dinner table decoration
Ideas for decorating Easter eggs, creative crafts for kids

Here are great ideas for kids toys storage and wall decoration with small cars that everyone would love. DIY organizers, like...
and enjoy free articles sent to your inbox