Egg Shells, Creative Crafts and Easter Decor Ideas

Holiday Decor

Easter ideas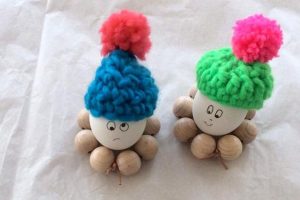 Eggs are ancient symbols of life and fertility. Egg shells are an excellent Easter crafts material that is versatile and unique. Egg shells are fun, recycled crafts material that is great for modern, attractive and eco friendly Easter ideas. Egg shells can be used for many Easter decorating ideas, (Recycling decor ideas, old shoes for green plants) including Easter eggs decoration with paint or markers, paper or beads and making Easter characters of empty egg shells.
Empty egg shells can be prepared for crafts projects by a one or two hole method. Making a hole at one end of the egg and using a needle help empty eggs and prepare egg shells for Easter eggs decoration projects. Two holes at both ends, one is slightly larger, help drain eggs easily and quick. Room temperature eggs have less stiff liquid inside which flows out better.
Leave eggs standing, and the egg whites and yolks will drain. Wash the inside of egg shells with warm water before using egg shells for your Easter decor ideas. (Easter decor ideas, floral arrangements, color symbolism) Shaking egg shells helps clean the inside and avoid rotten smell later on, when you use egg shells for Easter eggs decoration projects and making crafts for spring holiday.
Pink spring flowers, tree branches with Easter egg decorations
Easter eggs decoration, holiday table centerpiece ideas
Here are few modern do it yourself Easter decor ideas for spring holiday decorating. (Eco friendly Easter decor ideas with egg shels and flowers) Children will enjoy assisting you with these simple and interesting Easter crafts projects, that create a spectacular, elegant and symbolic Easter eggs decoration for your home.
Egg shells crafts and Easter eggs decoration tips
1. Prepare empty egg shells for Easter eggs decoration or using egg shells for Easter decor ideas.
2. Use a thick needle to pierce the egg shells carefully, so they would not crack.
3. Make two holes on both sides of eggs. Create a hole at the sharper end of egg shells larger than 3 mm, or 1/8 inch. That helps empty egg shells.
Pink and blue Easter eggs decoration
Personalized gifts, Easter egg decorations
4. Make sure the needle went far enough into the egg, poked it, helping mix the eggs white and yolk. Cover both holes with your fingers and shake the egg.
5. Drain egg shells, placing them vertically, wash egg shells inside with warm water and let them dry.
Egg shells crafts and Easter decor ideas
6. Empty and dried egg shells are ready for Easter eggs decoration or making Easter crafts. There are plenty attractive Easter eggs decoration ideas with color, paper, beads, buttons, ribbons or lace.
Easter decor ideas, green branches and colorful Easter egg decorations
7. You can color Easter eggs or egg shells in the water, boiled with onion skin to get beautiful  golden color. (Modern home decor ideas, gold and pink accents, spring decorating) You can use special Easter eggs dyes for Easter egg decorating also. Just remember that empty egg shells float.
8. Acrylic paint, gouache or markers can be used for egg shells crafts projects, creating charming Easter basket designs with decorated eggs, chocolate bunnies or made of paper chickens and butterflies. (Kids room decorating, clutter for creative design)
9. Threads and ribbons that are going through empty egg shells are excellent ideas that help decorate green plants and branches with Easter eggs, creating impressive table centerpieces and exploring creative Easter decor ideas.
10. Inserting thin wooden or bamboo sticks inside of Easter egg shells make cute flowers of colorful Easter egg shells. Unique egg shells flower bouquet will look great in an attractive vase with green leaves and grass. (Shamrock, Easter table centerpieces)
Tree with Easter eggs, backyard ideas for spring holiday
Butterflies, ribbons and Easter eggs on branches, eco friendly Easter ideas
11. Adding moss, Easter grass or straw helps design a small nest for Easter eggs, create unique Easter gifts, decorate Easter baskets for children or arrange artistic table centerpieces.
12. Modern Easter decor ideas include stickers, fleece and fur pieces, yarn, feathers, ribbons, colorful wallpaper pieces, small buttons and dry flowers Easter eggs decoration and creating festive atmosphere for spring holiday. (Charming ideas for spring decorating, light window curtains)
Unleash your creativity, ask kids for fresh Easter decor ideas, make your own original designs and enjoy Happy Easter!
Ideas for spring decorating
Spring home decorating ideas for every room
Spring home decorating, modern trend, classic technique
Spring decorating, neautral interior paint colors, bright decor
Egg shells for crafts, Easter decor, tree branches with decorated Easter eggs

Here are great ideas for kids toys storage and wall decoration with small cars that everyone would love. DIY organizers, like...
and enjoy free articles sent to your inbox