---
---
Eco Christmas Table Decorations Made of Pine Cones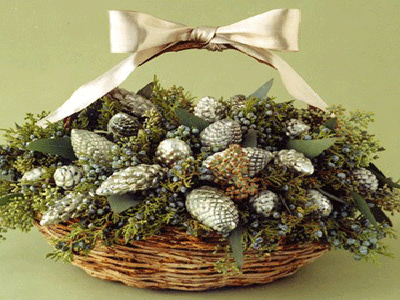 Green holiday decor, handmade Christmas decorations
Pine cones are perfect natural material for handmade Christmas table decorations. Pine cones have warm and comfortable brown colors and beautiful unique textures that balance bright Christmas decorating. Inexpensive and very attractive Christmas table decorations made of green branches, flowers, nuts, candies, shiny baubles, mini lights and pine cones will help you welcome your guests in eco style.
Pinecones can be bought in a local craft store or collected in the park. Using them gives you an opportunity to enjoy the natural beauty and save money on Christmas decorating. You can decorate almost everything with pine cones, if you have enough of them, creating unique eco friendly Christmas decorating ideas for Green holiday.
Pine cones look great in Christmas potpourri and in a basket with mini Christmas lights. Pine cones are Christmas table decorations themselves. Spray a pine cone with white, silver or gold paint, allow to dry and use as natural table decorations. (Inspiring ideas for white-silver Christmas table decorations)
White-silver Christmas ideas, natural centerpieces
Pine cones are wonderful natural decorations for a Christmas tree, the dining room table or living room fireplace mantel. Doors, windows, dining room chairs and even a lighting fixture in the dining room can be decorated with pinecones and ribbons.
You can hang spruce cones with a thin metal wire or a ribbon loop, glued to its top or to its base. (Simple ideas for handmade Christmas decorations)
Simple and elegant party table centerpiece ideas
Glued together pinecones make a miniature Christmas tree that can be decorated with colorful small Christmas decorations or artificial snow. A miniature Christmas tree is a perfect Christmas table centerpiece that dramatically changes the way the dining room looks. (Eco friendly green home decor miniatures)
Inexpensive Christmas table centerpiece for Green holiday
Combined with winter flowers, green branches, candles, nuts or ornaments, pine cones make elegant and impressive Christmas decorations for the table. Natural table centerpieces, that include pine cones, bring comfortable colors and add charming accents to eco Christmas decorating ideas. (Eco Christmas decorating ideas)
If you plan to use pine cones for Christmas table decorations, pine cones should be clean, with no dirt or bugs. A few minutes in the medium hot oven clean them. Also hot air melts the sap and gives pinecones a glaze, opening them and preparing for Christmas table centerpieces.
Edible Christmas table centerpiece , eco Christmas decorations with pine cones
Pine cones can be used for making Christmas wreaths for windows and front door decorating. Carefully pushed between wires, pine cones look great on mini Christmas wreaths that decorate chairs. Simple Christmas table decorations with pine cones emphasize Christmas table colors and create pleasant mood at the dinner table. (Beautiful gold-white Christmas table decorations)
Party table decoration in eco style
There are numerous ways to use pine cones for decorating the table for Christmas. Easy to make individual Christmas table decorations and large table centerpieces look interesting, attractive and relaxing. Your design depends only on the number of pine cones you want to have, your time and your imagination. (11 modern Christmas decor trends)
Eco Christmas decoration, miniature Christmas tree
You can make one Christmas table centerpiece with fur cones and flowers, another with pine cones and candles, creating few impressive and original Christmas table decorations for your long dinner table.
Eco Christmas decorations with pine cones, edible centerpiece ideas for green holiday
Also you can vary the size of your design, creating a beautiful collection for eco Christmas table decor. The collection may include a large Christmas table centerpiece in the middle and tiny individual Christmas table decorations for your family and guests.
Green holiday decor, handmade Christmas decorations
Christmas decorating ideas with pine cones feel nostalgic, bringing sweet memories of childhood. Comfortable brown color and beautiful shape of pinecones, combined with your creativity, help decorate your Christmas table in eco style with simple elegance and natural chic. (15 eco friendly Christmas ideas for green holiday decorating)
Modern ideas for table decoration:
Edible flowers for blooming table decoration
Chic eco friendly Christmas table decorations
Eco-friendly Christmas decor, recycled and edible decorations
White-silver Christmas centerpiece ideas, natural decorations with pine cones for Green holiday
by Ena Russ
last updated: 10.01.2012
and enjoy free articles sent to your inbox