Cutline Collection of Wood Furniture by Alessandro Busana, Modern Furniture
---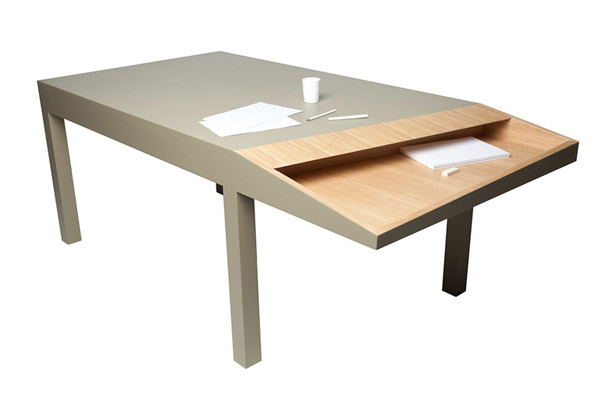 CUTLINE collection of modern furniture pieces from Italian furniture designer Alessandro Busana gives wood a new identity, showing its wonderful texture and surprising design that add a unique character to contemporary designs.
Wood furniture items from Alessandro Busana, www.alessandrobusana.it/ are functional and innovative, offering modern furniture for homes and offices, like writing tables, coffee tables and shelving units, showing the true essence and beauty of the wood.
Simple and elegant visible surfaces are combined with hidden compartments, perfect for convenient storage of various objects, creating the modern furniture collection that looks intriquing, innovative and unusual.
Wood furniture CL collection by ARCA, unique furniture design idea
Plastic and wood furniture, two modern furniture design ideas
Unique modern furniture collection
Wood furniture design in contemporary style, unique furniture with shelves and drawers
CUTLINE furniture design description from the designer
A young brand, created to give wood a new identity in the home through objects characterized by a strong aesthetic personality, rich in new functional content, and always shaped by skilled hands of craftsmen giving real added value to each individual object. In nature, wood presents itself through a dress – the bark – which contains the true essence of the material.
This is the simple but essential point from which the designer Alessandro Busana and his team started for developed the CUTLINE project, a line of furniture that defines a dynamism of a precise action, a radical cut, an explicit gesture made to reveal what lies beneath, what lies inside, a cut creating functionality in each object and, at the same time, giving rise to an aesthetic able to evoke emotion.
Wooden shelving unit, creative and decorative storage furniture design
The interior thus transpires outside, showing the true essence of the wood; a shift in perception of the matter that identifies the object as having a dual functional nature, a visible area and a hidden compartment allowing for differential storage of objects to display and those to conceal.
Antique and contemporary combo, modern furniture design ideas from Germany
Contemporary chairs, transformer ideas in wood furniture design

Modern interior design trends come and go, and it is impossible to change your home interiors fast enough following them. To...