Antique and Contemporary Combo, Modern Furniture Design Ideas from Germany
---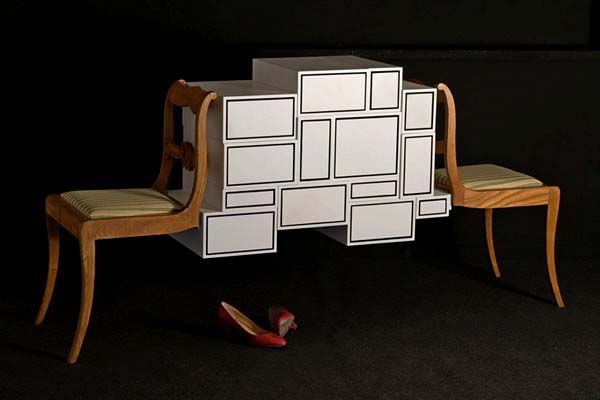 Contemporary drawer made of antique chairs, combo furniture design ideas
Instabil Bar and Instabil Kommode are modern furniture design ideas that create unusual combo of antique and contemporary furniture parts, blending contemporary simplicity with the charm of antique furniture. Modern furniture collection from a German company AntikKombo includes a drawer and a home bar shelf.
Blending old traditions with modern furniture design, the company created unique designer furniture items, that look unusual and surprising.
Looking unstable and extravagant, Instabil Kommode is a blend of qntique chairs and contemporary shelving unit. The illusion of unstable furniture design adds interest to a contemporary drawer, creating unique room decor.
Contemporary drawer made of antique chairs, combo furniture design
Antique chairs parts add warm brown color, unique texture of old natural wood to modern furniture design, creating innovative furniture items for extravagant home interiors. White and black shelves and drawers look fresh and bright, celebrating the simplicity of contemporary furniture design in minimalist style.
Small storage drawers make the combo furniture items convenient and practical. Exlusive and extravagant modern furniture design ideas from German designers are for those who wants to add something extraordinary to room decor, while enjoying plenty of storage space for small items.
Contemporary home bar shelf with drawers made of antique wood, unique furniture design
Modern home bars furniture design
Unique furniture design to recycle car junk yards parts
Instabil Bar is the combo furniture piece that unite antique wooden elements with new materials ad combine beautiful old wood texture and warm brown colors with sleek surfaces and cool contrasts of white and black.
Night table made of antique wood furniture pieces with contemporary top, creative and unique furniture design
An unexpected mix of old and new, dark and white, smooth and imperfect offers modern furniture design that feels exclusive and impressive, practical and expensive.
Contemporary cork furniture design
Modern furniture design, striped interior design trends
The combo furniture from AntikKombo, www.antik-kombo.de/ looks like contemporary artworks. The combo furniture design proves that creative and provocative ideas can blend old and new into extraordinary furniture pieces, recycling and and reusing items and developing new concepts.
by Ena Russ
last updated: 25.12.2011