---
Disco Ball Pizza Oven Adds Suprising Design in Retro Style to Interior Decorating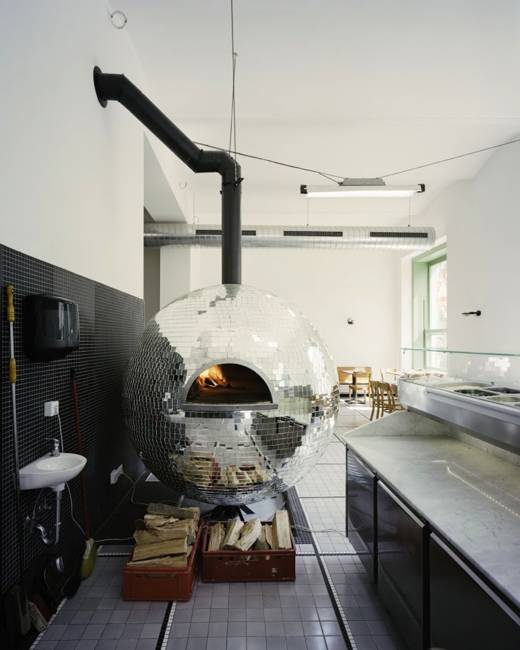 Wood pizza oven with mirrored surface
The Disco Ball pizza oven looks bright and surprising, blending modern ideas with retro style, and adding a unique centerpiece to interior decorating. Los Angeles pizzeria Disco Volante features modern interior design inspired by Napoli pizzeria and an amazingly large, globe-shaped Disco Ball pizza oven which makes delicious pizzas. Lushome presents this original design idea.
The oven looks unusual and creates an interesting centerpiece that brightens up the spacious modern interior design. Wooden chairs add a comfortable feel to this simple and functional interior. White decorating ideas, combined with the Disco Volante pizza oven, create an airy look and marry contemporary design with a striking decor accent in retro style.
The large, globe-shapes, mirrored pizza oven helps to create an exciting fusion of styles, blending retro-modern and functional interior design ideas. Envisioned by architect Lukas Galehr, pizza oven decoration is original and innovative. When the sun is down and the lights are dimmed, the unique pizza oven begins to spin.
Mirrored console table and coffee table designs stretching small spaces
Modern mirrored furniture for bright, spacious and modern interior design
Glamorous penthouse interior design with mirrored furniture and walls
Modern interior with mirrored pizza oven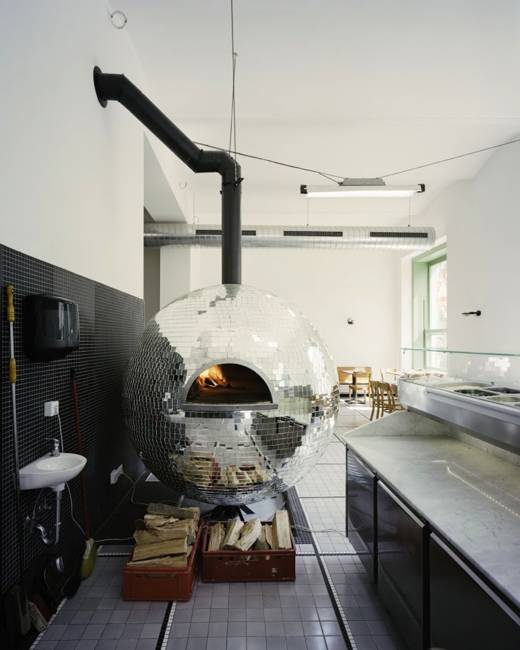 Colorful strobe lights are projected on to the mirrored surface and create amazing reflections on the walls. Simple white decorating ideas start to show colors creating a unique modern interior with a touch of retro style and an exciting atmosphere inspired by nightclubs.
The mirrored pizza oven changes the atmosphere and surprise customers with changing color lighting design, turning eating a pizza into a very  special meal. The interesting contemporary design with retro vibe adds a surprising element to modern interior design and surprise visitors with the creative interior decorating idea.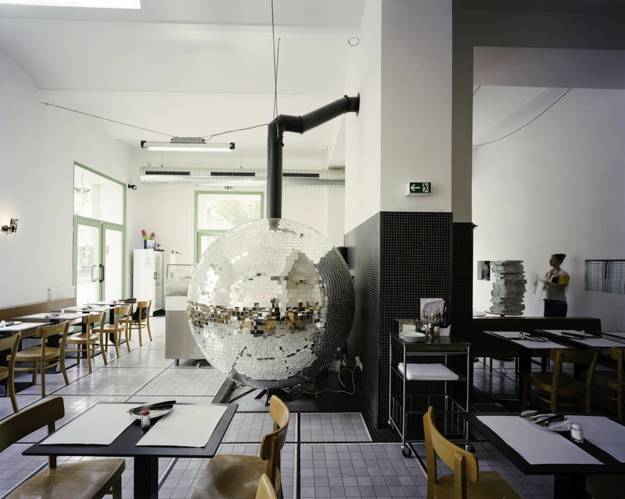 Photographs by Lukas Schaller, www.lukasschaller.at/
by Ena Russ
last updated: 13.10.2016