Courtesy Stool and TimeOut Stool, Designer Furniture Inspired by Sand Clock
---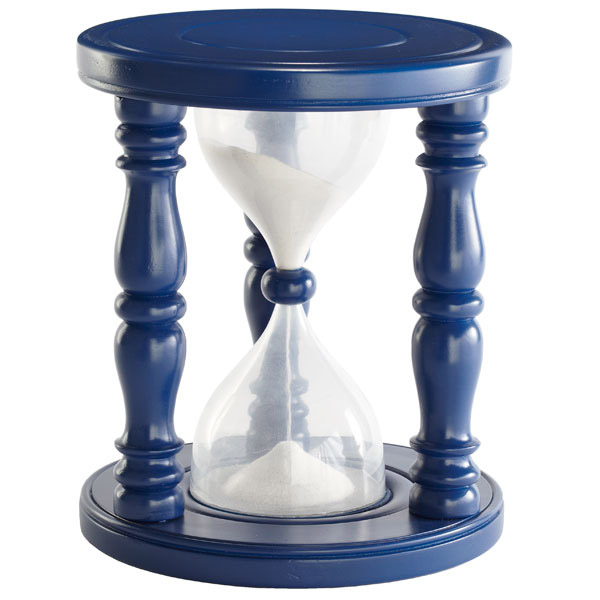 Courtesy Stool and Time Out Timer Stool are very different, but interesting and meaningful furniture design ideas, inspired by time clocks and time timers. Both stools are supposed to change human behavious and create nicer and friendlier world.
Courtesy Stool is supposed to remind people of the age of chivalry, mutual respect and sympathy for fellow beings. Designer Cheryl Yang, www.cherylyang.com/created his Courtesy Stool for crowded public spaces with limited seating. Sand Timer inspired Courtesy Stool design will make people more aware of their manners, – designer explained.  Courtesy Stool will show users when they need to get up and let someone else have a seat.
The transparent shell of the stool makes visible an hourglass inside, which serves as a sand timer for resting on the stool. Through the use of a clearly visible sand timer, the stool will show people the time to give up the seat, if the seating is limited.
Courtesy Stool design inspired by sand clock
Sand clock inspired Courtesy Stool, designer furniture for public places
From log to keyboard stools and stylish chairs
Modern home bars furniture design, stylish bar stools
Stools made of plastic and wood, modern furniture design ideas
TimeOut Timer Stool for kids
Sometimes it's too hard to punish kids because they're so darn cute and innocent. TimeOut Stool is so attractive and playful that may have them volunteering. The hourglass is filled with white sand to time approximately five minutes, so children and parents will know when their time out has expired.
The beautiful stool in rich blue color looks gorgeous, offering to add pleasant and charming vintage design to your home. TimeOut Timer Stool from Wisteria, www.wisteria.com/ is good for a kid to seat alone, calming down and thinking about what he/she did wrong.
Sand clock inspired TimeOut Stool for kids, furniture design ideas for children
Creative furniture design ideas for kids
Growing with kids furniture designs
Modern furniture for kids, top 15 creative tables for kids rooms
Kids furniture, functional design for fun and smiles
Stools design details
More from contemporary design

Here is a new design concept of Ibis Hotel in Sao Paulo, Brazil. The contemporary and original interior design invites everyone...