4 Creative Wall Decoration Ideas, Old Ladders for Modern Wall Decor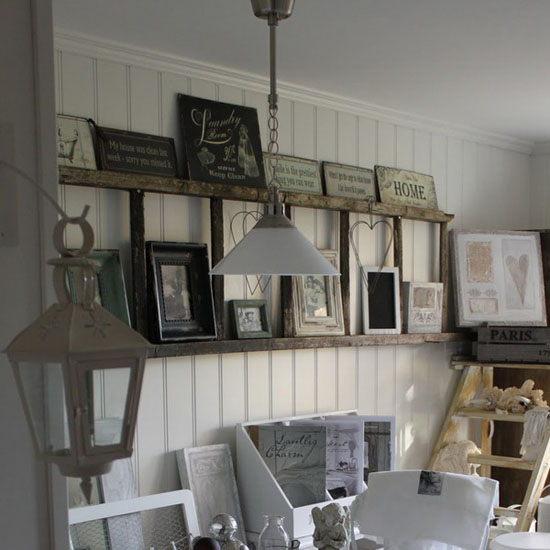 salvaged wood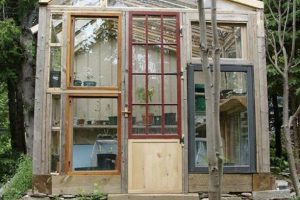 Attractive modern wall decoration can be created with useless and old items that clutter homes. Simple wall decorating ideas that recycle old ladders are creative, quick and easy. Old metal, plastic and wooden ladders are wonderful objects for making unique furniture pieces, free standing and wall shelves, unusual chandeliers, mini gardens with blooming indoor plants or edible herbs and modern wall decor that create unique home interiors.
Old ladders, that you do not need, create clutter and take valuable storage space. Incorporated into modern wall decor, recycled old ladders add attractive storage space, creating small wall shelves and interesting displays of collectibles or small indoor plants on empty walls. Painted or not, old ladders is a creative way to add color, unique texture and shape to interior decorating or home staging.
Old wooden ladders are excellent for bringing neutral grayish-brown colors and vintage style charm into interior decorating and creating personal and modern wall decor with beautiful collections pf paintings and phptographs, quilts, towels, books, vases and small indoor plants. Practical and functional, simple and cheap wall decoration ideas that include old ladders are the way of creating interesting and functional home interior decorating.
Modern wall decorating ideas
Wire organizers for wall decoration
Mirror stickers and modern wall decorating ideas
4 creative wall decorating ideas with old ladders
1. making unique furniture pieces of old wooden ladders
Old wooden ladders make unique console tables, free standing shelves, room dividers, coffee tables, clothes storage racks and bedside tables, adding stylish and elegant grayish-brown colors and beautiful natural wood texture to modern interior decorating. (Wooden walls and solid wood furniture with home furnishings in bright colors)
2. decorative storage ideas
Custom made racks of painted or natural woodden ladders are creative interior decorating ideas for recycling old ladders that help declutter your home living space and add inisial objects to wall decoration. (Wooden bookcases)
3. spectacular vintage style displays
Storage racks and wall shelves, made of old ladders, create additional storage space and help design very decorative displays with paintings, photographs, quilts, books, vases and small indoor plants or collectibles that brighten up interior decorating ideas and add a splash of color to room decor.
4. mini garden design for modern wall decoration
Old ladders make convenient wall shelves for small indoor plants, creating stunning mini garden designs for healthier home environment and adding relaxing green color to wall decoration ideas.

Empty wall decoration ideas with large objects
Modern wall decorating ideas, ordinary frames
Wall decorating with old picture frames
One large clutter item, like an old wooden ladder, door, window or mirror frame, can elegantly decorate an empty wall, adding personality, wonderful rustic wood tecture, neutral grayish-brown colors and charming accents to modern wall decoration in country cottage style.
Find clutter items, like a broken chair, an old ladder, or a wooden box, paint them bright colors that match your home interior decorating color scheme, and use for creating shelves, furniture, room decor accessories and eye catching empty wall decoration ideas.
Wall decorating with clutter
Kids rooms wall decorating with clutter
More from reuse and recycle

Recycling is a creative, Green, modern way to create something new, exciting, original, stylish for your home interiors. Do-It-Yourself projects are...
and enjoy free articles sent to your inbox