Yellow Flower Centerpieces and Table Decoration Ideas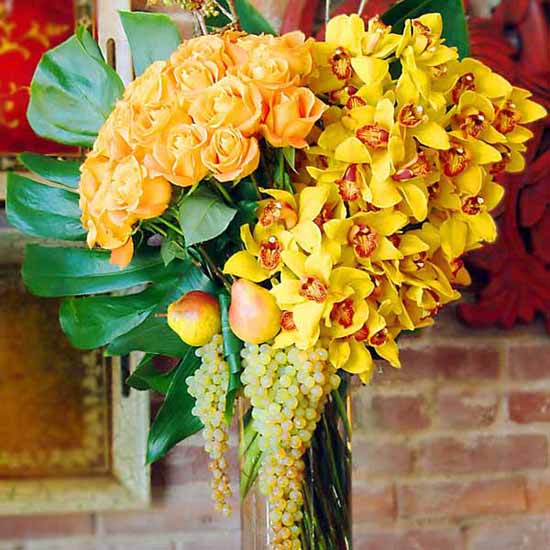 flower arrangements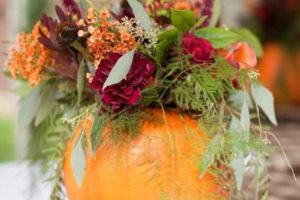 Beautiful flowers in yellow color shades make attractive and eco friendly flower centerpieces, inspiring sunny table decoration ideas with cheerful golden or bright yellow colors. Charming floral arrangements that include flowers in yellow color shades are associated with optimism, hope, freedom and energy. Yellow flower centerpieces add warm accents to table decor, creating attractive combinations with other decorating colors.
Yellow flower centerpieces are eco friendly table decorations that bring many different shades of bright yellow or golden colors into home interiors, like light and deep golden tones, banana yellow, chiffon, topaz, yellow ocher, cadmium yellow, chartreuse, yellow cream, khaki, lemon, goldenrod, mellow yellow or saffron. High visibility of bright yellow color tones makes fresh or dried flower arrangements with yellow flowers easy to notice, creating the impressive focal point for table decoration.
Sunny accents are associated with gold and pleasant golden tones, making people feel happy and enthusiastic, whether enjoying modern interior decorating or home staging. Artificial, fresh or dried flower arrangements and decorations with flowers in yellow colors are loved in every country, although traditions of using yellow bouquets and decorations in yellow color vary.
Yellow flower meaning
Yellow flower is the symbol of hope, optimism, happiness and joy, associated with pleasant sunshine and warm atmosphere. Yellow flowers often endowed with special qualities. Ancient Toltec, the ancient civilization of Mexico, consider yellow rose a symbol of magical power.
In Japan yellow flowers symbolize good desire and light. Yellow flower centerpieces and decorations are inspired by the solar symbols and the goddess Amaterasu. In England yellow bouquets mean caring and attention to native people. In Sweden, people give flowers in yellow color to those who have achieved a major success or won a competition.
Decorating with yellow color
Feng Shui colors for the Dragon Year, golden and black interior decorating ideas
Yellow color decorating, interior design and color psychology
Yellow room decorating, sunny and happy designs
Yellow flower centerpieces for eco friendly table decoration
Floral arrangements with sunflowers
Western decorators and florists enjoy making sunflower bouquets, charming fresh and dried flower arrangements with sunflowers for interior decoration and table decor. The combination of sunflowers with green plants, tree branches, green bamboo sticks and green leaves looks especially dramatic, offering many creative eco friendly table decoration ideas for modern homes.
Flower arrangements with yellow roses and orchids
Graceful ideas for spring decorating with plants and flowers
Yellow roses, orchids and tulips make elegant and classy flower arrangements. Sophisticated combination of yellow roses and orchids create gorgeous fresh and dried flower arrangements, blending Western and Asian traditions and table decoration ideas. Stunning flower centerpieces, made of yellow roses and orchids look royal, offering unusual flower arrangements for special occasions and celebrations.
Yellow flower arrangements with various flowers
Eater floral arrangements and color symbolism
Interesting flower centerpiece can be created with flowers in yellow color that varies in size.  Attractive combinations of flowers in different yellow color shades look charming also.
Using yellow flower buds and large fully blossomed flowers or combining flowers in yellow color that have different shapes and textures help create wonderful table centerpiece with flowers in yellow color, celebrating the differences and adding more interest to holiday table decoration.
Modern flower arrangements, unusual centerpieces and gifts
7 creative ideas with plants and flowers
Creative floral arrangements and table centerpieces
More from decorating with flowers

Fabulous designs take modern food decoration ideas to the next level blending innovative concepts with traditions and exploring new ways to...
and enjoy free articles sent to your inbox