Graceful Ideas for Spring Decorating with Plants and Flowers

Plants and Flowers

spring decorating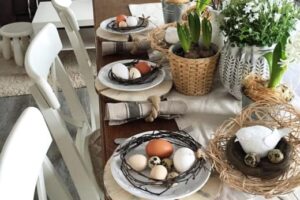 Plants and flowers are symbols of spring decorating. Flowers paintings for wall decorating, green house plants, fresh flower bouquets and artificial flower arrangements add beautiful accents and bright colors to your home spring decor, bring dynamic color contrasts that make home interiors look cheerful, and create energetic positive mood.
Green plants and flowers are impressive and cheap home decorations. Fresh, dried and artificial flower arrangements create a garden like atmosphere. Graceful Ikebana flower arrangements help decorate your home, showing the beauty of your soul, Japanese florists say. Beautiful flower arrangements make your home spring decorating look more elegant and colorful. (Spring home decorating, modern interior trends)
Making artificial flower arrangements is a way to add a personal touch to your room decor, saving money on spring decorating and creating unique colorful accents for your home. If you like unusual and artistic pieces, create modern flower arrangements or house plants with flowers compositions to add charming bright tones and relaxing green color to your rooms.
Elegant and cheap ideas for spring decorating with flowers and plants
Graceful spring decoration, modern spring decor ideas
Ikebana
Exotic Ikebana flower arrangements look tender, graceful and artistic. Artificial or fresh flowers and flowers painting on walls welcome spring like nothing else.
You do not have to be a professional florist to explore new ideas for spring decorating with flowers. Easy to make and inexpensive green house plants and flowers are a perfect choice for quick, cheep and attractive spring home decorating.
Creative ideas for spring decorating, Ikebana
Decorating with plants
Branches and leaves of plants and flowers are important elements of fresh and artificial modern flower arrangements. If you do not have time for making spring decorations, you can use house plants, like fern, oxalis, maranta or ivy plants, that are easy to care for, creating table centerpieces with ribbons and artificial flowers. (Fern, decor for room window)
Fresh flower arrangements, simple spring decorating with flowers and plants
Watering small house plants a couple of times a week is not a big deal, but lush greenery adds beautiful spring decorating accents to your window, coffee table or dining table decorand will delight you all year round.
Spring decorating with flowers painting
Your own bright flowers painting makes a unique colorful spring decorating accessory for your home. Thin tree branches, green leaves and beautiful flowers are excellent painting themes in spring. (Blue-green interior color schemes, living room decorating)
Floral pictures and paintings, wall decorating ideas
Get inspired by floral designer fabrics or beautiful wallpapers, fresh spring foliage or colorful bouquets, green grass or floral pictures and create a unique flowers painting for personal and interesting wall decorating.
Red poppy flowers painting, pink wall paint
Diy artificial flower arrangements
Cheerful and happy colors, bright ribbons, unique textures of branches with buds and simple crafts ideas make graceful artificial flower arrangements that can be beautiful gifts or decorations for your home n spring.
Diy ideas for spring decorating with flowers, spring crafts and decorations
Making flower arrangements with branches and ribbons
Unique diy project for spring decorating
Bright artificial flower arrangement
Ideas for spring decorating:
Staging home decor to welcome spring
Charming ideas for spring decorating, light window curtains
Interior color schemes, yellow-green spring decorating

Creative Easter ideas offer many quick and easy techniques for spring eggs decoration. Instead of dyeing eggs, try decoupage turning Easter...
and enjoy free articles sent to your inbox