Simple Valentines Day Ideas and Crafts, Handmade Gifts in Icelandic Style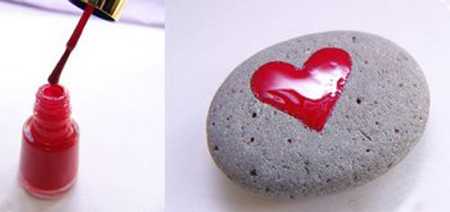 Hand-painted red hearts decorations on beech pebbles, simple gifts and unique table decorations for Valentines Day in Icelandic style
painted rocks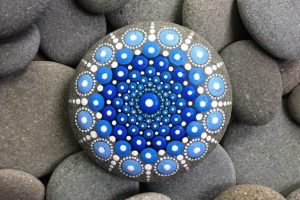 Valentine's Day ideas, romantic and bright, vary from country to country. Valentines Day celebration in Iceland, compared to many other countries, is pretty austere. There is an old tradition of wearing burnt wood pieces for young men and pebbles for girls that symbolize the fire and stone for starting the fire, the passion and love. This tradition inspired simple and creative Valentines Day crafts for gifts, – wooden pieces and small beach pebbles with hand-painted red hearts decorations.
Valentines Day in Iceland sees a generous use of flowers. Sending flowers to the beloved one is a very common custom. Glorious red rose flower bouquets are available all over the country, starting from neighborhood shops to florist shops. Romantic breakfasts and dinners with festive food and delicious treats are other simple and pleasant Valentine's Day gifts popular in Iceland.
Valentines Day ideas and gifts in Icelandic style are warm and cozy, perfect during the dark, long winter with Polar Nights. Romantic breakfast and Valentines Day dinner with glowing candles are great Valentines Day ideas in Icelandic style. Candlelight dinner with fruits, chocolate and a red rose flower centerpiece is a wonderful Valentines Day present that has a universal appeal. This gift would feel even more special with personalized table decor, a creative flower arrangement, unusual candle centerpiece, handmade tablecloth and napkins.
Two simple crafts ideas for Valentines Day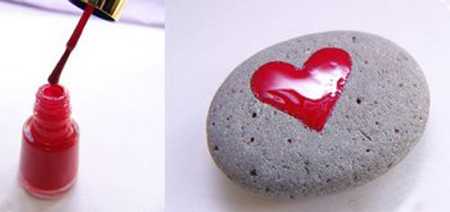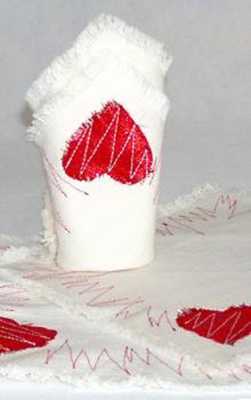 Handmade napkins with red hearts decorations
White napkins with red hearts decorations are easy to make. You can use a natural fabric, like cotton or linen in light color for napkins and small pieces of any pink, light purple or red fabric for heart appliques that will add a beautiful contrast to Valentines Day table decor.
Making napkins with red heart appliques
Wash fabric pieces together to make sure they do not stain before making Valentines Day table accessories. Napkins can be make in two sizes – 25 x 25 cm and 40 x 40 cm. Pulling few threads in the edges adds lovely fringes. Make red hearts decorations and sew them on a corner of each napkin.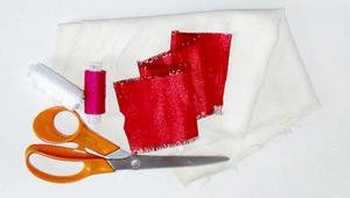 Handmade napkins in light colors and with red hearts decorations look bright and festive, adding charming design to Valentines Day table decoration. A set of these napkins make a great Valentines Day present. A candlelight dinner, beautiful flower centerpiece, delicious food and elegant handmade napkins are simple Valentines Day ideas that create very spacial atmosphere and unforgettable dining experience.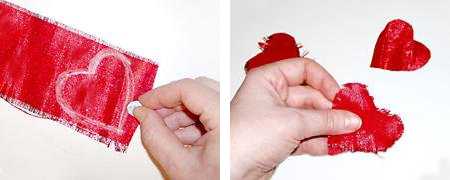 Red hearts decorations are a charming declaration of love and symbols of open hearts. Handmade napkins and red hearts decorations add romantic feel to Valentines Day ideas and make dinner table decor look very special.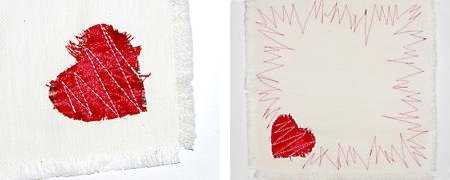 Craft ideas for Valentines Day, eco gifts made of fresh flower and plants
5 hearts decorations for Valentines Day, recycled craft ideas
Valentines Day ideas and table centerpieces, pink hearts decorations

Pink is one of the most ubiquitous and versatile Christmas colors that are perfect for elegant table decoration. The tender, pale...
and enjoy free articles sent to your inbox