Craft Ideas for Valentines Day, Eco Gifts Made of Fresh Flowers and Plants
---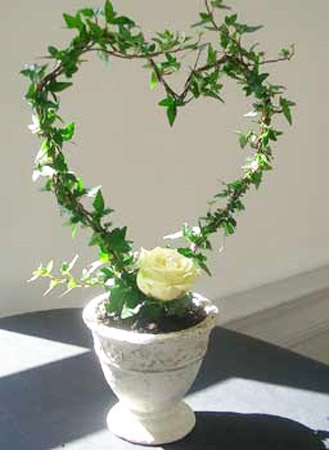 Valentines Day gifts and table centerpieces, made of fresh flowers and plants, yellow rose and ivy heart
Simple craft ideas from decorators help prepare amazing Valentines Day gifts, creating beautiful handmade decorations with fresh flowers and small plants. A basket, decorated with LOVE letters and hearts decorations made of fresh flowers, small plants and moss look striking and very special.
Making hearts of fresh flowers, plants and moss or decorating baskets and small plants pots with hearts decorations are elegant and stylish way to surprise your loved ones on Valentines Day.
Small hearts decorations, made of fresh flowers are gorgeous table centerpieces that add unique aroma, bright color and exclusive design to your dining room decorating ideas for Valentines Day dinner.
Beautiful table centerpiece for Valentines day, simple crafts, eco gifts and home decorations
Unusual and beautiful, hearts decorations and baskets with fresh flowers and plants make great eco gifts for Valentines also.
Handmade gifts and home decorations feel warm, creating relaxing atmosphere and matching any interior decorating style.
Valentines Day gifts and table centerpieces, made of fresh flowers and plants, yellow rose and ivy heart
The main thing is to select the right color for making romantic gifts for Valentines Day that will enhance room decor. Green color of plants has a universal appeal.
Unique Valentines ideas, gifts and home decorations, flower bouquet made of balloons
Flowers in pink, purple and red colors are traditional for Valentines Days gifts and home decorations, and work well for every room, adding romantic flavor to home furnishings.
Heart decorations for Valentines Day or wedding table, fresh flowers arrangements and table centerpieces
Fresh flowers are ideal romantic presents, combined with an attractively decorated basket and small plants, they make wonderful eco gifts that everyone likes.
Hearts decorations, 15 handmade gift ideas for Valentines Day
February, 14th is a special romantic day, that offers a great opportunity to show love and add more romance into your life.
Simple craft ideas for Valentines Day, eco gifts and table centerpieces made of hearts decorations and blooming plants
Creative and elegant Valentines Days gifts and home decorations made of fresh flowers and plants are perfect for demonstrating your romantic feelings and appreciation to special people in your life.
Valentines Day craft ideas and table centerpieces, pink hearts decorations
Eco gifts are one of great Valentines ideas that are elegant and warm, unique and inexpensive. Fresh flowers are a part of romantic holiday celebration.
Bamboo and red hearts decorations, romantic table centerpiece and eco gift idea
Beautiful arrangements made of fresh flowers and plants increase the effect, creating pleasant and surprising unusual gifts for your Valentines.
Eco friendly decor and Valentines gifts under $10
21 impressive table decorating ideas for Valentines Day
Crafts for Valentines Day, handmade eco gifts and home decorations for romantic holiday
Classy Valentines ideas for table decoration
Charming home decorating ideas for Valentines Day
Simple steps for decorating a basket for Valentines Day
by Ena Russ
last updated: 30.01.2012