White Home Decorating Ideas, Modern House on Stromboli Island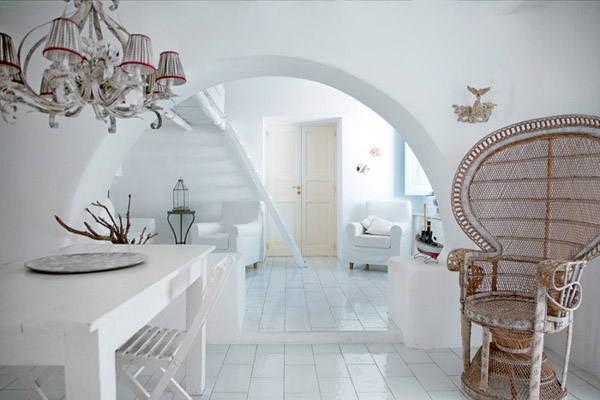 White dining room decorating ideas, redesigned old house for Gianni Tanini
This white home on Stromboli Island was rebuilt and decorated for the owner of Devon & Devon Gianni Tanini. White home decorating ideas and spacious design make this modern house an exclusive and peaceful retreat on a legendary island.
White decorating ideas and a cooling breeze make modern house design on this windy island airy and pleasant. According to the ancient Greek legend and Odyssey of Homer, Eolu, a demigod who controlled the wind, was the owner of the island of Stromboli.
Constant winds and smoke from an erupting volcano, which has been active for the last twenty thousand years, make the island a secluded place for building a house. Just 400 people live on the island, one of them is Italian businessman Gianni Tanini.
Covered outdoor patio with hammock, modern house design
He fell in love with this pristine place. That is probably all that was at the time of creation of the world, – he said.
His house was built in the late XIX century. Following local architectural traditions, that are characterized  by the ultimate simplicity, the old house was rebuilt and decorating in white colors.
White living room furniture, interior design and decor
Square shaped modern house design is located on a rock. Windows on the Eastern part of the modern house allow to enjoy incredibly beautiful sunrises. The large terrace which stretched along the perimeter of the house is the favorite place of the family. The terrace is sunny and warm most of the year.
White color and light for breezy bathroom decor
Decorating with picture frames, bright red and white color combination
Minimalist design ideas are reflected in simple and spacious interior design and decor in white color. Home decorating ideas, furniture and decor accessories reflect the spirit of local traditions. Residents believe that this region is so beautiful that the house requires no other decorations, providing an exceptional view from the windows.
White dining room decorating ideas, redesigned old house for Gianni Tanini
All home furnishings for interior design and decorating made by local craftsmen. Floor, walls, ceilings are painted white color.
White decorating ideas, white picture frames for bright wall decor
Black and white interior design ideas, neutral modern interior color schemes
The furniture and decor accessories in white color emphasize light and breezy, simple and elegant white home decorating ideas.
White bedroom decor with impressive large mirror in carved wood frame
My company has been producing bathroom furniture pieces, and most of them are just white. I love this color and white home decorating ideas. And here people believe that white color brings happiness, – Gianni Tanini said.
Glass wall house design and eco decor in white color, modern houses
Scandinavian style apartment ideas, white decorating
Photographs by Caterina Tanini
More from home decorating ideas

Scandinavian homes are cozy and warm. Scandinavian designs are perfect for decorating winter homes for the holidays. Christmas decorating ideas by...