Decorating with Picture Frames, Bright White Red Color Combination
---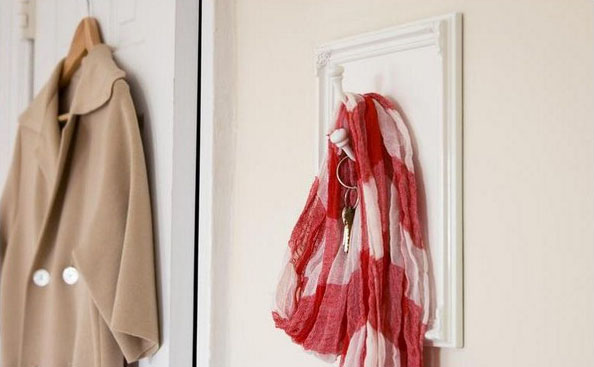 Decorating with picture frames in bright white and red colors makes wall decoration and the entire room decor feel very energetic and impressive. Metal, plastic or wooden frames in white color brighten up interior decorating, and optimistic white and red color combination add excitement to wall decor.
Picture frames are great for family or friends photos. Also wooden frames can attractively display small collections and your favorite decorative items. There are so many ways to decorate with picture frames that clutter your home. Whether for fresh and modern interior decorating or home staging your house for sale, old or new wooden frames and bright white and red color combination bring beautiful art wall decor ideas into your home.
One of the best ways to put old wooden frames to good use is to create your own artwork, painting picture frames white color and adding beautiful red color accents. Purchasing art wall decor items is a pricey endeavor, but designing your own wall decor ideas with picture frames and useless items saves money and helps declutter your home.
Decluttering and wall decoration ideas
Wall decor ideas, decorating with frames for exceptional look
Clutter for creative walls design
Eclectic and whimsical wall decoration ideas from Sherwood Forlee and Mihoho Ouchi, design studio THE, www.thinkofthe.com/ are inspiring and pretty. Their Framed Objects encourage creativity, decluttering your home and using old wooden frames for simple, fresh and stylish wall decoration ideas.
White wooden frames and Framed Objects
Ordinary vases and shelves, coat hooks and keys look differently in white wooden frames, creating bright wall decor ideas with stylish red colors and offering practical and beautiful wall decorations for modern home interiors.
You can turn magazine pictures or favorite photographs into art, using white wooden frames in red decorating accents in a striking color combination. A pieces of patterned decorative materials in red colors can add stylish red color accents to your wall decor with white wooden frames, creating optimistic and warm interior decorating.
White and red decorating ideas
Ideas for wall decorating with picture frames
Modern wallpaper patterns and wall sticker designs with frames
Empty picture frames and framing objects, wall decor ideas
Modern wall decor ideas in white-red colors
Making 3d interior decorating accessories and art wall decor pieces with white wooden frames and your favorite small objects, like a scarf or hook, vase or seashell from a vacation, and adding bright red color accents create cheerful color combination and attractive wall decoration ideas for your beautiful home.
More from home staging tips

Modern living room designs that are cozy and warm offer comfortable spaces to spend evenings in late fall, winter, and early...