Unique Lighting Fixture Set from Bevk Perovic Arhitekti, Funnel Lamps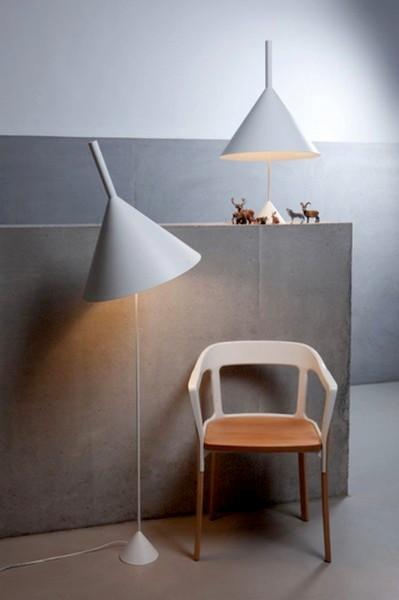 Pendant lights that look like upside down funnels, unique lighting ideas for modern interior design
Unique lighting ideas, inspired by an ordinary kitchen object, a funnel, are surprising and creative. Lamp shades that look like a funnel are created by the design studio Bevk Perovik Arhitekti for Vertigo Bird. Funnel Lamps set includes a table lamp, a pendant light and a torchiere with funnel-shaped white lamp shades.
A funnel is a very helpful item that are often used in kitchens and garages. Turned into Funnel Lamps, this object looks like a contemporary artwork, surprising with its unique, simple and elegant geometric shape.
Funnel Lamps are contemporary lighting fixtures that look stylish and refined, adding artistic details to modern interior design.
Pendant lighting fixtures, modern interior design trends
Modern lighting fixtures, top 10 contemporary lighting design trends
Pendant lights that look like upside down funnels, unique lighting ideas for modern interior design
Table lamp, pendant light and torchiere, that creates the set of funnel inspired lighting fixtures are excellent choices for polished and exquisite interior design and decorating.
Funnel Lamps look gorgeous in stylish bedrooms and dining rooms, kitchens and living rooms, hallways and offices, bringing simple form, classy design and neutral white color into modern rooms.
Funnel shaped lamp shade, unique pendant light for dining room decorating
Funnel Lamps produce pleasant light, creating cozy, warm and comfortable atmosphere. A sleek, classy and universally appealing look makes these funnel-shaped lamps versatile.
Lighting fixture designs to magnify home beauty
Kitchen lighting design for coffee lovers

Here is a new design concept of Ibis Hotel in Sao Paulo, Brazil. The contemporary and original interior design invites everyone...