Under Table and Back Up Japan Table Design Ideas, The Art of Decor
---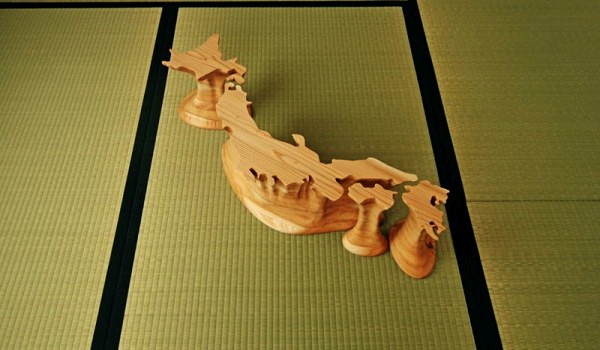 Hand carved wood furniture, modern tables inspired by main Japanese islands and made of Japanese cedar, the art of decor
Under Table is an unusual, interesting and playful furniture design idea from designer Goncalo Campos, Portugal. Under Table design is inspired by child's memories of playing under the table and having lots of fun, enjoying a different worls that adults do not see.
Bright red color made this artistic and interesting wooden table design even more exciting and dynamic. Silouhettes of pets and people add informal and cozy flavor to modern table design, creating durable and solid table base.
Surprizing and very decorative design ideas from talented and creative designer Goncalo Campos, www.goncalocampos.com/ are inspiring and impressive. Modern table design blends familier and nostalgic with fresh and unexpected, creating impressive and truly unique contemporary furniture design.
Unique wood furniture design ideas, red table with pets and people silhouettes that create a table base, the art of decor
Picnyc table by Haiko Cornelissen, dining room table with green top
Modern coffee tables with tree growth rings, unique furniture design ideas
Wooden tables Back Up Japan from Soichiro Kanbayashi represent four main Japaneese islands. Geography inspired modern tables are hand carved of Japanese cedar and celebrate the power and beauty of the nature.
Hand wood carving is the best technique for creating exact miniatures of Japaneese islands and designing modern tables, that are gorgeous and artful. Wooden tables shapes repeat all natural curves of Japanese islands and look symbolic and impressive, celebrating the natural texture and beautiful color shades of valuable cedar wood.
Hand carved wood furniture, modern tables inspired by main Japanese islands and made of Japanese cedar, the art of decor
Modern tables Back Up Japan can be used upside down also. One side is curvy, repeating the contours of four large Japanese islands. Table tops are very decorative and artistic. The bottom is smooth and more functional, offering comfortable surfaces with soft edges.
Kids activity table design for animal lovers
Four chairs, which can be used as coffee tables or side tables for decorating living rooms were presented at the exhibition Monokeiro 11/11, that took place after 8 month after the tragic accident in Fukushima.
Two modern tables that look like artworks

Modern interior design trends come and go, and it is impossible to change your home interiors fast enough following them. To...