Modern Coffee Tables with Tree Growth Rings, Unique Furniture Design Ideas

Decorating Ideas

Furniture Accessories

Living Room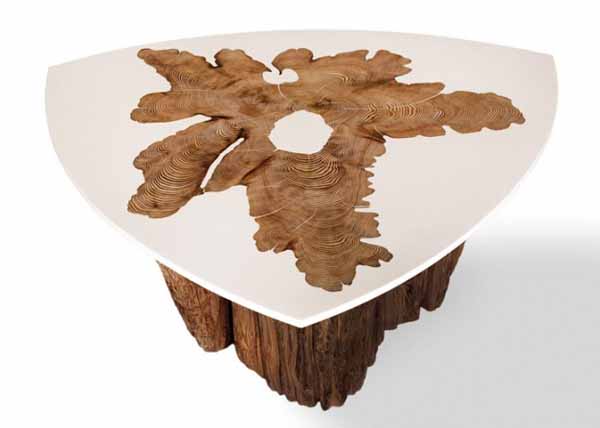 wood furniture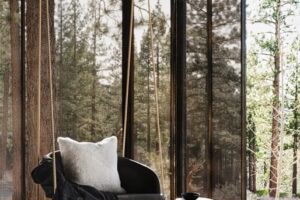 Unique coffee tables from the Bloom Collection are made of natural wood and contemporary plastic in neutral white and gray colors look gorgeous. Two designers Tanja Hinder and Michael Thomas from the company MTH Woodworks presented their unique furniture design ideas, inspired by the nature, during IDS West exhibition in Vancouver.
Modern coffee tables with tree trunks and growth rings are beautiful furniture items that create warm and cozy living rooms, adding more character to contemporary homes.  Tree growth rings are annual rings that can be seen in a horizontal cross section of a trunk that is used for making coffee tables.
Visible tree growth rings are the results of the changes in growth speed through the seasons and years. Modern coffee tables, made of tree trunks pieces with visible growth rinks on coffee table tops are unique furniture items, as each tree has a different growth rings pattern.
Unique furniture design idea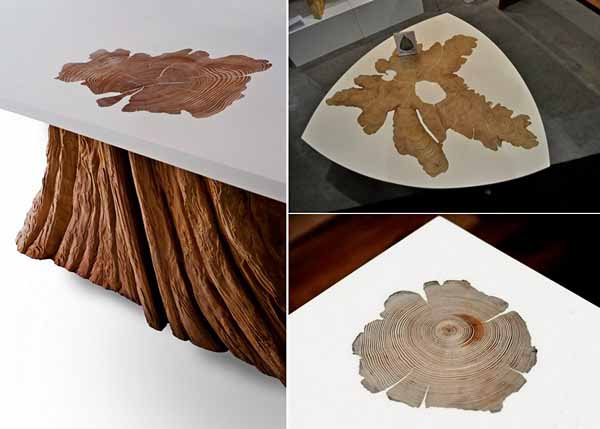 Attractive and creative furniture design ideas celebrate the beauty of natural materials, attractiveness of organic shapes and patterns. Tree trunk growth rings marks the passage of one year in the life of the tree and allow to learn about its life.
Coffee tables from MTH Woodworkswww.mthwoodworks.com/ are very decorative, perfect for creating unusual and personal living rooms. Coffee table top designs vary from reclangular to round and triangular, but all decorated with gorgeous tree growth rings.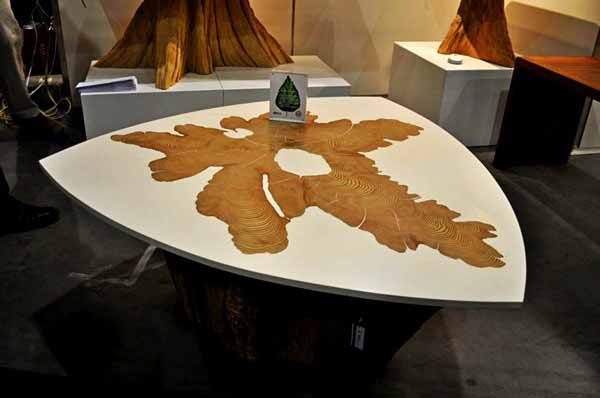 Coffee table designers attractively blended together amazing pieces of cedar tree trunks with coffee table tops, made of contemporary plastic in neutral white and gray colors for creating striking, functional and modern furniture design.
Modern console tables for interior decorating
Glass top coffee table, Italian furniture design ideas
The combination of natural and synthetic materials, unique furniture design ideas, the elegance of minimalist style and the simplicity of organic curves create modern coffee tables that will turn living rooms and offices into amazing spaces.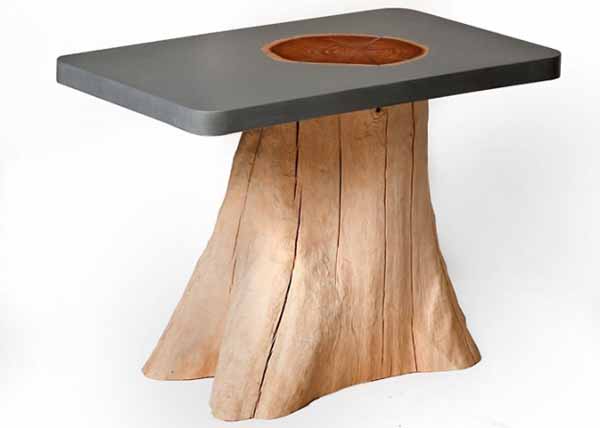 The nature gives beautiful inspiring ideas for modern furniture design. Modern coffee tables with tree growth rings are a wonderful result of designers work that  noticed these inspirations and created stunning modern furniture.
Striped modern furniture design ideas
Beautiful modern coffee tables will be appreciated by many customers and admired by all people who enjoy unique furniture design ideas, elegant simplicity and natural materials, used for modern furniture design.
Modern coffee tables, trunk coffee table designs

Snowflakes are perfect Christmas decorations and eco gifts that you can make in an infinite variety of sizes and designs. White...
and enjoy free articles sent to your inbox