Suspended Glass Bathtub Sphere Brings Innovative Design into Modern Interiors

Bathroom Ideas

Interior Design Ideas

Living Room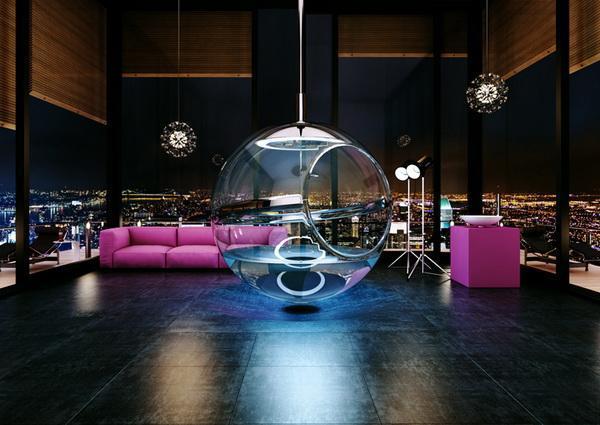 Innovative glass bathtub challenging traditional interior design
new design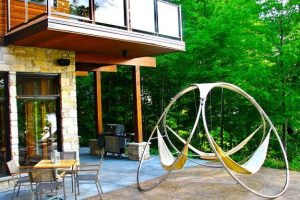 A glass bathtub shaped like a sphere is innovative, extravagant, and impressive. The bathtub Bathsphere from designer Alexander Zhukovsky adds a futuristic feel to modern bathroom design and offers to decorate modern bathroom interiors with a spectacular hanging from the ceiling bathtub made of glass.
The glass bathtub is a contemporary alternative to cast iron tubs in vintage style. The glass sphere suspended from the ceiling makes a fabulous decoration for a bathroom, creates a stunning focal point for modern interior design, and improves the bath experience. The beautiful views from large windows turn the bath time into a truly pleasant, relaxing, and sensual experience.
The space in space concept defines the Bathsphere bathtub design. The designer challenges traditional interior design and living space organization by placing a bathtub outside of a private bathroom. Modern bathroom design merges with a living room, creating one multifunctional, beautiful and comfortable living space without a special place for taking a bath.
Spectacular hotel room design with a glass shower
New bathtubs for modern bathroom design
15 exciting, contemporary bathroom design trends
Ec0-chic ideas and contemporary design for modern bathrooms
Suspended glass bathtub design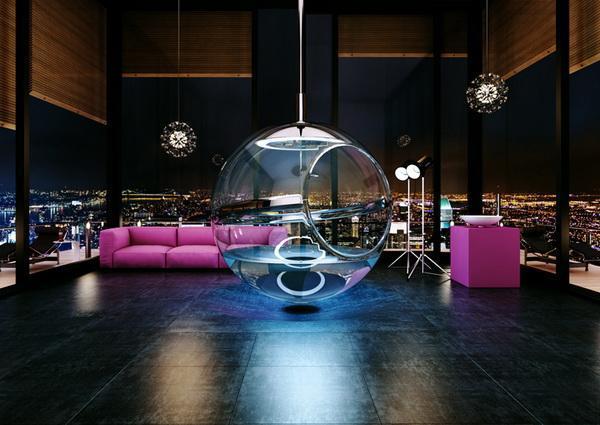 This extravagant bathtub design project allows urban dwellers to relax in a beautiful room with gorgeous city views, adding charming detail to the contemporary interior design. You can create a new environment to simulate rain inside a glass sphere, change the temperature inside the ball, alter humidity, add light, sounds, and even smells.
The Bathsphere bathtub design offers to create a different mood in a room following your needs and wishes. Hanging from the ceiling glass sphere looks weightless and transparent, visually uniting two spaces – bathroom and living room.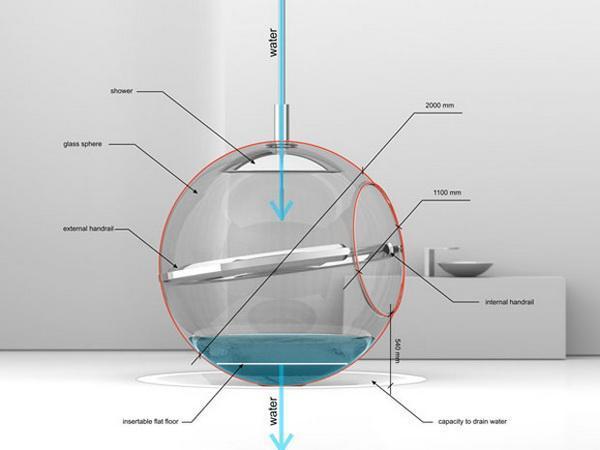 Perfect for modern penthouses and luxurious homes with private yards, the contemporary bathtub design creates a unique opportunity to enjoy the water and panoramic views. The spectacular bathtub sphere reflects the latest trends in decorating with glass and brings a new, exciting, and novel design idea into modern interiors.
More from modern bathroom

Remodeling bathroom interiors is an essential part of creating a modern home. A beautiful, functional, well-planed, and modern bathroom design affects...
and enjoy free articles sent to your inbox