Spectacular Lighting Ideas Add Color to Wood Furniture with Tree Growth Rings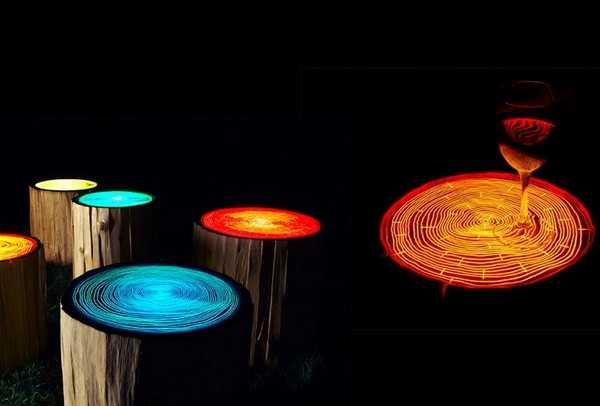 lighting fixtures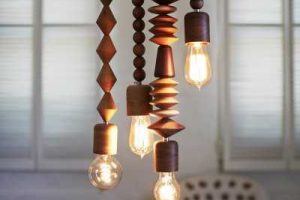 Colorful lighting design turns tree stumps into spectacular furniture and lighting fixtures that can be used as side tables and seats. These funky stump lights are designed by Judson Beaumont of Straight Line Designs, a furniture design firm out of Vancouver.
Tree Rings collection of lights brings the natural beauty and charm of tree growth rings into modern interior designs and offer a multifunctional furniture and lighting fixtures that are original and dramatic. These lighting fixtures are made out of a beetle pine wood topped with colored Plexiglas tops that allow the embedded cool fluorescent light to shine through in the dark.
Perfect for home bar designs, bedroom, family room or entryway designs, kitchen, home theater or living room decorating, the lighting fixtures, side tables and stools add fun and contemporary flair to modern interiors, while blending a natural material and ingenious simplicity with surprising and very decorative colorful lights.
Color changing, modern furniture glow in the dark trend
Interior design with lights that change room colors like chameleons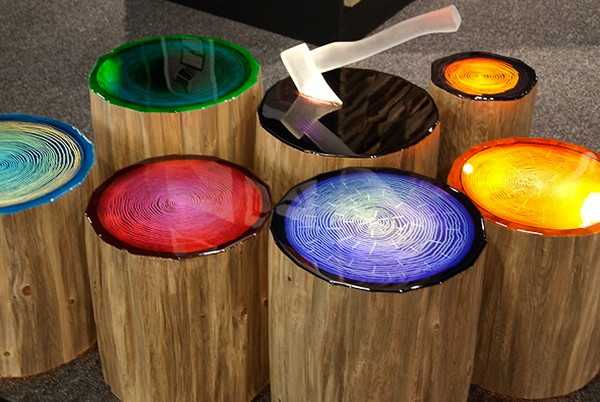 The tree stump tables and stools are one of modern furniture design trends. The company reinvented the concept of stump furniture with bright Tree Rings. They look ordinary during the day, but at night, the small side tables and stools glow in the dark, illuminating the beautiful tree growth rings on furniture surfaces.
The lights can be uses as miniature tables and additional seating for guests, they are able to hold enough weight. Plus these playful stump tables and stools create an amazing glow, highlighting the beautiful tree ring pattern on the surface of the table which becomes evident as the fluorescent light shines through.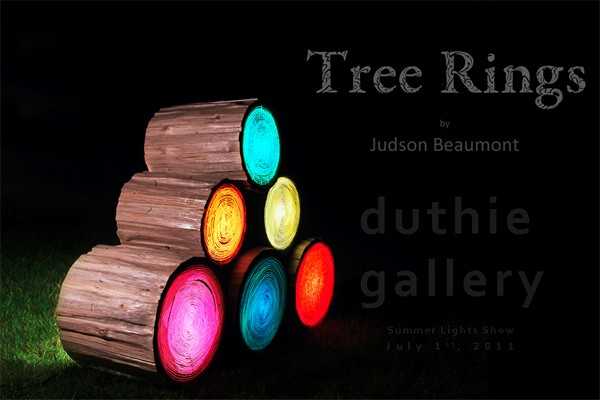 Colorful Tree Rings lighting fixtures, designed by Judson Beaumont, are simple, attractive, functional and convenient. The designer said, My rule is: if you can draw and design it, you can build it. I love it when someone tells me that I cannot build that or No one would want that. These words only encourage me more.
Modern coffee tables with tree growth rings, unique furniture design ideas
Log furniture and decorative accessories, 16 DIY home decorating ideas
These lighting fixtures and small furniture pieces are on sale at Duthie Gallery, small H 11" x W 15" $400 , large H 13" x W 16" $600.


Christmas color schemes can blend traditional and fresh hues and give a stylish twist to your holiday decor. Whether you decide...
and enjoy free articles sent to your inbox