Logs Furniture and Decorative Accessories, 16 DIY Home Decorating Ideas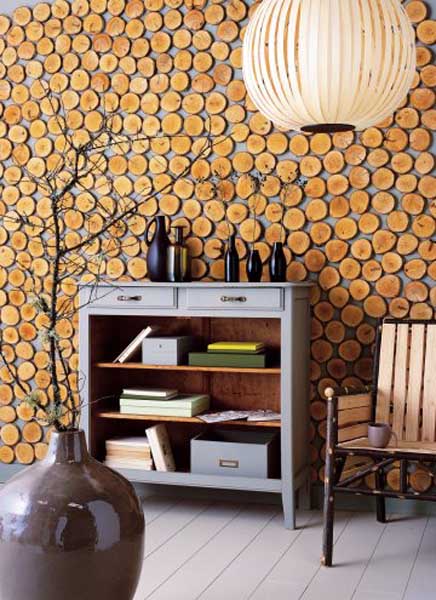 Wall decorating with round log pieces, DIY interior decorating in eco style
wood furniture

Handmade logs furniture and decorative accessories are beautiful items for home decorating. Logs are eco friendly material for creative crafts and diy inexpensive home decorating in eco style also. Logs homes, summer cottages and country style homes, garden, porch and backyard decorating that include logs furniture and decor accents made of twigs, branches and tree logs look charming and natural.
Handmade logs furniture and decor accessories personalize interior design and give a unique look to garden shed, patio and porch, beautifying simple backyard ideas and creating a harmonious blend with your natural landscaping, plants and flowers.
Luxurious or small log homes can be decorated with wooden items made of twigs, branches and tree logs, adding a nice final touch to exterior and interior design. Furniture and decorative accents, made of tree branches and logs, look gorgeous and unusual, adding a natural feel to interior decorating ideas, connecting rooms with the nature.
Logs furniture and decorative accessories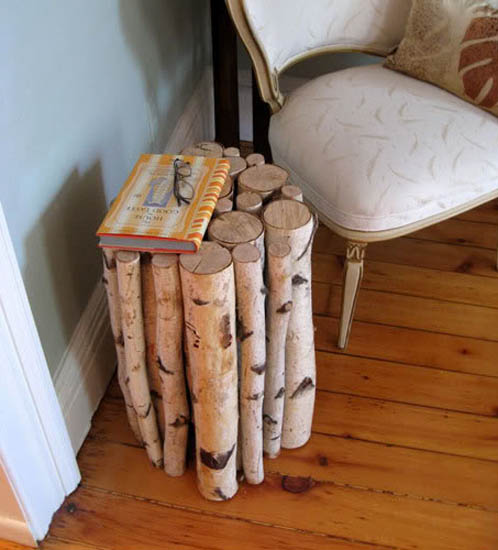 Crafty logs furniture and decor accessories can be used for home decorating in many styles, enriching modern house design and apartment ideas with the nature inspired interior decorating theme.
Large logs and small wood decorative accessories for wall decoration, beams and posts, lighting fixtures and logs furniture are just a few ways to add attractive twigs, branches and tree logs to modern home decorating ideas and emphasize the natural materials, elegance of organic shapes and beauty of eco homes.
The spectacular candle holder and table lamp, bedside table and curtain rod, glass top coffee table and wall decoration, made of tree branches and logs are great for traditional and contemporary home decorating.
From simple tree logs to contemporary dining chairs, modern furniture design
Cork furniture, eco friendly contemporary furniture design
Simple and elegant tree branches and logs are perfect material for DIY furniture and decor accessories that make wonderful home decorations that will jazz up porch decorating and backyard ideas for creating luxurious, unusual and interesting modern homes in eco style.
Wooden beams and posts, logs furniture and decor add the natural beauty, fresh and clean design to modern interior decorating and make backyard ideas feel balanced and organic.
From log to keyboard stools and stylish chairs
Modern coffee tables with tree growth rings, unique furniture design ideas
Tree branches and logs can be finished in various tones, polished or painted, showing the beautiful texture of the natural wood and adding unique character to modern interior decorating and backyard ideas in eco style. Tree logs are ideal for designing exclusive and stylish handmade home furnishings.
Outdoor furniture and decorative accessories for your garden, porch or patio, made of twigs and tree logs, create attractive and welcoming, warm and friendly home decorating, adding charm and unique character to backyard ideas and modern home interiors.
More from modern interiors

Bright home interiors and amazing views of the ocean make this beach house a dream place. Large windows, light, neutral room...
and enjoy free articles sent to your inbox