Single Christmas Color Holiday Decorating Trend

Holiday Decor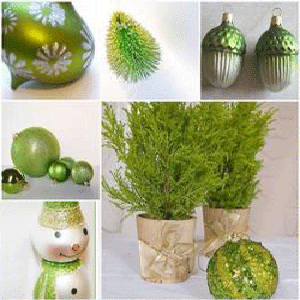 Green ornaments
christmas tree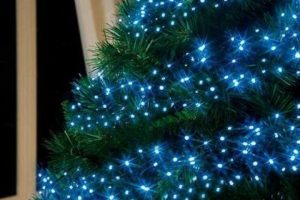 Gold, white or silver, pink and purple colors are modern Christmas colors that you can choose for Single Christmas Color decorating this winter holiday season. Also, green color shades are hot for 2010 Christmas decoration ideas. If you decide to stay with one modern Christmas color, following the monochromatic Christmas decorating trend, you need to choose your favorite stylish Christmas color and design living room and dining room interiors, use Christmas tree ornaments and arrange Christmas table decorations in one selected color. (Modern decorating colors for fall-winter 2010-2011.)
Light golden tones, cream, beige, white or silver Christmas decorating accents add festive winter holiday flavor to stylish single-color Christmas decor. (Gold and brown Christmas decor decor.) White or silver look great with all Christmas colors. If you like trendy purple and pink colors, get a purple-pink Christmas tree and decorations, design the living room interior, using pink and purple decor accessories, like purple-pink Christmas stockings, curtains, cushions, wall paint, wall stickers or wallpaper, and create Christmas table decorations with miniature purple-pink Christmas tree, purple-pink table cloth, napkins, dinnerware and Christmas wreaths.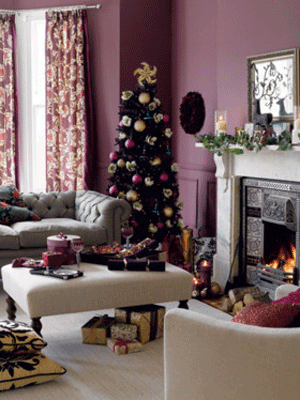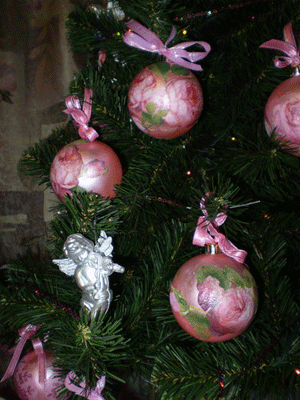 Single-color Christmas decor lovers will appreciate the silver-green Christmas theme, which requires exclusively green, silver or white color shades for modern Christmas decoration ideas. White-green or silver-green Christmas color combination creates the winter forest theme and green tree branches powdered with snow. Silver-green Christmas color combination, that may include celadon, lime, spring green and emerald green tones, is a perfect choice for eco-friendly homes, retro style Christmas decoration ideas or minimalist living room and dining room interiors.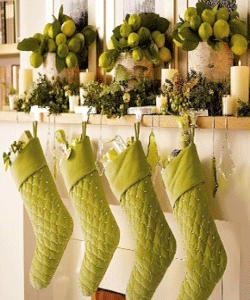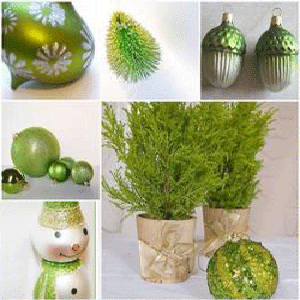 White, purple and pink Christmas trees and decorations are popular Christmas themes and modern Christmas decorating trends this winter holiday season. Purple-pink Christmas tree and trendy purple living room interior decor accessories are great for contemporary Christmas decoration ideas. Light purple and soft pink Christmas tree, decorations, wall colors, furniture and room decor accessories create stylish Christmas color combination that feels fresh and romantic. (Decorating with purple color, room color schemes.)
Pleasant green color shades, light or deep purple tones and playful pink Christmas trees, decorations, furnishings and wall colors feel sweet, relaxing and festive. Stylish Christmas color combinations can include fuchsia, pink, lilac, brownish purple, red-purple and soft pink-violet shades.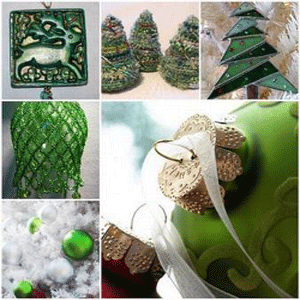 Modern deep purple or pink Christmas tree and decorations create spectacular single color Christmas decor if combined with stylish and elegant silver Christmas color. Contemporary Christmas decoration ideas, which include feathers, leather and fur, clear glass, soft silk or velvet, and soft golden and elegant silver Christmas color tones, create glamorous Christmas decorating and a luxurious winter holiday atmosphere.
Recommended:
11 modern 2010 Christmas decor trends
Eco style Christmas decorating trend
Tender rose petal decoration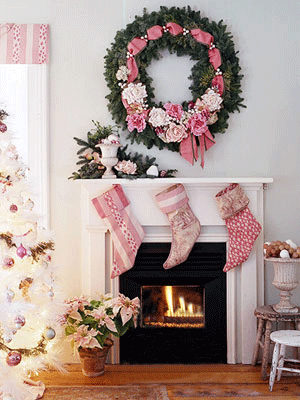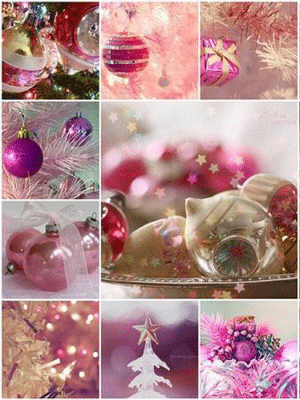 Warm metal accents are easy to incorporate into modern kitchen designs. Metal lamps, hardware, metal tiles, elements of kitchen designs will...
and enjoy free articles sent to your inbox