Room Decorating Tips, Bedroom Decor, Room Makeovers for Elderly People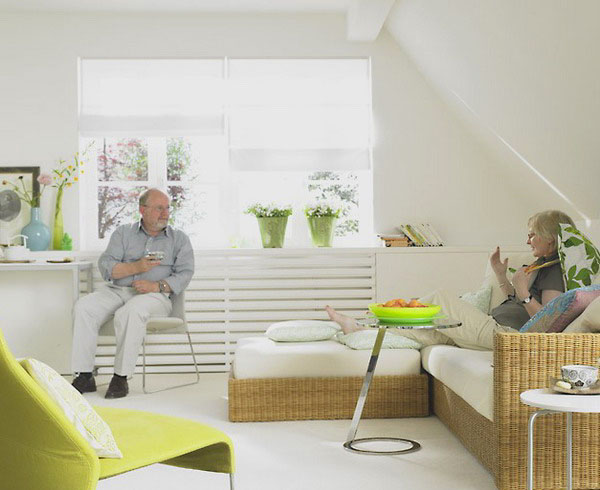 Room decorating tips from German interior design experts help create comfortable bedroom design for elderly people. Spacious room design ideas and bright green colors for bedroom decor, contemporary furniture and room decor accessories, selected for stylish room makeover and interior redesign project, are unusual choices for elderly people, but help them feel enthusiastic and happy, interior designers from Germany say
Quick room makeovers for elderly people dramatically transform rooms, staging a home for comfortable life and decorating for stress free lifestyle. Old people are vulnerable to injuries and accidents. Comfortable room makeovers create simple, functional and safe environment. Room decorating tips for elderly people reflect unique concerns and abilities of old people, helping to redesign home interiors and create attractive room design and safe bedroom decorating ideas to minimize the risk of accidents.
Creative room decorating ideas, modern interior design trends, pleasant bedroom colors, practical zoning, light and natural materials and comfortable room design solutions, used for beautiful room makeovers, create inviting and safe, welcoming and functional bedroom decor for elderly people. Bright and functional interior decorating and home staging for comfort quickly change room design, bringing more joy and happiness into their life.
Quick room makeovers
4 small bathroom decorating ideas and color schemes for quick room makeovers
Cozy window seat design inspiration
Home staging and creative interior redesign to fell better
– bedroom design before  room makeover
– bedroom design after room makeover
Elderly room decorating tips and interior design ideas
1. Bright, well lit interior design minimizes the chance of an elderly person bumping into something in a dark room. Elderly people can find it difficult to locate switch boards in a dark room, bring illuminated light switches to their bedroom decor. A clap-on, clap-off light system is ideal.
2. Replace doorknobs with levers since levers make it easier for elderly people to use a door or window. Slip-resistant flooring and non-skid mats under rugs are safe room decorating ideas that create safe and comfortable interior design for elderly people.
3. Creating functional zones is one of practical and attractive room decorating ideas that can be used for room makeovers to create sleeping and sitting areas for elderly people.
– comfortable and modern bedroom decor ideas after room makeover
4. Light green colors, combined with white tones are ideal for relaxing and modern room decorating ideas. Light interior design feels optimistic and cheerful, helping to fight depression and improving mood. Light green colors, lime or green apple tones, selected for a decorative room divider between the sleeping and sitting zones, combined with white cream bedroom colors, create gorgeous, fresh and cheerful interior design color scheme.
– creative and modern room dividers
Aquariums as stylish room dividers
Rain curtains, home decor accents
Light green colors are a perfect choice for furniture upholstery fabrics and chair covers, that make room decorating feel airy and pleasant. Small room decor accessories in light green colors increase the effect, creating comfortable and elegant bedroom decor after a quick room makeover.
Light blue-green color schemes, modern bedroom colors
Green is the color for creating healthy bedroom designs
Blue-green interior design color schemes for room decorating
5. Contemporary furniture, light green colors, stripes and floral bedding fabric, indoor plants and white cream room decorating ideas make bedroom decor look stylish, pleasant and spacious.
6. Light tones of gray, blue and blue-green colors, skillfully blended with natural wood shades, are pleasant and trendy room decorating ideas that are associated with elegant and comfortable eco interior design style.
7. Space saving corner furniture, made of natural materials and decorated with soft pillows, small coffee table and side tables for books and a table lamp, and charming room decor accessories in light gray, blue and green colors are an important part of a room makeover that creates more space and adds functional home furnishings to bedroom decor for elderly people.
8. An accent wall in light green color, light flooring, glass furniture and room decor accessories are unusual and attractive room decorating ideas for elderly people that add light, bright decorative accents and modern style to interior design.

Small decorative accessories, modern textiles, and indoor plants are cheap ideas for quick and easy room makeovers. These elements are fabulous...