Retro Kitchen Design Ideas from Marchi Group, Vintage Furniture and Kitchen Decor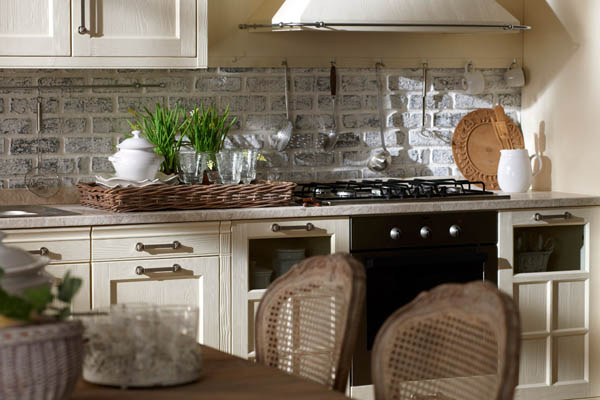 Retro kitchen design ideas from Marchi Group are inspired by cozy vintage furniture, lighting and kitchen decor items popular in 1950s. Simple wood kitchen cabinets and vintage chairs, lighting fixtures and retro decor items create the new kitchen collection in vintage style.
Retro kitchen design ideas look elegant and inviting, bringing spacious and functional loft style into kitchen interiors and offering comfortable layout for young families. Modern kitchen Kreola Young style features a steel hood, metal fittings, sinks made of granite, open shelves and hanging lamps in retro style.
Beautiful kitchen colors that include tender turquoise, light gray, white and natural wood color tones make new kitchen design in retro style feel welcoming ad familiar. Retro kitchen Loft has an interesting detail: the refrigerator, equipped with wheels, that is easy to move.
Retro kitchen design, vintage stoves for modern kitchens in retro style
Modern kitchen design trends 2012, redesigning kitchen interiors
Retro kitchen design and decor
New retro kitchen designs from Marchi Group, www.marchicucine.it that define the fresh vintage collection were showed in January at Maison & Objet.
Vintage furniture, lighting fixtures and wood kitchen cabinets in retro style are designed with the perfect kitchen picture in mind to create the ideal interior for a young couple. Retro kitchen design create a pleasant interior for those who appreciate good taste and practical layout, the designers say.
Retro kitchen decor is versatile and comfortable, offering wonderful background for a range of activities. Simple and elegant wood kitchen cabinets, turquoise, light gray, white and natural wood color tones create attractive modern kitchen design and a perfect kitchen interior for changing life-style.
Retro kitchen decorating ideas, open kitchen shelves for storage
Modern kitchen ideas for 2012 kitchens, design trends
Retro kitchen decor give the environment a warm and familiar feel, create a focal point of the home and make the whole apartment or house look restored, refreshed and stylish. Retro decor, vintage furniture and lighting, natural wood and simple kitchen design bring spacious and convenient loft style with plenty of room to invite friends for entertaining.
Retro kitchen design from Italian manufacturers is decorative and functional, interesting and stylish enough to be incorporated into the living room area. A combination of comfort and elegance, providing upscale contemporary elements for a very practical modern kitchen, natural materials and light colors are ideal for everyday living.
Best kitchen design 2012 from Rodolfo Doldoni
Kitchen design with peninsula, 20 modern kitchen designs for large and small spaces
The quality of materials like solid wood, granite and the treated marble used for the tops, the refined design and light turquoise, beige, chalk white and dust colors, make vintage furniture for kitchens in retro style look unique and fresh, practical and elegant.
The attention given to details, such as the old silver handles and the total modular flexibility highlighted by top-quality electrical appliances, embellish and enhance the vintage style of this artisan kitchen design from the Italian company.

Warm metal accents are easy to incorporate into modern kitchen designs. Metal lamps, hardware, metal tiles, elements of kitchen designs will...