Best Kitchen Design 2012 from Rodolfo Doldoni for Contemporary Homes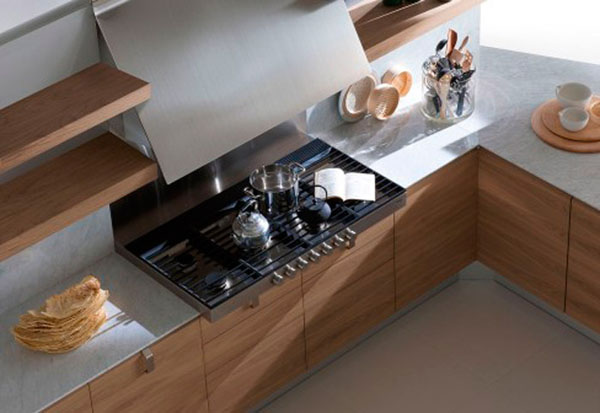 Wood kitchen cabinets with white countertops and steel hood
contemporary kitchen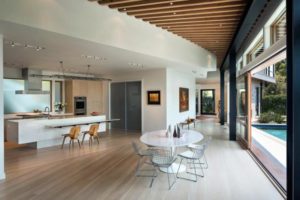 Set kitchen from Rodolfo Doldoni is one of the best kitchen designs for contemporary homes. The designer is famous for simple and functional kitchens cabinets, space saving and contemporary design ideas, innovative approach and elegant style.
Set kitchen design brings a convenient, space saving and functional set of white kitchen cabinets and wooden shelves that allow to create various kitchen designs for large and small contemporary homes. Modular furniture set with white kitchen cabinets and beautifully designed shelves create unique kitchen designs with comfortable work surfaces and storage.
Wallpaper Design Awards 2012 gave the Judges' Award to the best kitchen design by Rodolfo Doldoni, developed for Dada. Ergonomic and functional kitchen design make cooking and cleaning quick and simple. White kitchen cabinets provide plenty of space for everything a cook needs, offering good organisation and convenient storage ideas.
Modern kitchen color trends, elegant white kitchens
Kitchen decorating and design trends
Best kitchen design 2012
Best kitchen design 2012, white kitchen island with wooden top and stove hood
Natural materials and light neutral color palette create an ideal kitchen design for contemporary eco homes. Organic design, rhythm and logic of Set kitchen design will add elegance and comfortable chic to any home.
Set kitchen design will make homes bright and inviting, bringing more comfort and beauty into kitchen interiors.
Wall mounted kitchen shelves made of steel and wood
A stainless steel hood is the focal point. Functional and very decorative shelves, white kitchen cabinets and console tables create balanced and beautiful contemporary composition around the stove hood.
Green-white color schemes, spacious white kitchen designs
Black and white modern kitchen design
White kitchen cabinets and neutral tones of light wood, combined with glass doors and stainless steel elements create bright and airy contemporary kitchen design, emphasizing simple and elegant contemporary kitchen design ideas.
Wood kitchen cabinets with white countertops and steel hood
Modular furniture pieces offer flexibility. Set kitchen cabinets can be arranged along the walls in small kitchens or create an attractive and stylish contemporary kitchen island in spacious homes.
Modern kitchen design trends, redesigning kitchen interiors
Modern kitchens, 5 bright design trends
Set kitchen is designed of new and traditional materials, that include natural stone, steel, glass and wood, using advanced technology and innovative approach, and offering one of the best kitchen designs for homes.
New kitchen design details

Warm metal accents are easy to incorporate into modern kitchen designs. Metal lamps, hardware, metal tiles, elements of kitchen designs will...
and enjoy free articles sent to your inbox