Modern Kitchen Ideas for 2012 Kitchens, Design Trends

Interior Design Ideas

Kitchen Ideas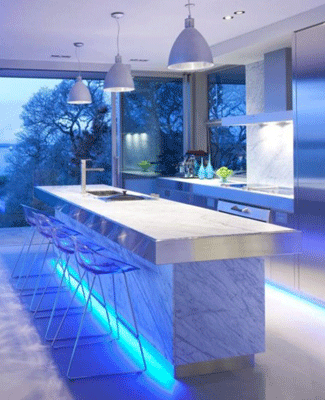 Modern kitchen design trends 2012, led lights and lighting ideas for contemporary kitchen interiors
kitchen organization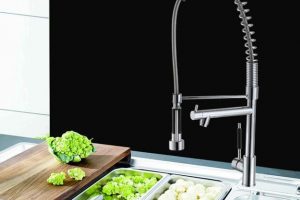 The heart of the home and the place for cooking food, modern kitchen is used for enjoying meals and entertaining guests. Beautiful modern kitchen designs offer more luxury and advanced technological comfort, elegant style and chic that are pleasing to the eye. Contemporary kitchen interiors maximize the usage of available space, offering bright modern kitchen designs with efficient lighting and storage.
White, black, gray and natural wood brown are stylish colors for 2012 kitchens. Pleasant and soft yellow and orange, bright red, dark blue and light green colors can be combined with classy white and black or elegant gray tones, following fresh and colorful kitchen design trends for 2012. Also many kitchen ideas that were introduced earlier are perfect for 2012 kitchen design.
1. Contemporary kitchen interiors are more equipped with hi-tech appliances than ever before. Kitchens role changed, it is not only a place for cooking anymore. Modern kitchen designs reflect contemporary lifestyle, and having a gadget for every task is not a surprise.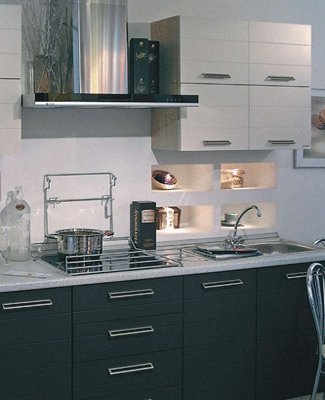 2. Modern kitchen ideas are very different from kitchen designs twenty or even five years ago. New kitchen designs offer efficient lighting with LED lights, energy and water saving appliances and glowing in the dark sink faucets. (Modern kitchen ideas and accessories)
3. Stylish, comfortable and functional contemporary kitchen interiors are designed for busy people. Beautiful and spacious dining area where the family meets and spends time together is the heart of modern home decorating.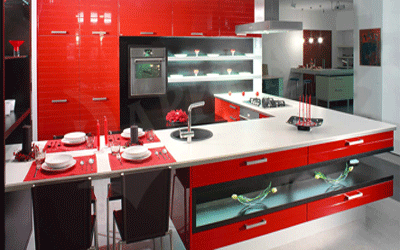 Comfortable dining furniture, efficient lighting, new materials, functional layout, spacious design and hi-tech appliances and accessories make modern kitchen and dining areas look inviting and beautiful.
10 kitchen design trends
Kitchen ideas, decorating and design trends
4. Storage space is an important element in modern kitchen. New kitchen designs must have large and practical storage. Old kitchen cabinets are inefficient and insufficient for contemporary kitchen interiors. New kitchen drawers with space organizers and light weight doors add functional and charming details to kitchen designs.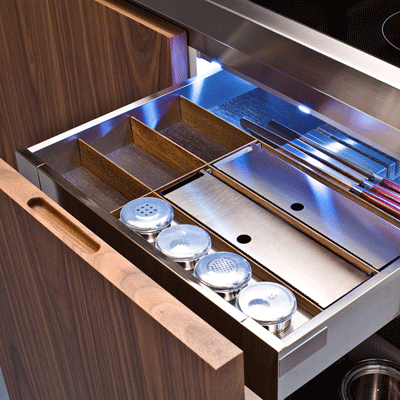 5. Every kitchen designer works at space saving kitchen ideas, developing stylish contemporary kitchen accessories that add luxurious flavor to modern kitchen designs.
Contemporary kitchen design ideas
Colorful and graphic modern kitchen designs
Modern improvement means bringing more racks and space organizers, creating stylish and comfortable contemporary kitchen interiors that reflect modern design trends and new attitudes.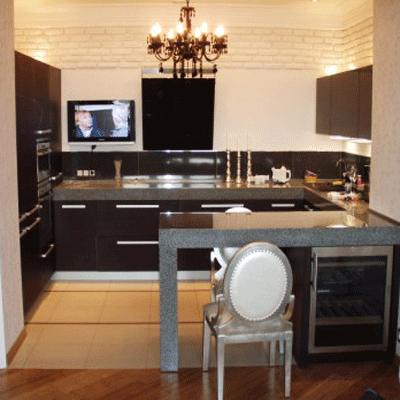 6. Comfortable chairs instead of stools, soft and luxurious upholstery fabrics and modern dining tables serve the desire to live in beautiful and functional homes.
Green apple kitchen decor and color inspiration
Royal blue kitchen design, carved wood cabinets
7. Kitchen designers offer various hi-tech ideas for entertainment. The modern necessity for a constant computer access and ongoing entertainment define and shape modern kitchen designs. Computers with recipes libraries and internet connection are popular kitchen ideas.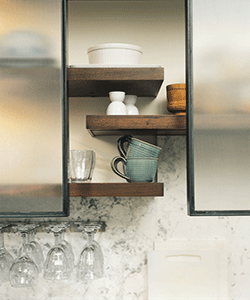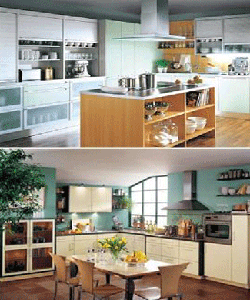 8. Simple wall shelves are retro-modern kitchen ideas. Small house plants, herbs, bowls, mugs or small appliances (Home appliances, yellow-silver stove concept) on shelves create a beautiful display and become wonderful wall decorations. Solid wood shelves with large sliding panels made of frosted glass add more interest to contemporary kitchen interiors.
Wall shelves, that use all available space on the wall, glasses and glass accessories are great for creating more spacious small kitchen design that feels airy, functional and comfortable.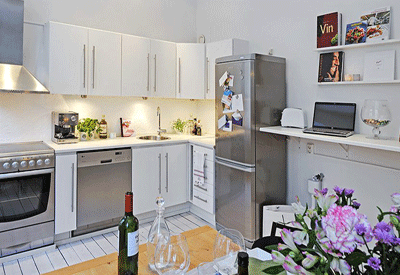 9. Kitchen designers recommend to create bold contrasts, combine light and dark colors, different textures and materials for stylish, interesting and unusual contemporary kitchen interiors. (Decorating ideas to dress up the fridge)
10. Retro-modern kitchen ideas look especially attractive when combines with contemporary kitchen design. Polished wooden table top and white wall paint, stripes or vintage wallpaper, nickel-plated modern kitchen accessories and stainless steel appliances, combined with country style fabrics and accessories in bright colors create attractive and unique kitchens.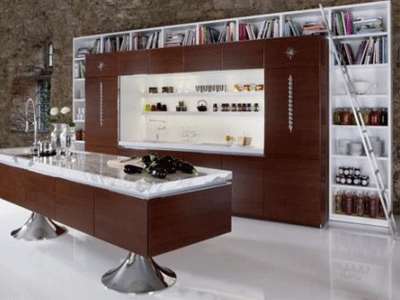 11. Instead of traditional kitchen cabinets, modern kitchen designs include translucent glass doors or glass panels, sliding on tiny wheels, that protect and decorate walls with shelves.
12. Contemporary bar stools, (Modern home bars furniture design, stylish bar stools) transparent plastic chairs, attractive lighting design and a kitchen island with clean lines and convenient storage create functional and comfortable modern kitchen designs in contemporary style.
More from modern kitchens

From traditional ceramic tile designs to trendy wood-like, shiny metal, and mesmerizing glass, there is seemingly unlimited ways to brighten up...
and enjoy free articles sent to your inbox