Retro Modern Kitchen Decorating Ideas, Open Kitchen Shelves for Storage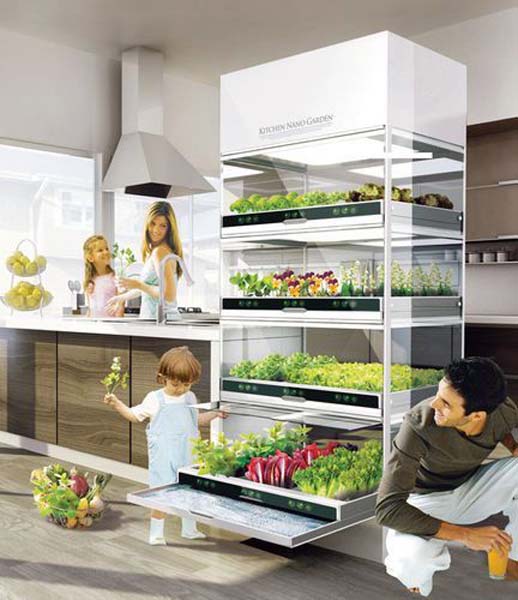 Modern kitchen shelving unit for indoor garden, fresh produce storage solutions
kitchen organization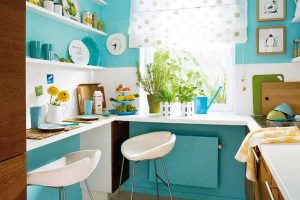 Modern kitchen storage solutions, that include free standing kitchen shelves for storage or indoor gardens and wall shelving unit designs with baskets for fruits and vegetables, offer effective, easy and inexpensive way to keep food fresh and healthy.
A practical and convenient free standing kitchen shelving unit or wall mounted shelves for storage are very decorative modern kitchen ideas also. A free standing shelving unit and wall mounted shelves for storage in the kitchen can be decorated with an attractive china set, colorful tableware, glass jars  with jams or canned food and bottles with sunny oil and red wine.
Elegant glass jars with dry food and small jars with colorful jams, attractive bottles and bowls on kitchen shelves create beautiful retro modern kitchen decor in eco style.
12 modern kitchen design trends
Free standing kitchen shelving units and wall mounted shelves for storage
Retro modern kitchen shelving unit for a small indoor garden and fresh produce storage solution
You can find unique kitchen storage solutions that suit your kitchen decorating ideas and style and experiment with matching interior design colors for balanced and modern kitchen decorating.
Beautiful old fashioned wall mounted shelves with baskets for fresh fruits, like yellow, red and green apples, oranges, bananas or peaches, inspire bright and cheerful kitchen decorating ideas and fresh color palette.
Wall mounted shelves for storage, kitchen decorating ideas in retro style
Glass jars with apple, apricot, plum or raspberry jam, arranged on open wall mounted shelves above a counter-top or a free standing kitchen shelving unit  in a corner, are perfect for creating welcoming and bright, informal and warm modern kitchen decor in eco style.
Kitchen shelves for storage in eco style
Kitchen shelves and cabinets with lights
Wall mounted shelves for storage above the kitchen counter-top or kitchen islands with fruits or vegetables, china sets, colorful tableware, plate or wine bottle collections, edible herbs, small indoor plants and blooming flowers offer creative, space saving and very attractive kitchen storage solutions and decorating ideas that are eco friendly.
Wood kitchen shelves for storage, retro modern kitchen decorating ideas
Glass jars with noodles and canned vegetables, like red, green or yellow peppers, cucumbers, tomatoes, cauliflower, carrots and green beans, add softness and charm to modern kitchen decor, adding warm colors to kitchen decorating and creating peaceful and comfortable atmosphere in kitchens.
Retro modern kitchen decorating with food, wall shelves for storage
Kitchen organization for home staging
Open kitchen shelves for storage
More from modern kitchens

From traditional ceramic tile designs to trendy wood-like, shiny metal, and mesmerizing glass, there is seemingly unlimited ways to brighten up...
and enjoy free articles sent to your inbox