Pastel Blue and Green Colors Creating Tender and Airy Interior Decorating

Blue Room

Decorating Green

Decorating Ideas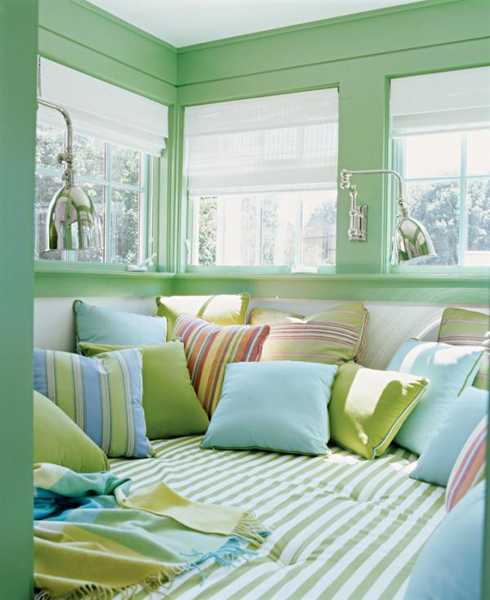 White and green striped fabric and colorful pillows in pastel colors
color combinations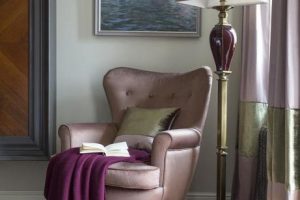 Light pastel blue and green colors are excellent for creating fresh and airy room decor. Light blue color creates a calming and peaceful look, and green colors feel fresh and relaxing. Here is a collection of interior decorating ideas, created by Historical Concepts, in collaboration with Steven Gambrel, www.srgambrel.com/
Beautiful interior decorating with light pastel blue and green interior colors looks refreshing and inviting. Colorful, but relaxing, room decorating ideas feel cool and stylish, offering a gorgeous blend of blue-green colors, soften with pastel orange, purple and white tones.
Pastel blue and green colors and their harmonious combinations work well for designing a polished uptown duplex or a rambling country house, or interior decorating of a weekend beach house. Timeless and comfortable interior decorating with pastel blue and green color combinations is elegant and gracious.
Light blue and green colors for tender interior decorating
Light blue and green colors soothing modern interior decorating color combinations
Light blue bedroom colors, 22 calming bedroom decorating ideas
Light pastel blue and green color combination
Green paint, white and green stripes and blue-green pillows
Pastel blue-green color combinations bring a pleasant feeling of serenity. Tender and soft, light pastel blue and green colors are often associated with water and outdoor scenes.
Using aqua, teal or other blue-green color shades and combining them with soft orange, purple, pink and yellow and white tones make your home a welcoming haven after a long day of work, school or play.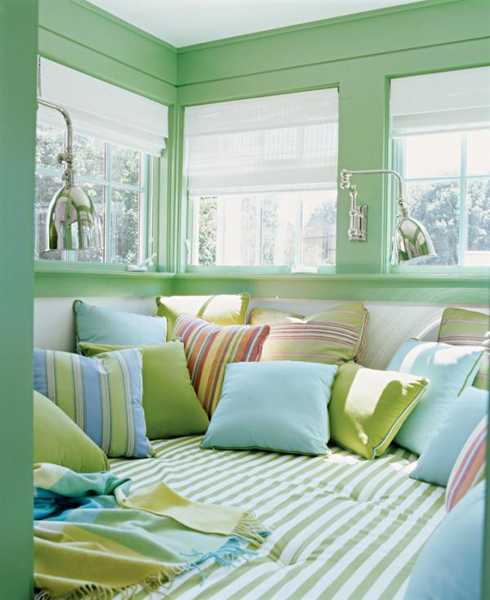 Matching interior decorating color combinations
Light blue and green colors are versatile and easy to work with. It is not difficult to find matching interior decorating colors to enhance the existing room decor in blue and green. Using a few basic interior decorating rules will help you with your color combination selections.
Light blue-green color schemes, modern bedroom colors
Blue-green interior color schemes, living room decorating ideas
Light gray, peach tones, soft orange, purple and off-white color tones will coordinate beautifully and enhance the calming effect blue and green colors will have in your room. Softening shades of pale yellow, off white or mint green accentuate the blue-green color combinations and give your room decor a delicate, fresh look. Using neutral colors with blue and green color shades give interior decorating ideas an elegant and tranquil feel.
Pastel blue and green interior paint for wood furniture decoration, colorful floor rug in pastel orange, purple, white and yellow colors

Here are great ideas for kids toys storage and wall decoration with small cars that everyone would love. DIY organizers, like...
and enjoy free articles sent to your inbox