Nautical Theme for Modern Kitchen Design with Aquarium Kitchen Island
Nautical theme comes in various looks. An aquarium built into a kitchen island is a creative and unusual way to bring an exciting nautical theme into modern kitchen design. Lushome presents this amazing kitchen design project that create a very unique kitchen island that beautifully personalize this contemporary kitchen interior.
The beautiful kitchen island with an aquarium is an original design idea for creative kitchen design. A large aquarium built into contemporary kitchen island make the kitchen and dining room feel exclusive and luxurious. A designer from Amsterdam Robert Kolenik, www.kolenik.com/ surprised with this spectacular design idea.
This luxury kitchen island design amazes and attracts attention. The aquarium kitchen island is absolutely functional. The huge tropical fish tank add a wonderful element to the modern kitchen and brings a natural feel into interior design. The unusual kitchen island design project is called Ocean Keuken.
35 unusual aquarium designs and custom tropical fish tanks
Aquarium kitchen island design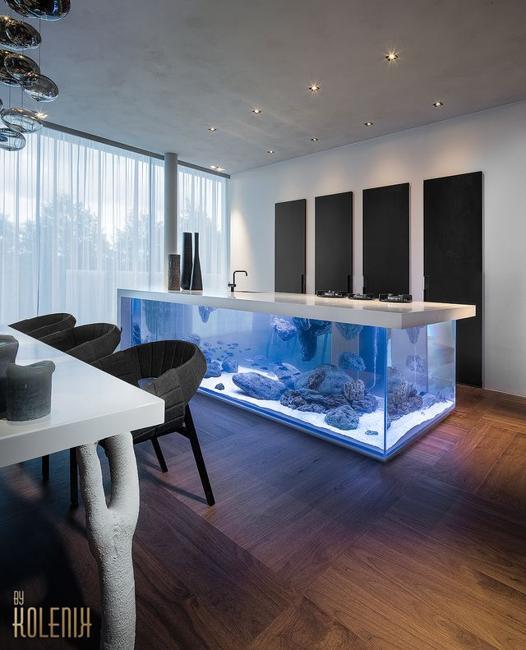 The kitchen island aquarium is very big. Its L shaped countertop rises at the touch of a button in order to allow to take care of fish and clean the aquarium tank. This aquarium is unique, and the design idea of combining a tropical fish tank with a kitchen island is inspiring and innovative.
The aquarium kitchen island unique in its kind art object interior, kitchen island has three burners and a sink. The kitchen island countertop proved a large surface for cooking. The kitchen island can be used for entertaining, adding a spectacular centerpiece to this contemporary kitchen design.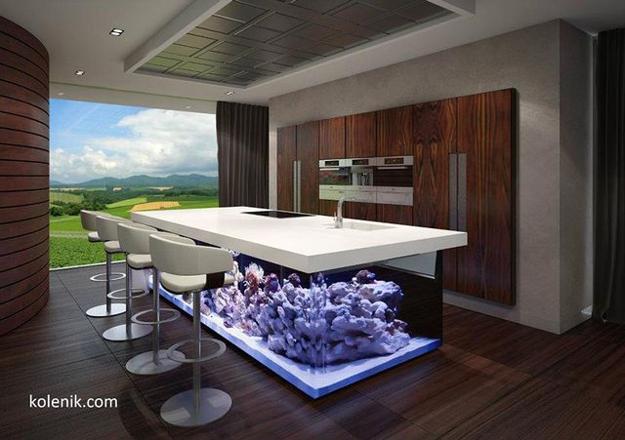 The large kitchen island is great for serving lunch and snacks, or organizing a cocktail party. The aquarium kitchen island feature some storage space also. This fabulous kitchen design idea is taking the world by storm. Nature inspired and eco friendly the nautical theme beautifies the contemporary kitchen design and demonstrate a novel approach.
Small aquarium, glass aquarium tank design trends
Home staging tips for a room with an aquarium
Robert Kolenik is a European designer who is eco-oriented and innovative, demonstrating his down to earth mentality and love for nature inspired designs, including the nautical theme in interior decorating. This functional and beautiful kitchen island is an absolute eye-catcher, connecting modern kitchen design with the nature and adding chic to kitchen interiors.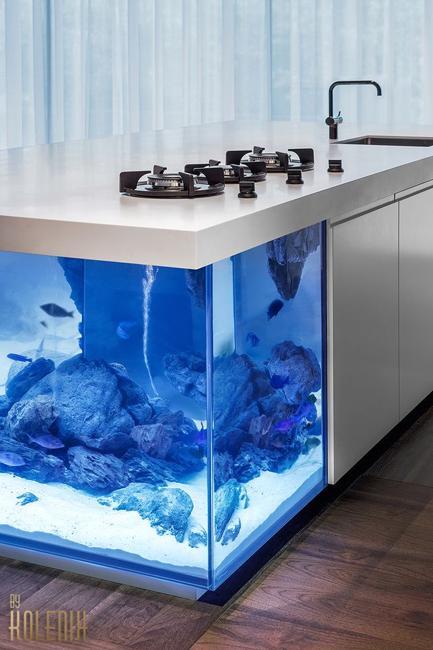 The unique and a bit extravagant oversized aquarium under the kitchen island top is perfect for a spacious traditional or contemporary home and kitchen design in eco style.
Contemporary aquarium tanks for modern interior decorating
Feng Shui for a room with an aquarium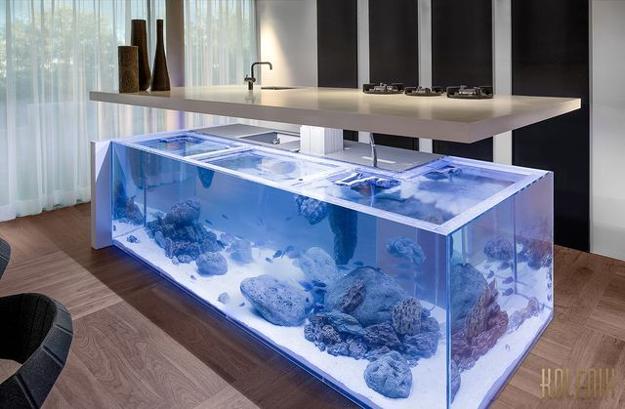 by Ena Russ
last updated: 21.09.2014
and enjoy free articles sent to your inbox
Subscribe