Modern Sofa by Albina Basharova Inspired by Flower, Living Room Furniture Design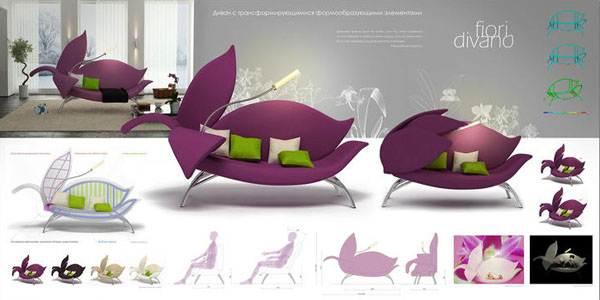 floral designs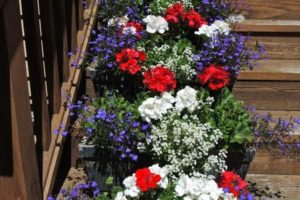 Sofa with transforming elements Fiori Divano is inspired by beautiful purple lily flowers. Attractive appearance and functionality, soft curvy shape and transforming design make this sofa a unique furniture piece that looks like a modern artwork, while proving contemporary comfort.
Fiori Divano is a gorgeous furniture design ideas from Russian designer Albina Basharova. Repeating the shape of the flower petals, the sofa Fiori Divano looks feminine, stylish and very decorative. Women will love this unique furniture piece, and men will find the sofa design idea very cute, enjoying the beautiful form, inspired by nature.
Tender and elegant flower opens and closes its charming petals. The recline sofa converts into a comfortable couch, while the open petals give an additional support to the back, serve as armrest and offer a convenient stand for a laptop, a magazine or a book.
Modern sofa, glowing design idea from the ocean floor
Modern sofa Free Flow, sectional furniture design
Lily flower inspired modern sofa in purple color
Lily flower inspired modern sofa in purple color with closed petals, nature inspired living room furniture design idea
Plants and flowers are great inspirations for designers that delight customers-women, adding organic shapes and natural colors to modern living room designs. The romantic sofa project was focused on women as they are main buyers of home furnishings, including living room furniture and accessories, everywhere in the world.
Stylish rich color tones, – deep purple and fresh green colors, combined with soft sofa pillows in white cream, feel pleasant and exciting, offering the rest in style. Deep purple and fresh green colors are striking and harmonious, white cream color tones make this sofa design brighter. Simple and elegant legs are almost invisible, creating the floating in the air living room furniture piece that creates a strong artistic statement.
Modern sofa in purple color with a stamen-like lamp, unique living room furniture design idea
This modern sofa has a comfortable back and a soft cozy seat. Its back can take two positions, – one at 90 degrees is perfect for sitting and another at 120 degrees for reclining. Petals shapes can be changes according to the needs of the user. Sofa petals can serve as a stand for a laptop or can form a cozy cocoon-like enclosure.
Modern sofa, top 10 living room furniture design trends
Changing color, glow in the dark furniture design trend
A stamen with an anther inspired the sofa light design. The sofa features a light fixture, enhancing the functional living room furniture design. The lamp on a flexible metal stem adds more elegance to the sofa design style. It is run by rechargeable batteries. Comfortable, elegant and functional, Fiori Divano is a striking furniture design for living rooms, offering a inviting place to read or have a conversation, unwind or watch a movies.
Modern sofa in purple color with open petals providing extra comfort for sitting
The sofa can change the mood in the living room with the lighting. In the evening, it enlightens the sofa in a soft glow, creating mysterious atmosphere and during the day it looks like a comfortable place to relax or have a conversation.
Living room sofa and chairs, modern furniture design trends
Recamier in modern living rooms
Lily flowers inspired Fiori Divano is available in beige, creamy white, black and purple colors. The sofa brings romantic mood, classy or stylish rich colors and natural shapes into interiors, offering an eye catching focal point for modern living room designs.
More from modern furniture

Weave furniture design blends traditional techniques and modern trends in decorating with handmade items. Using natural ropes and twines, you can...
and enjoy free articles sent to your inbox