Modern Interior Design Blending Aquarium Room Divider with Light Apartment Ideas

Interior Design Ideas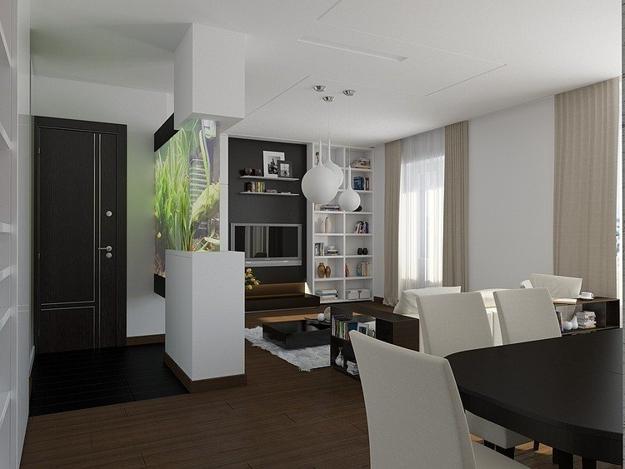 Contemporary interior design with aquarium used as room divider
aquarium and decoration

Modern interior design, that blend light decorating color schemes, functional and modern furniture in minimalist style and tropical fish aquariums that bring eco style into room decor, looks sophisticated, elegant, tranquil and very pleasant. This modern apartment is designed by ITHAKA Architecture and Design studio and located in Moscow, Russia.
Modern interior design features a large aquarium that creates a peaceful atmosphere and adds a beautiful decorative accent to bright apartment ideas. Spacious room decor ideas in minimalist style created with with light color schemes and dark wood accents beautify home interiors with strong contrasts and add interest to apartment decorating in neutral colors.
The open living space, envisioned by ITHAKA, ithaka.ru/, stylish home furnishings and white decorating create bright and airy interior design in contemporary style. The use of organic materials, like travertine of milky color and American walnut wood, that brings chocolate brown color shades into room design, ensures an elegant contemporary feel.
Modern interior design and light apartment ideas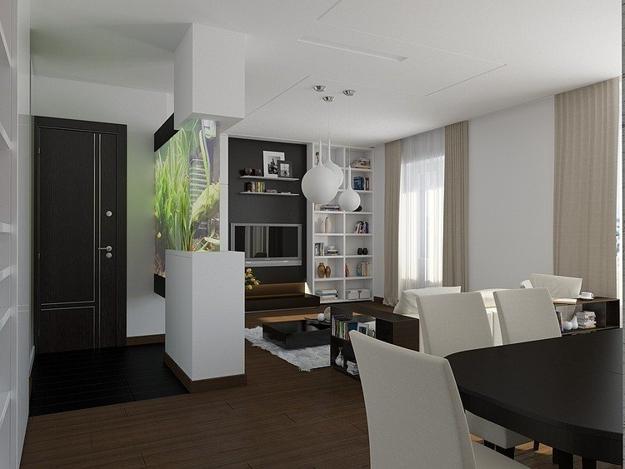 Functional and modern furniture for storage enhances a quiet and tranquil feel. Fish aquarium used as a room divider adds a beautiful element in eco style to modern interior design.
White decorating gives light appearance to apartment ideas, stretching living spaces and creating energetic contrasts that enrich modern interior design.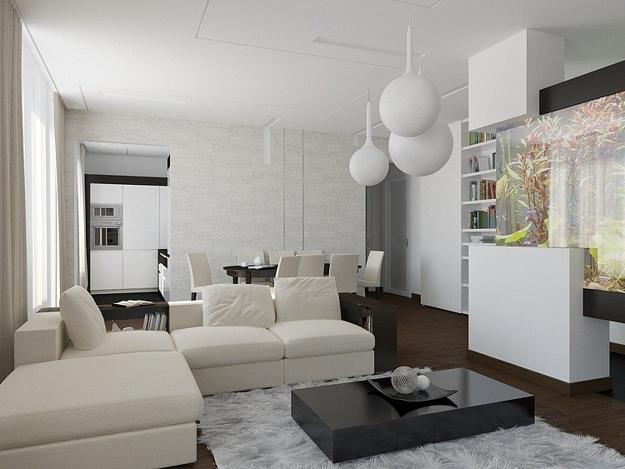 Dark hardwood floors and modern furniture items made of wood are used to bring warmth into interior design in minimalist style. A large aquarium used as a partition between the open space and the hallway makes the interior cozy and individual.
Interior design with aquariums
Aquariums as stylish room dividers
Thinking about your room decor before buying an aquarium
Simple and elegant kitchen designs, creative wall shelves and tranquil bedroom decorating ideas create a wonderful home that is functional, elegant and stylish.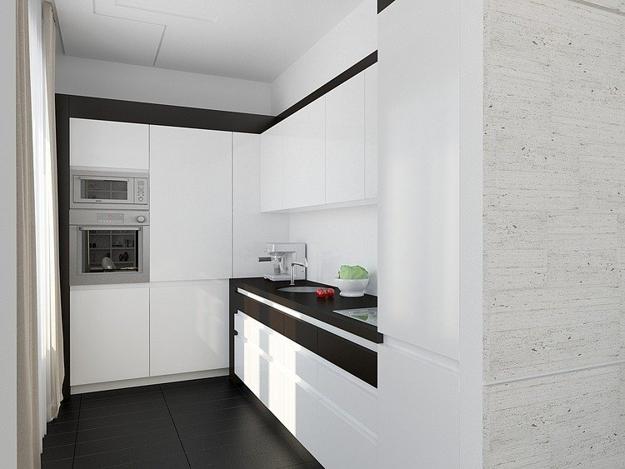 Gorgeous bathroom design with an interesting combination of large and small wall tiles, wooden floor, built-in wall shelves, elegant vanity with egg-shaped sink in contemporary style and glass shower add a spacious feel and exclusive look to this small, but functional and attractive room decor.
Modern apartment ideas
Small apartment decorating with light cool colors, contemporary apartment ideas
Breathtaking interior design and decor, luxurious apartment ideas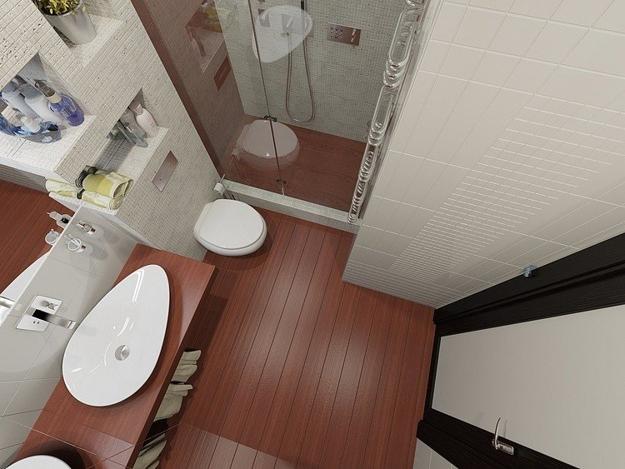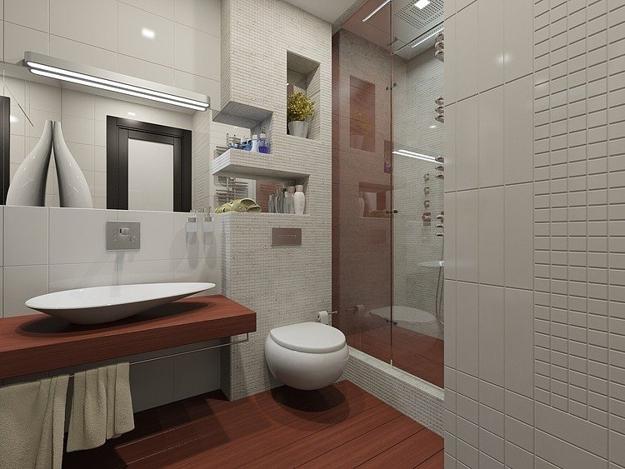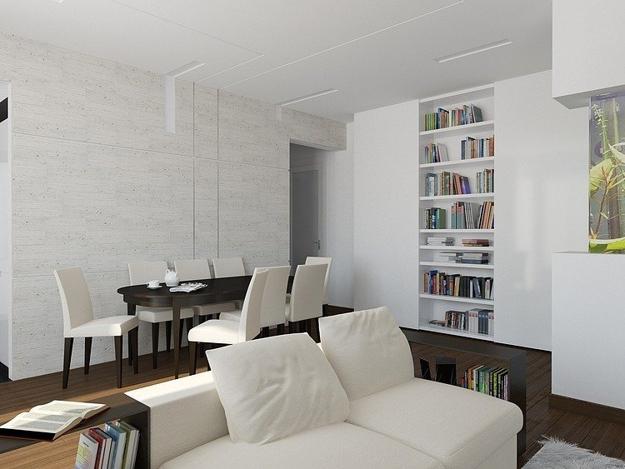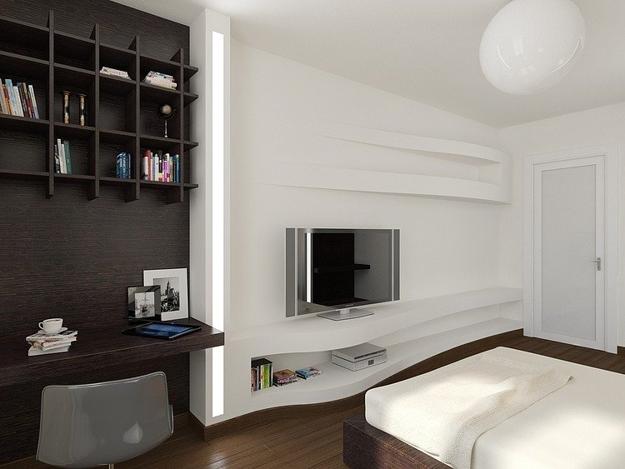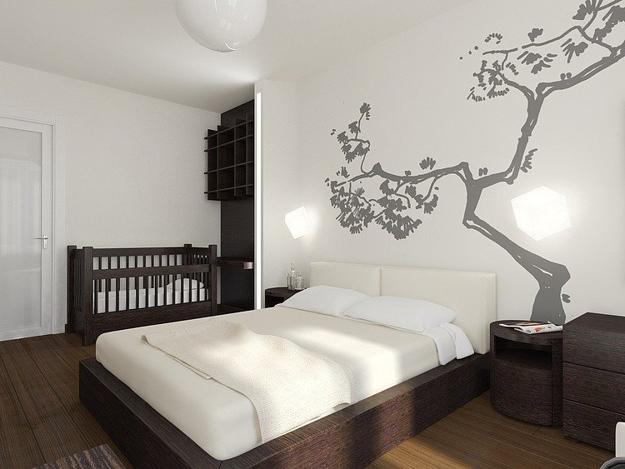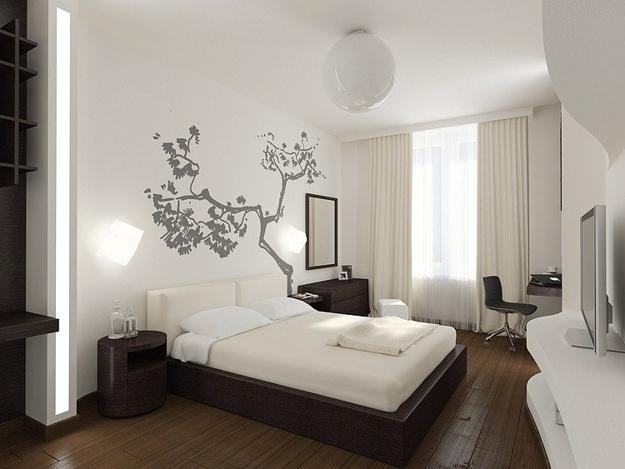 More from apartment ideas

Unusual interior design is exciting and inspiring. We can wonder how people get their ideas for creating an original interior design,...
and enjoy free articles sent to your inbox