Luxury Modern Bathtubs and Bathroom Sinks Celebrating Exotic Wood Materials

Green Design Ideas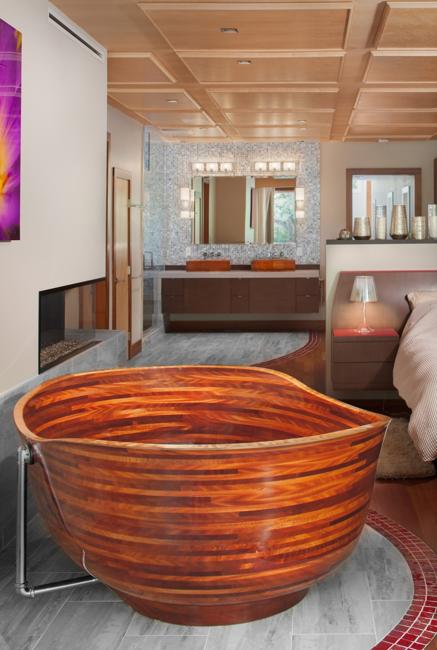 Contemporary bathroom design, open concept, wooden bathtub
bathroom sinks and tubs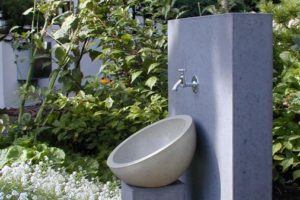 Modern bathtubs offer fantastic opportunities for luxury bathing. NK Woodworking Design ideas are impressive and beautiful. Seattle-based artist and designer Nathie Katzoff envisions spectacular wood bathtubs and sinks that show off the beauty of exotic wood materials. Inspired by wooden boats, the modern bathtubs and bathroom sinks make a unique statement and add to a character of any bathroom design. Wood is the fabulous, Green, sustainable, attractive, readily available source of contemporary wood materials that add warm personality and chic to modern bathrooms. The large wooden barrels and original wooden sinks look stylish, durable, and sturdy.
Wood is an excellent choice of the medium for original and impressive designs and artworks. Transformed into modern bathtubs wood creates a Green design which is functional and sustainable. If the wood is harvested and treated appropriately, it will last to forever. Recycling and reclaiming of local trees for bathtub building make these eco-friendly products truly Green and contemporary. The beautiful and timelessly elegant wooden tubs and bathroom sinks are functional and eco-friendly products, perfect for the modern lifestyle. The wood bathtubs are water-resistant and able to withstand daily wear-and-tear. Contemporary technologies can transform any wood into this lasting luxury which magnifies the beauty of modern bathroom designs.
Modern bathroom design ideas, wooden tubs
Beautiful bathroom tubs; wood, glass, steel design ideas
22 wood covering ideas for modern bathtubs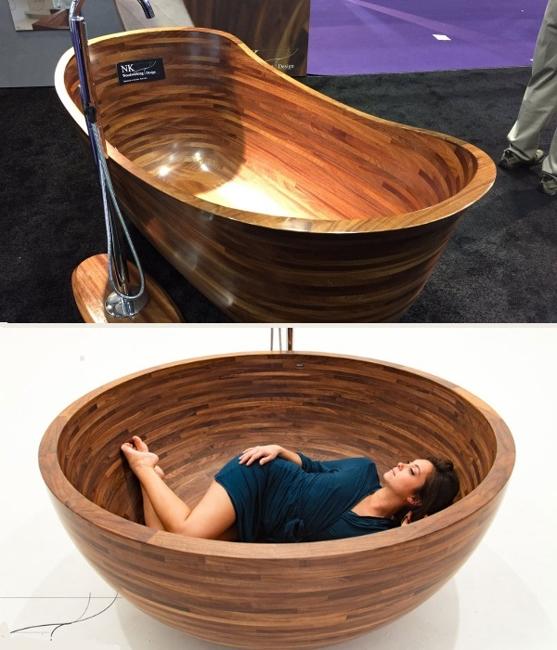 These wooden bathtubs are beautifully sculptured pieces of handcrafted art, showing a unique talent and a good sense of the natural material and design proportions. The artist creates his original forms exploring attractive curves and straight-line geometry while filling out his shop with fabulous, beautiful, functional, and eco-friendly products. His team of 25 artisans work either in the design department or creating finished products which blend contemporary art and practical, modern design.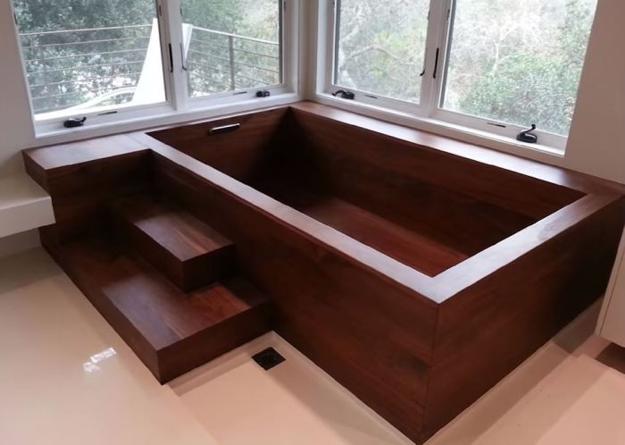 Each bathroom tub or sink is a fabulous eco-friendly product bringing luxury into modern home design. Customized wooden bathtubs and sinks are expensive but elegant, impressive, and exclusive. They build values over time and will look stylish for years to come.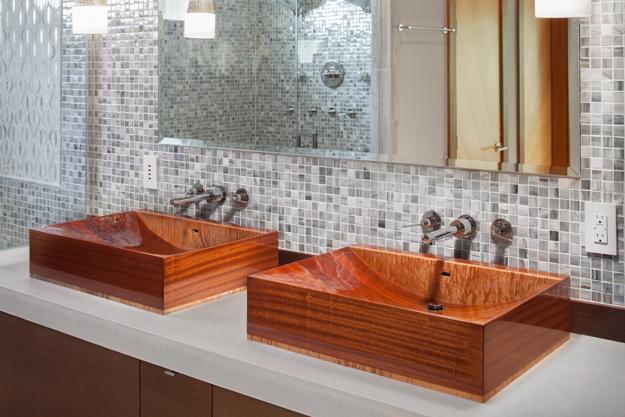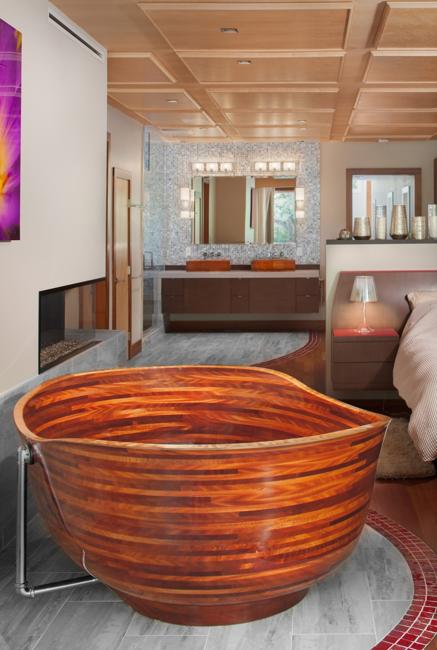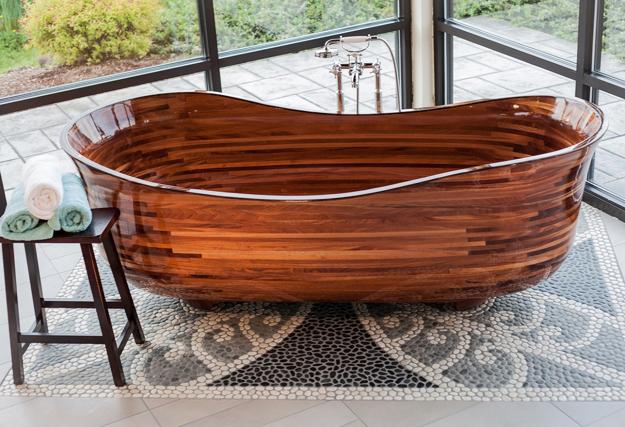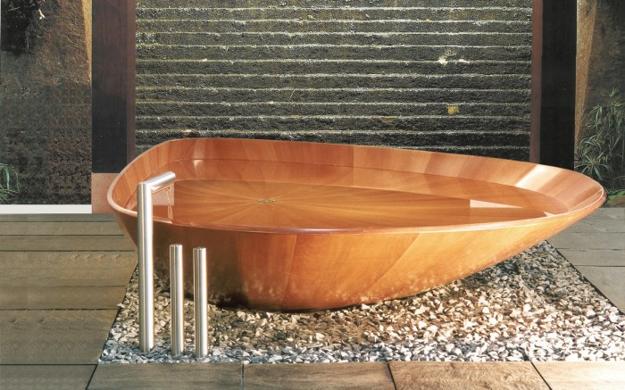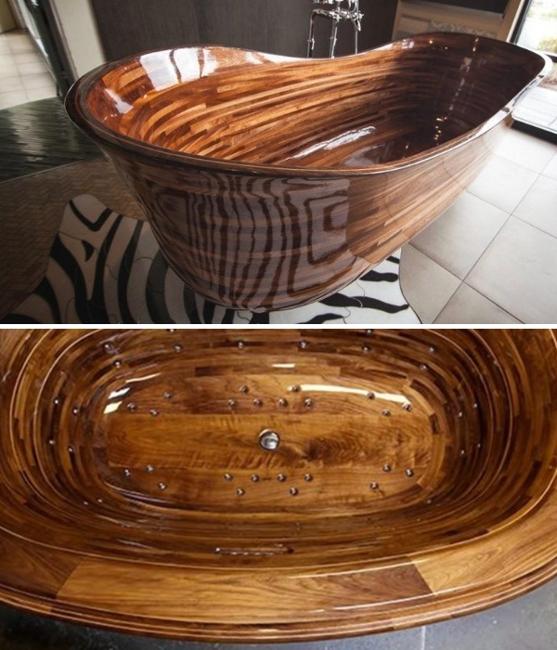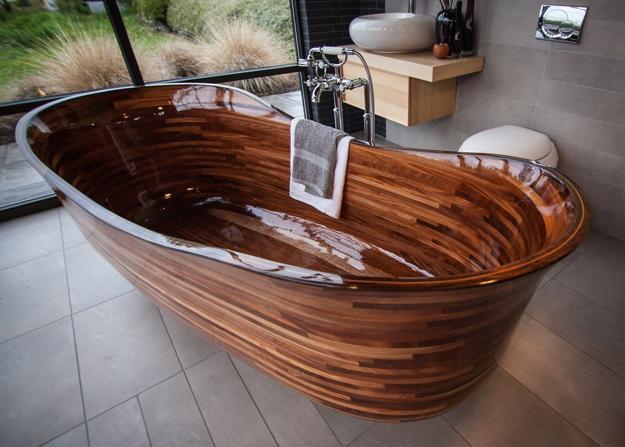 More from modern bathroom

Remodeling bathroom interiors is an essential part of creating a modern home. A beautiful, functional, well-planed, and modern bathroom design affects...
and enjoy free articles sent to your inbox