4 Creative Vase Design Ideas, Unique Decorative Accessories for Modern Interiors

Decorating Ideas

Furniture Accessories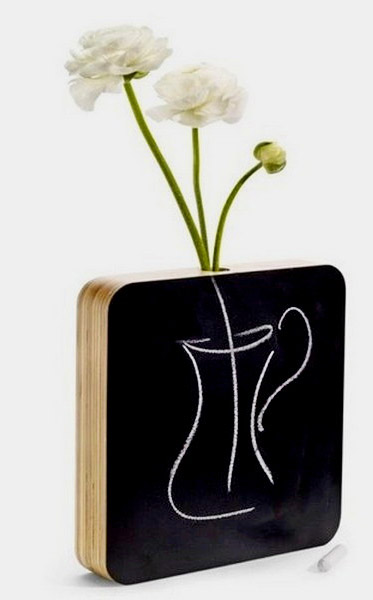 painting ideas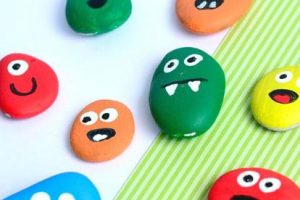 Vases and chalkboard paint is an unusual combination that transforms decorative home accessories into multifunctional home decorations. You can write and draw on the surfaces, decorated with a chalkboard paint instead of using a message board, adding unique accents to room decor.
Black colors add stylish chic to vases, offering classy and elegant color accent to modern interiors. Chalkboard Bud Vase from Brazilian designer Ricardo Saint-Clair is available from MoMa Store. The unique vase design is perfect for decorating with flowers or simple drawing and letters written on chalkboard surface.
Designer vase is not intended for large flower bouquets or floral arrangements. A single flower looks elegant in the vase. Two or three flowers are excellent for adding color and fresh aroma to interior decorating. Blackboard surface is convenient for writing a cute note, a short message or important phone numbers.
Home staging and interior decorating with vases, beautiful home accessories
Cartoccio collection of modern tableware ans decorative vases
Chalkboard vase made of wood, decorative accessories for modern interiors
Chalkboard Bud Vase comes with a piece of white chalk. There is a glass tube for water inside the wooden shell. The vase is great for table or wall decorating. Konkurito vases from Japanese designer Xiral Segard are made of concrete pieces in white and gray colors. Unique vases are beautiful home decorations for modern interiors in contemporary minimalist style.
Shallow round pieces can be stacked on top of each other, creating middle size and tall vases for unique interior decorating. Strong and hard to brake concrete vases will add new texture to interior decorating, create attractive contrasts with delicate fresh flowers and green leaves.
Decorative accessories, vases made of cement, functional home decorations and storage ideas for modern interiors in contemporary minimalist style
Konkurito vases can be used for small item storage also. The set includes a round cover, which conveniently protect items from the dust.
Creative floral arrangements, Mothers day gifts and table centerpieces
Moroccan style home accessories and materials
Weight Vases from Thai designer Decha Archjananun combine rough cement texture with organic design ideas, rounded shapes and tender flowers for unusual and modern interior decorating. Cement and wire contrast with delicate flowers, offering impressive and interesting decorating ideas for modern interiors.
Vases for interior decorating with flowers, decorative accessories made of cement and wire for modern interiors in contemporary minimalist style
Weight Vases come in the set of few cement vases in different sizes and shapes, perfect for creative floral arrangements, large and small flower bouquets or single flowers, that make beautiful home decorations for modern interiors in contemporary minimalist style.
Creative interior decorating with flowers and plants, Sky Planter design idea
Cat mirror stickers, wall decoration with cat images
HighRise vase from ThirtyFive Creative Works, www.36-1.com/ brings original design ideas into contemporary interior decorating. Innovative and very decorative accessories can be transformed from table vases to wall decorations in high-tech style, adding whimsical accents to modern interiors.
Stainless steel vase with yellow flower and wall decoration for modern interiors in high-tech style
Decorative vases-transformers are available in red, white and black colors. Made of stainless steel parts can be easily assembled into a HighRise vase for desk or bedside table decorating. Designers from ThirtyFive Creative Works suggest to use two designs to add a unique set of a vase and a wall decoration to room decor, creating interesting and stylish interior decorating.
Pumpkin flower centerpieces, fall table decorations
Lilliputian table decorations and gift ideas, mini plants
The combination of the vase and wall decoration would look gorgeous in living rooms and offices. Simple and elegant design and classy colors would add more interest to modern interior decorating, balancing room decor and creating a pleasant atmosphere.
More from modern interiors

Bright home interiors and amazing views of the ocean make this beach house a dream place. Large windows, light, neutral room...
and enjoy free articles sent to your inbox