Luxurious Decorative Accessories from Alexander McQueen, Floor Rugs and Decorative Cushions
---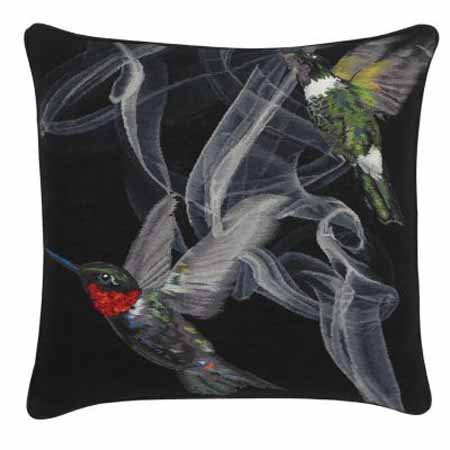 Decorative cusions with images of hummin birds, handmade designer cushions in black color
British The Rug Company and Alexander McQueen created a luxurious collection of floor rugs and decorative cushions. Designer collections of exclusive decorative accessories include items, created for Marni, Vivienne Westwood, Paul Smith, Matthew Williamson and many other brands.
The collection of beautiful decorative accessories is the result of amazing patience and creative work, that are distinguished parts of Alexander McQueen' design style. Handmade floor rugs and decorative cushions look impressive.
Handmade black floor rug with gold embroidery reminds the previous collection of Alexander McQueen 2001. McQueen introduced the famous coat made of luxurious brocade in military style then.
Luxurious decorative accessories in black and golden colors
Chic Christmas decorating ideas, black ad golden colors
How to decorate a room with stylish golden yellow decorations
Luxurious decorative accessories, handmade floor rug in black and golden colors, modern living room furnishings
Handmade decorative cushions are unique and beautiful also. It takes 14 weeks to create each and decorate with feathers, skulls or humming birds. Favorite designer prints and dark colors add a unique flavor to handmade decorative accessories.
Lee Alexander McQueen is the four times best British designer, awarded the Order of the British Empire in 1997. He worked for John Galliano as an art director of House of Givenchy. He committed suicide in February 2010. Sarah Burton, the winner of British Fashion Awards 2011 in the category Designer of the Year, became the creative director of the brand.
Decorative cushions with images of humming birds, handmade designer cushions in black color
Modern lighting ideas, charming birds shadows
Wire organizers, wall decoration with birds images
Interior Decorating Collection Alexander McQueen are available in London's Harrods and Holland Park, on Wooster Street in New York City, Melrose Avenue in Los Angeles and in other stores The Rug Company.pic
Colorful decorative cushions with humming birds images
Food inspired, large pillows for floor decoration
Home decor ideas, gold and pink decorative cushions
by Ena Russ
last updated: 08.10.2016