Family Chairs in Knitted Clothes, Modern Furniture Design Presentation
---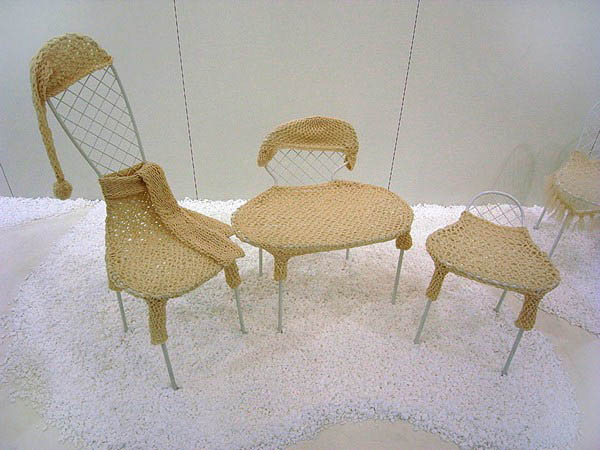 Contemporary chairs in knitted clothes and accessories, modern furniture design presentation
Family Chairs, designed by Junya Ishigami and dressed in knitted hats, scarves, sweaters, shorts, skirts and socks,were shown at Biennale Interieur in Belgium. Knitted fabric is a hot modern interior design trend, and it was chosen for impressive installation and this modern furniture design presentation.
The Tokyo based architect and product designer Junya Ishigami created playful dining chairs for the Italian manufacturer Living Divani. Chairs are made of wire and individually shaped. The designer says 'Chairs that live in harmony, like a family. Whilst they are all similar, each chair has a slightly different shape, and its own personality.'
Family Chairs in knitted clothes look like a family. Elastic and warm, soft and easy to shape knitted fabrics make modern furniture design feel flexible and light, inviting and easy to use, perfect for unique and stylish contemporary homes.
Knitting and crochet trend in modern interior design
Knitted furniture upholstery fabric and decorative pillows, stunning modern furniture collection
Contemporary chairs from Junya Ishigami
Contemporary chairs made of wire in knitted clothes and accessories, modern furniture design presentation
There is a wide chair, a tall chair, a short chair, a normal chair and a stool. Each chair design has a character and dressed differently. Knitted hats, scarves,sweaters, shorts, skirts and socks add fun to contemporary chair designs, adding more combinations to choose from.
The modern furniture design presentation is transformed into a game. It's fun to choose which chair to sit on, depending on your mood or personality. It's fun to choose your favorite chair design and find your favorite clothes. Like a family sitting around a table, so these chairs are arranged around the table. The installation is called Picnic.
Tall and short chairs in knitted hats, contemporary chairs made of wire
The family of contemporary chairs are made of one material and dressed in one style. The designer wants you to guess whom each chair is designed for.
Designer chairs, modern furniture design ideas
Wrought iron furniture, Brutalist Seat, modern furniture design ideas
Knitted clothes and accessories emphasize the unique character of each contemporary chair and make it stand out from the crowd.
Contemporary chairs made of wire and dressed in knitted clothes and accessories, Family Chairs, Picnic installation
Contemporary chairs made of wire
by Ena Russ
last updated: 22.02.2012