Wrought Iron Furniture, Brutalist Seat, Modern Furniture Design Ideas
---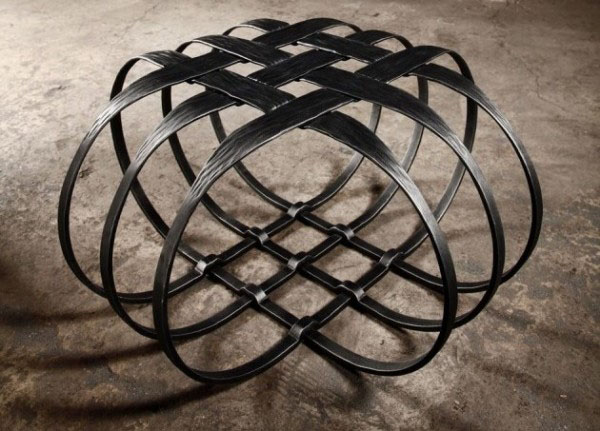 Modern furniture design ideas, wrought iron seat in black
Wrought iron furniture are timeless interior design trend. Traditional iron furniture create an incredible effect of castle like protected, strong and safe homes. Wrought iron seat from Italian designers is a modern furniture item that celebrates old traditions and looks great in modern interiors also.
Wrought iron furniture continues to be popular with iron products, from furniture to decor accessories and lighting fixtures. Blacksmiths and artisans, designers and manufacturers develop and offer interesting furniture design ideas and create impressive pieces to furnish your home in style.
Megaweave iron seat from Dunja Weber is perfect for interior design in brutalist style. The seat design is made of forged iron. Its strong frame is made of intertwined branches, inspired by a traditional weaving pattern. Interlacing of horizontal and vertical flat metal profiles increase the strength of the iron seat and add create a unique shape, adding softness of weaving fabric to its look.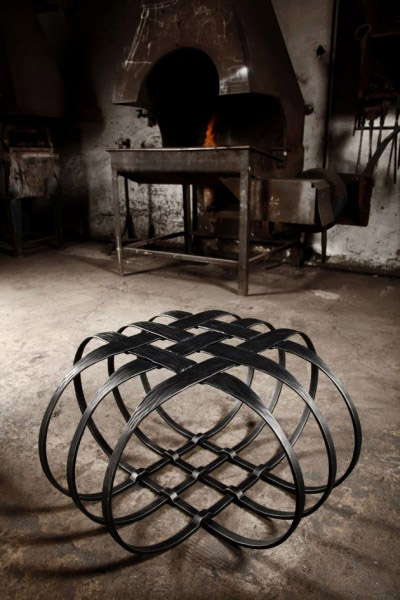 Modern furniture design creates Medieval atmosphere, offering a functional and very decorative furniture item for interiors in Gothic style, country cottage or brutalist style. Contemporary brutalist style is one of retro modern interior design trends, influenced by brutalism ideas in architecture of 50s.
Brutalist interior and furniture design is about simplicity of contemporary and natural materials and form. Modern wrought iron furniture design emphasizes lines and shows open frame. Rough and brutal, the seat feels masculine, simple and strong.
Modern furniture design ideas, wrought iron seat in black

Wrought iron furniture design is about functionality and the beauty of natural materials. The seat demonstrates simple and functional furniture design. Wrought iron is an excellent material for creating modern furniture in brutalist style and emphasize the elegance of simplicity and the attractiveness of strength.

Wrought iron seat demonstrates creative furniture design ideas and soft lines, avoiding unnecessary details. Black color and unique material make simple wrought iron furniture perfect for rough and brutal interior design with concrete walls and floor.

Megaweave wrought iron seat with brutalist style flavor, chair design from Italy

Modern furniture design in brutalist style needs to demonstrate the combination of simple forms with some complexity. Megaweave seat design, dunjaweber.com/ has intertwined frame parts that reflect the complexity of life.

Brutalist furniture design ideas are masculine, symmetrical and even uncomfortable, as we understand the comfort, but practical, functional and powerful. Wrought iron furniture in brutalist style is a way to create safe home, castle-like interior design with brutalist seat for a contemporary knight.

Pink Bomb chair design for chic decor with brutalist style flavor

Brutalist furniture design is meaningful and honest. Clear lines and symmetry, the blend of simplicity and complexity, strong textures and brave design ideas create the modern interior design trend for knights.

Unique chair design ideas

Contemporary furniture designm unique chair with hair

by Ena Russ
last updated: 02.12.2011