Coffee Machine Svart Manuell, New Design Idea, Small Kitchen Appliances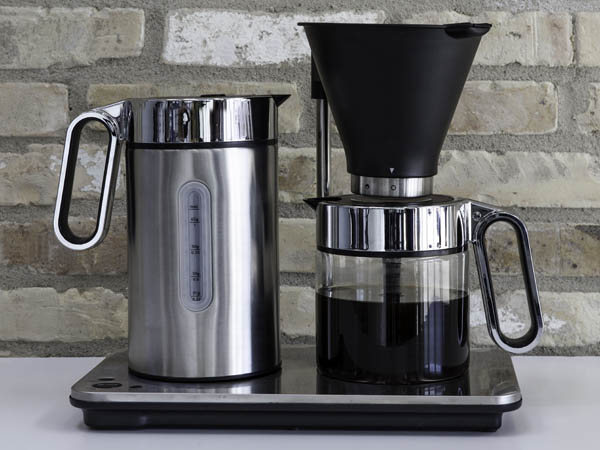 New design idea in small kitchen appliances, coffee machine
A new coffee machine from Designit demonstrate a few new design ideas and approaches to coffee making. The new coffee machine Svart Manuell is an innovative blend of traditional coffee brewing process with an extended control, given to a coffee maker.
Small kitchen appliance Wilfa Svart Manuell is a radically new design idea. The coffee machine Wilfa Svart Manuell add chic, functionality and elegant Nordic design style to contemporary kitchens. Designit is the company with Scandinavian roots and European mindset, which offer contemporary products that can be appreciate everywhere in the world.
Wilfa Svart Manuell coffee machine from Designit, designit.com/ is a manual machine, very similar to a drip coffee machine. The only difference is that you are in control of the water temperature and flavor, adjusting the morning drinks taste as you wish.
Stainless steel coffee machine for coffee lovers
New design idea in small kitchen appliances, Wilfa coffee machine
New coffee machine design idea description by Designit
The funnel has a special flow adjustment that allows you to pre-infuse the coffee or increase the extraction time. This allows you to make a perfect cup of coffee, just the way you like it. The kettle has a temperature control, so the water can be boiled for coffee brewing or heated to a lower temperature for other purposes.
This new coffee machine offers more options and total control over the coffee brewing process to coffee lovers.
Coffee machine design sketch
Scandinavian design, stainless steel coffee machine Wilfa
The Scandinavian design style blends the functionality and contemporary look, creating an attractive smart small kitchen appliance for modern kitchens.
Kitchen tea kettle, ergonomic kitchen appliances
Futuristic kitchen, small kitchen appliances

More from contemporary design

Here is a new design concept of Ibis Hotel in Sao Paulo, Brazil. The contemporary and original interior design invites everyone...